Chanel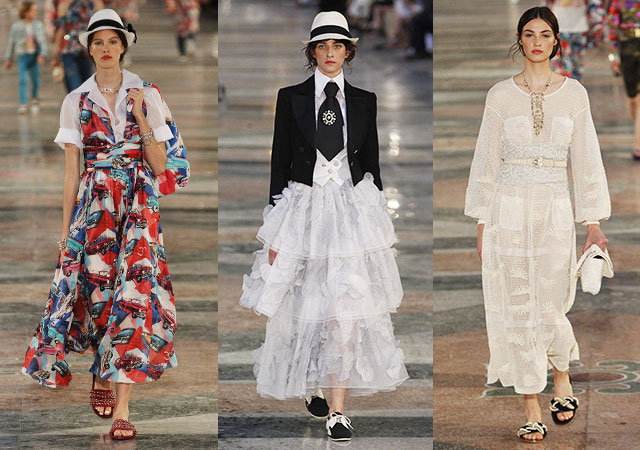 Chanel's Cruise 2017 collection was a Cuban-inspired lineup that borrowed major influences from the Carribean island's traditional attire, the guayabera. Karl Lagerfeld made sure that no details were left out with its bold colour palettes and skirts made for dancing to the pulsating Latin beats. These three looks are perfect to have in your summer travel bag, whether a vivid dress with Buick, Oldsmobile and Cadillac as prints in candy shades; a mess jacket worn with a tiered flounced petticoat in a leaf motif embroidered organza; or even a languid summery off-white dress paired with slides embellished with the house's iconic chainlinks.
Fun fact: Karl Lagerfeld had never set foot in Cuba until the Cruise 2017 show, and Chanel had a little under two months to pull the show together as the Cuban government only gave the green light to stage it in Havana in March. Talk about making miracles happen!
Gucci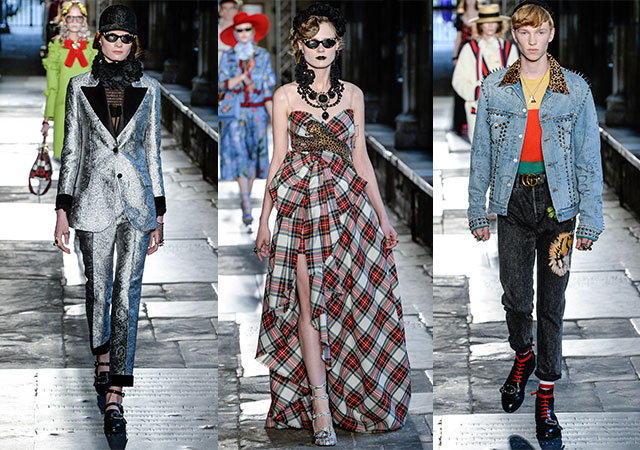 Trust Alessandro Michele to combine the weird and the wonderful to make something entirely spectacular altogether. Inspired by punk and English elements, the collection saw a mishmash of spiked studs and tartan prints tossed in Michele's granny-chic formula. We loved his take on androgyny and femininity, spotted in a crushed metallic tuxedo suit that's perfect for switching up your party getup, or a strapless tartan dress for the inner kitsch in us. Also, we'd never walk away from a denim jacket especially when its studded impecabbly for a badas* look.
Fun fact: As the show was held in Westminster Abbey, guests were instructed not to photograph the space of the show or the religious staff inside the church. But Michele ensured guests walked away with something useful that day: hand-embroidered bespoke cushion seats that bear Gucci's symbolic embroidery.
Dior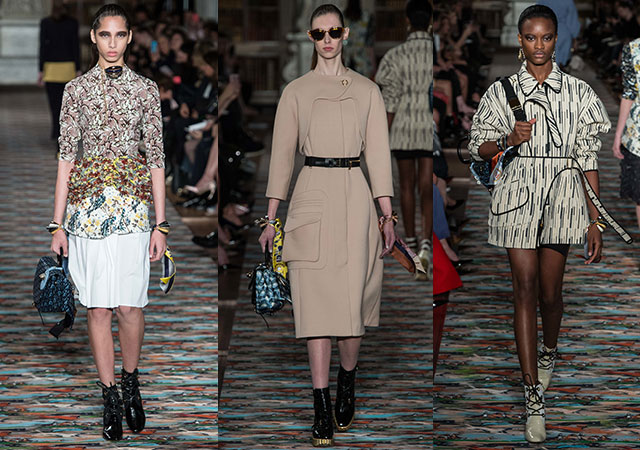 Also held in England, Dior's English-tinged collection was presented with pomp and circumstance at the Blenheim Palace in Oxfordshire. Made for the lady who's got Parisian chic running in her veins, florals dominated in various form of layering, while the house's signature coatdresses that were cinched at the waist with a belt were practically made for stylish jetsetters. Another look that caught our eyes was a puffy-sleeve jumpsuit with loose paneling worn with Dior's new lace-up booties—looking très chic is easy peasy with this head-to-toe ensemble.
Fun fact: Before the show began, guests were treated to an exhibition featuring Dior's archival pieces including the iconic 1954 'H-line' dress. Later during that week itself, the largest Dior store in the UK opened its doors on London's famous New Bond Street, spreading over four floors and showcasing the first Dior Home collection.
Louis Vuitton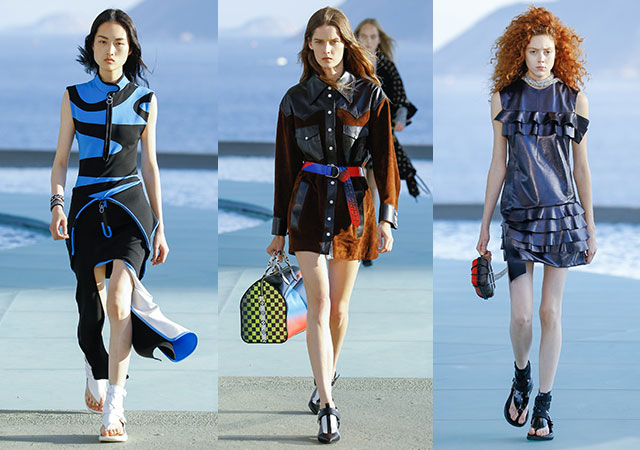 Nicolas Ghesquière gave us plenty to love from Louis Vuitton's Cruise 2017 collection, and the show's location (Rio de Janeiro) already alluded to what we can expect. Sports references were rife, and our favourite three looks are essentially what you'd need for a chic getaway in Copacaban, including a colourblocked dress that resembled a diving suit, leather and suede patchwork coat teemed with a grand prix-themed Speedy, and a tiered ruffled dress that teetered the line between flirty and edgy.
Fun fact: Flown in a few days prior to the show, guests had jam-packed itineraries that include people-watching at Ipanema and Copacabana beaches, helicopter tours of the city and paddleboard classes at Praia Vermelha. It's been quoted that the total work hours taken to plan the grand affair amounted to at least 5,000!
| | |
| --- | --- |
| SHARE THE STORY | |
| Explore More | |