Fashion
Everything you missed at Metaverse Fashion Week: Grimes x Auroboros, Bored Yacht Ape collaboration and more
See you at -103, -12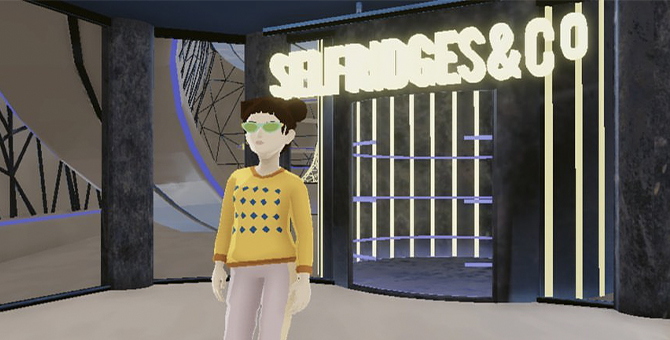 Fashion month returned in full physical force for the Autumn/Winter 2022 season, but the last few years of lockdowns and online formats opened a massive gateway into the potentials of the digital world. Enter Metaverse Fashion Week (MVFW22), the first of its kind, which took place over the weekend to host some of fashion's biggest names over a busy schedule of shows and digital experiences, no travel plans required. All you need is a laptop and access to the internet.
It was really only a matter of time. With opportunities for digital and virtual fashion being scooped up by major-league designers over the past year (think Gucci, Balmain, Balenciaga), the fashion industry has been one of the leading early adopters in the metaverse space. And with Metaverse Fashion Week, the overlap between immersive digital realms and fashion was just taken a step further.
READ: What is the metaverse and how will it shape the future of tech in 2022?
Hosted by Decentraland, a browser-based 3D virtual world that utilises MANA cryptocurrency and is powered by the Ethereum blockchain, the four-day event was designed to explore fashion's new frontier in the digital world, with a combination of legacy luxury fashion and digital-native brands––Selfridges, Estée Lauder, Hugo, Karl Lagerfeld, Tommy Hilfiger, Etro, Guo Pei, Khoon Hooi and more were part of the all-star lineup taking part––showcasing highly-anticipated wearable collections, digital spaces, and breakthrough activations that place fashion beyond the confines of reality.
So how did it work? The shows and event took place in community-run neighbourhoods within the newly-created Fashion District in Decentraland. In their debut of their new flagship, Selfridges even purchased real estate in the metaverse, with NFT wearables and exclusive online collection for users to purchase as part of the occasion. Earlier this year, the British department store was also the first major retailer to announce plans to sell NFTs in store, with an exhibition of 12 'Unwearable' dresses created in collaboration with Paco Rabanne inspired by op-art movement pioneer Victor Vasarely.
View this post on Instagram
My favorite designer of #MVFW was Guo Pei! These fantasy designs were inspired by "an alternate universe" and her showrooms were imaginative… perfection! In my dreams, I would be able to wear a Guo Pei gown in #Decentraland! Thank you @guopeiofficial! Who was your favorite? pic.twitter.com/lL6uWAalv2

— Tangpoko (@tangpoko) March 28, 2022
Other brands, such as Tommy Hilfiger and Etro, hosted virtual runways with the latter showcasing their 20-look genderless 'Liquid Paisley' collection in a pop-up store in the heart of Decentraland's Luxury Fashion District for guests to have a closer look. Elsewhere, Nicholas Kirkwood and up-cycled fashion label Imitation of Christ collaborated with NFT success stories White Rabbit and Bored Ape Yacht Club respectively, to unveil virtual goods that bring heritage and technology together in an exploration of endless imagination. Other NFT natives have also jumped in, with NFT marketplace Rarible hosting a pop-up shop called Rarible street and fintech company Boson Protocol creating a metaverse shopping mall for brands to set up shop in.
Even local brands participated under 8sian's collaborative NFT collection, which aimed to bring the rich heritage and culture of Asia to the world on the Decentraland stage. While Khoon Hooi's whimsical Mara column gown turned digital for the occasion (8 wearable NFTs were available for purchase with each autographed by the designer alongside the delivery of a customised physical gown), Royal Selangor pushed the boundaries of pewter with an NFT creation of a jade woman in a qipao to symbolise good fortune and prosperity.
View this post on Instagram
Undoubtedly, shopping was also a key focus of the event, with offerings of NFTs wearable for avatars as well as limited-edition physical pieces redeemable only via NFTs that can only be found at Decentraland––of course, you'd first need an Ethereum wallet to shop any of these. Giuseppe Zanotti allowed users to purchase NFTs of their signature 'Cobra' sneakers, in which avatars can wear in a limited edition of 1,000, while Hogan hosted Hogan-X, an after-party featuring special digital activations, including NFTs by creative studio Braw Haus which were redeemable for physical sneakers created in collaboration with various international artists from the studio. Many of the digital stores also served as a showcase for physical collections with click throughs to regular e-commerce sites.
View this post on Instagram
Then there was also the event of the meta-season, hosted by Auroboros. Closing off the digital week, the digital fashion house unveiled six looks from their latest digital collection inside a Damascus steel-crafted serpentine art gallery, created by digital architecture firm Voxelarchitects. While the items were first exhibited last year at London Fashion Week, this was the first time people could purchase the garments as NFTs at a later auction via curated NFT marketplace UNXD. In addition, attendees were able to play games to win physical fine jewellery and climb the space's spiralling steps to watch the label's first-ever muse Grimes perform a DJ set in the brand's wearable bodysuit Mystique.
View this post on Instagram
All in all, Metaverse Fashion Week made for an optimal opportunity for brands and users keen to navigate the new exciting frontier of Web 3.0, ushering in a new domain where life is different and fashion week is more of a democratic space, free-for-all. But just like the early days of the internet and e-commerce, time will only tell if we'll all be jumping into the metaverse for the longterm or not.
More on the metaverse here.
| | |
| --- | --- |
| SHARE THE STORY | |
| Explore More | |