Fashion
Gucci's Fall 2017 ad campaign is every sci-fi lover's dream come true
Aliens can wear Gucci too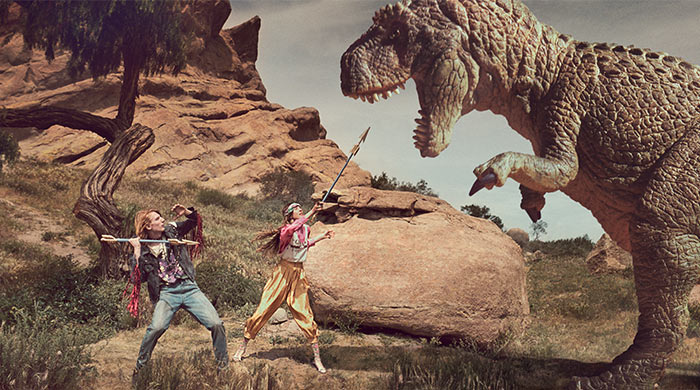 If you've seen a teaser on Gucci's Instagram this past April, you'd know that this Fall 2017 ad campaign is one, out-of-this-world spectacle to look forward to. The cast of the campaign isn't just limited to models (or shall we say earthlings?)—aliens, robots and humanoids are part of the impressive lineup, reuniting for a "Gucci invasion" in the most futuristic fashion yet.
Shot by Glen Luchford and directed by Alessandro Michele and Christopher Simmonds, the campaign incorporates various sci-fi elements of the 1950s and 1960s, most notably from the iconic TV show Star Trek. A fitting setup that complements the collection's retro-futuristic aesthetic, mind-blowing details are not to be missed—from the interior of a spaceship to grassy plains with UFOs and cows (yes, you read that right) abound. While it might be an eyeful to take in, the fantastical composition is further enlivened by a cameo of iconic TV characters. We're talking The Creature from the Black Lagoon, and even the dinosaur from western-fantasy film The Valley of Gwangi.
Can you spot the Star Trek elements from the #gucciandbeyond film campaign?
Take a look at all the images from the campaign below:
{insert gallery tpl="slide-freesize.tpl" id="Gucci FW17 Campaign" rid="5292″ order="a_tstamp"}
Related stories:
Inside Gucci's special collaboration with Spanish artist Coco Capitán
| | |
| --- | --- |
| SHARE THE STORY | |
| Explore More | |