One of the most important events in the calendar year is upon us once again. What are we talking about? Fashion week of course. The designers are working hard to give us their most interesting work yet; while the models are perfecting their dramatic struts and the photographers are there to capture it all. As we bring you the latest updates from the runway daily, learn from the professionals and take your "smizing" game up a notch with this month's #BuroGiveaway:
Tip #1: Prep your skin for the madness ahead with Kiehl's Calendula skincare
The Kiehl's Calendula Deep Cleansing Foaming Face Wash is formulated to gently lift away impurities, dirt and oil without stripping the skin's natural barriers. The creamy gel texture instantly refreshes and revitalises the skin so you will be camera-ready anytime. Featuring real flower petals, the Calendula Herbal Extract Toner contains a selection of herbal extracts to gently cleanse and soothe normal to oily skin without alcohol or harsh synthetic drying agents. For an extra boost of hydration, the lightweight Calendula & Aloe Soothing Hydration Masque gives skin a slight tingle. You'll only need just five minutes to feel instant freshness.
Tip #2: Carry your essentials in a Marc Jacobs bag for life's greatest selfie moments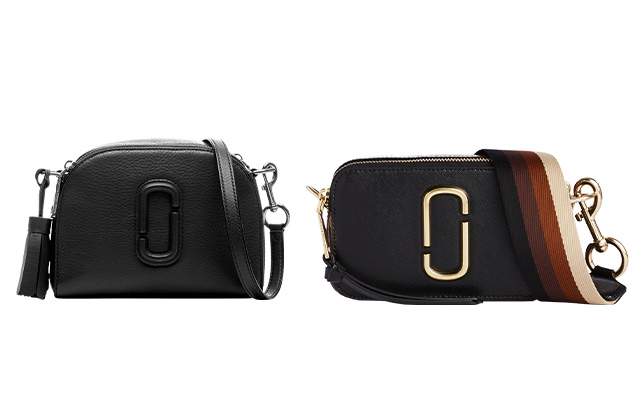 Are you photo-ready? You will be now with the Marc Jacobs Shutter Camera Bag. The understated dual compartment bag will be handy to carry all your props, gadgets and more. If you need another option, the Marc Jacobs Snapshot Small Camera Bag has plenty of room to fit all your essentials even in its mini size. With a signature gold J emblem and a decorative strap, you know you're ready for your stylish close-up.
Tip #3: Win the above and pose away
That's right fashionable peeps! Two lucky winners will stand a chance to ace their smize and walk away with either:
1 x set of Kiehl's Calendula skincare (Calendula Deep Cleansing Foam Face Wash, Calendula Herbal Extract Toner and Calendula & Aloe Soothing Hydration Masque) and a Marc Jacobs Shutter Camera Bag
OR
1 x set of Kiehl's Calendula skincare (Calendula Deep Cleansing Foam Face Wash, Calendula Herbal Extract Toner and Calendula & Aloe Soothing Hydration Masque) and a Marc Jacobs Snapshot Small Camera Bag
Here's what you have to do:
1. Like our Buro 24/7 Malaysia Facebook page (if you haven't already!)
2. Like the giveaway post on Facebook
3. Share the giveaway post on Facebook with the hashtag #BuroGiveaway and tag two friends (be sure your share settings are on "Public")
4. Provide us with your contact details in the form below and tell us what is your definition of "smizing" in no more than 20 words. Be as creative as you like.
This giveaway is now closed.
Congratulations to Cheyenne Wan and Leeza Foo.
The giveaway runs from today till 11:59pm, GMT+8, 30 September 2017. Winners will be announced on 3 October 2017 on this page. By joining this giveaway, you will be automatically subscribed to our Buro 24/7 Malaysia e-newsletter. Other *terms and conditions apply.
*Terms & Conditions:
1. This giveaway is organised by Buro 24/7 Malaysia (hereinafter referred to as the 'Organiser').
2. The prizes for this giveaway are neither exchangeable for cash nor transferable.
3. All persons ('Participants') taking part in this giveaway agree that these rules shall be binding on them, and that the entries in this giveaway, including their name and likeness, may be used without restriction in any future publicity material by the Organiser.
4. The Organiser reserves the right to amend these rules or terminate the giveaway at any time at its sole and absolute discretion. All decisions made by the Organiser under these rules shall be final and no discussion or correspondence will be entertained. The Organiser may, but is not required to, justify any decisions relating to this giveaway.
5. The Participant acknowledges that the interest and good reputation of the Organiser is of paramount importance. The Organiser reserves the right to disqualify a Participant from the giveaway, or to withdraw the prize if it is believed the Participant is in breach of its obligations under the rules. The Participants shall not by act or omission, directly or indirectly bring the Organiser into disrepute.
6. All entries are sent at the risk of the Participants and in the event that there are technical difficulties experienced arising out of the internet or from any associated equipment or internet security is compromised, the Organiser may at its sole and absolute discretion disqualify the entire entry and shall not accept any liability doing so.
7. Giveaway entries may only be submitted via the stated medium of communication.
8. This giveaway is open to anyone above 18 years old and participants under 18 years old are prohibited from entering this giveaway.
9. Each entry must be completed in full. The Organiser reserves the right to disqualify any incomplete entries in its sole and absolute discretion.
10. Participants shall only submit one entry and multiple entries of the same shall be treated as 'spam' and shall be ignored.
11. Incomplete entries will be deemed void.
12. Winners will be notified by email.
13. Uses of 'aliases' shall be considered a form of deception and is prohibited.
14. The winner must produce their original IC / passport with legible IC / passport number in order to claim the prize. The winner may also be required to produce additional original proof of identity at the discretion of the Organiser.
15. All Prizes are accepted entirely at the risk of the winner, and the Organiser excludes all warranties in connection with the prize to the extent permitted by law.
16. All Participants release from, and indemnify the Organiser, its agencies, sponsors and representatives against, all liability, cost, loss or expense arising out of acceptance of any prize or participation in the giveaway including (but not limited to) personal injury and damage to property and whether direct or consequential, foreseeable, due to some negligent act or omission or otherwise.
17. All personal particulars furnished are meant for identification purposes and will not be sold or given to any third parties. In the case of giveaways, our partners may wish to offer you services which require your personal particulars. These specific requests will be expressly stated within relevant giveaways, with a choice to opt out.
18. Inability to contact the winner by 6 October 2017 will result in disqualification and selection of an alternate winner.
19. Winners must collect their gifts from our office in Mont Kiara within 1 month of notification.
20. Prize is final; no cash equivalent or alternative prize will be given. Prize is non-transferable, non-exchangeable and strictly not for resale. If the winner is found to be selling the prize(s), the Organiser reserves the right to demand for the return of the prize.
| | |
| --- | --- |
| SHARE THE STORY | |
| Explore More | |