Fashion
Fyza Kadir steps up her style game with the arm candies from Loewe's Spring/Summer 2019 collection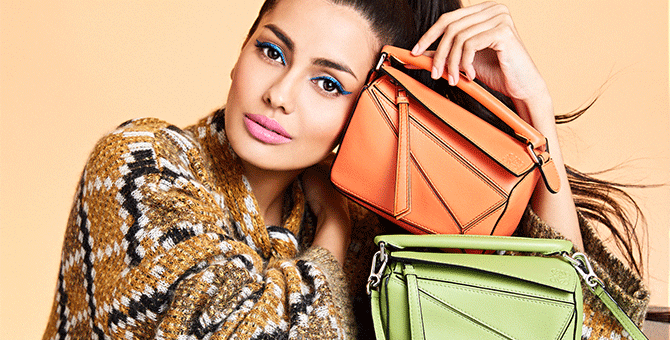 Fyza Kadir steps up her style game with arm candies from Loewe's Spring/Summer 2019 collection
A spring in her step
Here are the seven bags on the It-girl's radar this season
It-bags come and go every season, but some have a special place in our hearts. Case in point: The Loewe bags, from its signature Puzzle to the latest Gate bags. The lust-worthy arm candies are all given a trendy update this Spring/Summer 2019, be it new colourways or interesting textures, and we've found the perfect fan to showcase them all. Here, It-girl Fyza Kadir poses with some of her (and our) favourite pieces this season, and trust us when we say that she's already made a mental note of which bag to carry for each occasion.
The Mini Gate bags in orange (left) and tan (right)
First introduced in SS18, the Gate bags have been around for two seasons now, and they're definitely creeping up the hot list. But this round, instead of full-leather, the crossbody arrives in a new combination—woven raffia and a soft calfskin flap, complete with its signature knot in the front. It's truly the perfect piece if you're still into the straw bags or mini bags trend. These babies are on our very own fashion team's wish list too.
"I love going on beach holidays, so the straw bags are the perfect accessory to complement my seaside ensembles." – Fyza Kadir
Basket Chain bag in black
Roomy and chic, there's something about a woven tote that exudes a sense of ease—what's not to like? But this design, in particular, is anything but plain. Handwoven from palm leaves by the brand's skilled craftsmen, the tote features an embossed leather patch with its logo in front for that texture juxtaposition, but what we love most, is the chain-linked strap that gives the boho piece an added edge. It's a reminiscent of its Spanish roots in the best way possible.
Mini Puzzle bag in peach (top) and green (bottom)
Did you know the Puzzle bag was the very first new bag designed by Jonathan Anderson when he joined the brand back in 2013? Fast forward five years later, it has become one of the most loved arm candies of the brand, and the new size this season is bound to capture even more hearts. Don't know which colour to get? Good news: The bag comes in nine different colourways this season—aside from these two hues, take your pick from Raspberry for a touch of sultry red, pink for a dose of girlieness or yellow for that ray of sunshine, it's your pick.