Fashion
10 Best Hollywood celebrities Halloween looks of all time
Creepin' it real
Featured image: @heidiklum/Instagram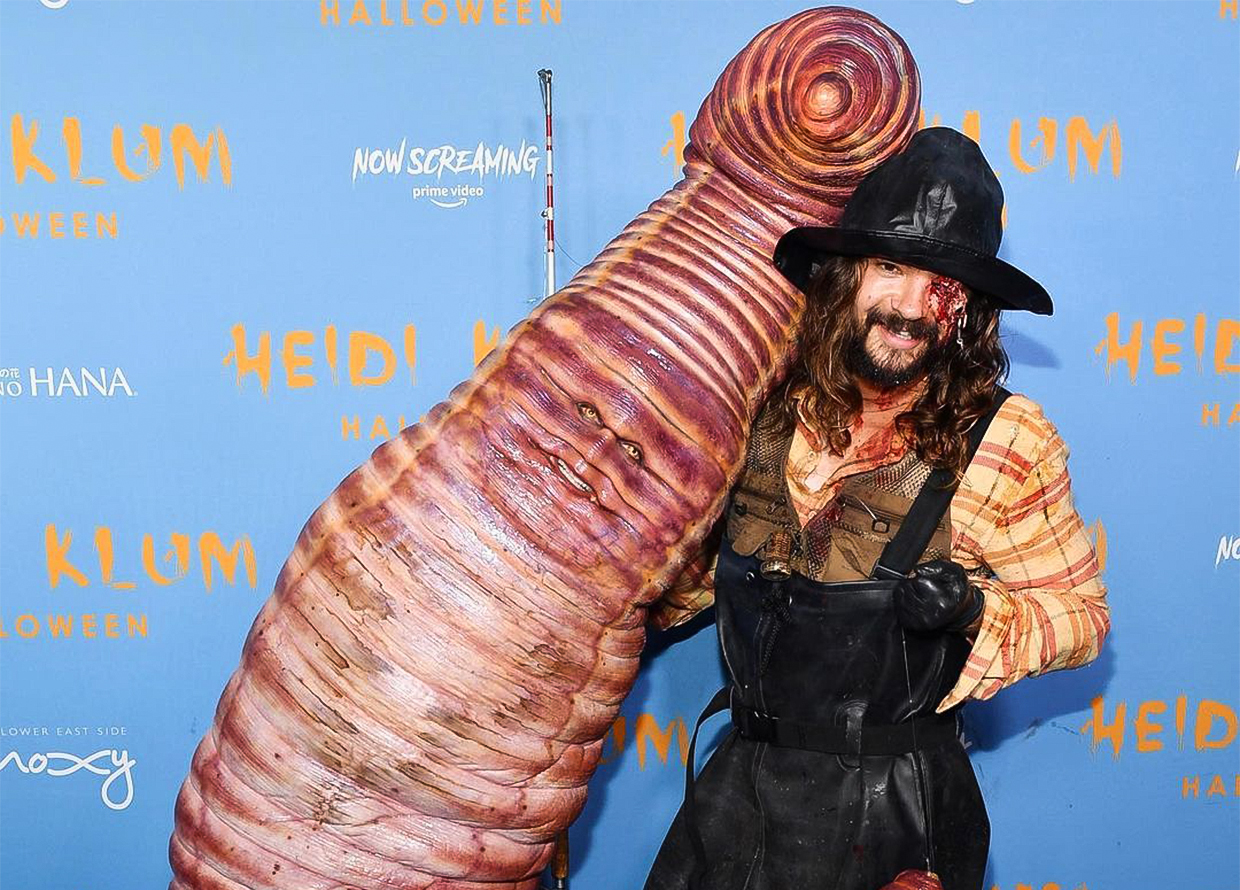 It's time to start planning your costume for Halloween! Although the celebration falls on a Tuesday this year, that's no excuse not to get dressed up for it and you know where to turn for inspiration if you need some—Hollywood celebs. Whether you're looking for something spooky, sexy, or just funny, there are plenty of show-stoppers you can replicate this time. From Heidi Klum's worm costume to Kendall Jenner's Pamela Anderson tribute, these are the 10 most memorable Halloween costumes to get inspired by.
Straight from nature
View this post on Instagram
What is Halloween without Heidi Klum's out-of-this-world costumes? The German supermodel dressed up like an enormous worm for her annual Halloween party 2022 in New York City, complete with a curled head and extended tail. Her husband, on the other hand, disguised himself as a fisherman with an injured eye.
Creepy doll
View this post on Instagram
Squid Game became one of the most-watched Netflix shows in 2021, and it garnered fans all over the world, including Lisa of Blackpink. The K-pop sensation donned an orange skater dress with yellow short sleeves inside to resemble Young-hee, the doll from the Red Light, Green Light challenge.
Daring blue
View this post on Instagram
No stranger to flaunting her hourglass figure, Kim Kardashian broke the internet last Halloween with images of herself painted in blue like Mystique from X-Men. The founder of Skims wore a blue textured catsuit and a pair of matching stilettos before finishing off the look with a red-orange slicked-back hairstyle. 
Blonde bombshell
View this post on Instagram
Kendall Jenner emulated Pamela Anderson's look from the 1996 cult classic film Barb Wire for her 25th birthday bash-turned-Halloween party. Everything about this look screams the 1990s, from the thin eyebrows and wavy blonde hair to the black leather corset and over-the-knee black boots.  
Sleek twist
View this post on Instagram
Gigi Hadid switched things up at Kendall's Halloween party by dressing up as Jim Carrey. The young mum caught everyone's attention when she transformed into The Mask from the 1994 film, sporting a blazing yellow suit, matching hat, white button-up, polka dot tie on the inside, and green paint on her face. 
Black Barbie
View this post on Instagram
Everyone can pull off the Barbie look, but Beyonce upped the ante by dressing up as a life-sized Barbie alongside Jay-Z and Blue Ivy. The pop diva paid homage to Mattel's first-ever Barbie launched in 1959 with a black-and-white striped bodysuit and black peep-toe pumps, as well as a high ponytail and cat eye sunglasses.
Strong force
View this post on Instagram
Lizzo showed up as Grogu, a.k.a. Baby Yoda, from the popular Mandalorian film series for Spotify's Ghost Town Halloween party. The Grammy-winning artist was spotted with her face painted green and pointed ears on while wearing a floor-length trench coat and toting a mint-green heart-shaped bag. Fun fact: Lizzo is a self-proclaimed Grogu fan, and she appeared with the little Grogu in one of the episodes of The Mandalorian.
Champion of justice
View this post on Instagram
Justice was indeed served by Paris Hilton when she dressed up as her childhood icon Sailor Moon at the Casamigos Halloween party. The OG influencer donned a flawless copy of the outfit but added a sheer corset top and red sequin boots. That's hot!
Odd bride
View this post on Instagram
If you didn't know, Halsey loves to experiment with makeup, so it was no surprise when she emulated Emily the Corpse Bride's look from the Corpse Bride movie. The Without Me singer put on a blue wig and a flower crown before adding squiggly brows, sharp nose contour, and pale pink lips to her blue face.
Best friend forever
View this post on Instagram
Kevin Hart dressed up like his best friend Dwayne 'The Rock' Johnson for Halloween in 2019. The American comedian and actor nailed the same pose while sporting the '90s ensemble of a black turtleneck, jeans, gold chain, and fanny pack. 
For more fashion stories, click here.
| | |
| --- | --- |
| SHARE THE STORY | |
| Explore More | |