The young model fronts the Italian brand's Spring/Summer 2017 accessories collection
Having a supermodel as an older sister (you guessed it right; it's Kate) does not seem to be a challenge for Lottie Moss. She may only be 18 but the blonde-haired beauty has already been modeling professionally for the past two years, becoming the latest It-girl in the fashion scene. Most recently, the teenager has landed a gig with Bulgari, becoming the face of the luxury jewellery brand's signature accessories lines; Bulgari Bulgari and Serpenti.

"I remember seeing Bulgari's beautiful ads when I was growing up, sometimes in magazines and sometimes just walking down the street. It's an incredible feeling to actually become part of the Bulgari family and be able to appreciate what they create firsthand, the craftsmanship is especially amazing" enthused Lottie. "I've loved everything I shot with in the campaign so far, especially the Serpenti collection, and I look forward to growing alongside the brand!"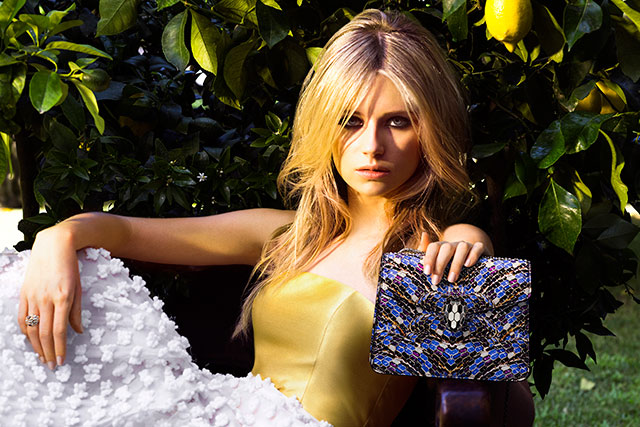 Donning a metallic dress with her hair slicked back, Lottie is seen in the stunning image with the limited edition Serpentissima bag from the brand's Spring/Summer 2017 collection. The ultra-exclusive carrier is one of the highlights of the new collection, showcasing impeccable leatherwork and gemstone artisanship. Shot in the park of the Accademia Nazionale dei Lincei Villa Farnesina in Rome by New York-based photographer, Michael Avedon, Lottie is also captured sitting in a lemon garden with a 'Serpenti Forever' featuring the 'Serpentage' print placed beautifully in her hand.
Her role of ambassador does not segue into an ad campaign but with Lottie's strings of modelling gigs (she has fronted ads for Calvin Klein, Tommy Hilfiger and Adidas Originals, among others), so expect to see more of this budding model in 2017.
Related stories:
Bulgari unveils two news stores in Malaysia
Buro 24/7 Exclusive: An interview with Lily Aldridge for Bulgari