Fashion Revolution Malaysia introduces Seeker x Retriever from Thailand in an upcycling workshop on 4 May 2019
With all this talk about sustainability, we know the insurmountable questions that come along with it. Maintaining a completely sustainable lifestyle may seem overwhelming but the easiest way to start is to begin with the clothes already in your closet. Do you have a pile of clothing that didn't make the cut of your Marie Kondo decluttering stint?There are three ways to go about it:
1. Donate wearable items to a shelter for people in need
2. Recycle the tattered unwearables to your local fabric recycling plant (such as Kloth Cares)
3. Upcycle the items you can't part with
The next question to follow: What is upcycling and how do I go about it? By definition, upcycling is known as reusing discarded objects or material and transforming them into a product of higher quality and value than the original. For example, a snag on the sleeve of your favourite T-shirt can be converted into a brand new tank top, or grass-stained jeans at the hem can be cut away to make denim shorts.
If you still need a helping hand on how to go about upcycling, Fashion Revolution Malaysia is organising a workshop this weekend with Seeker x Retriever, a sustainable label from Thailand on how to convert scrap fabrics into accessories. Leading the workshop is founder of the brand, Nan Tohch who will teach you how to breathe new life into unwanted discarded material. The fabrics used are scraps from Seeker x Retriever's latest collection, 'Kakadu' which is inspired by the vibrant yet laidback Australian outback, while embracing the Thai brand's Southeast Asian roots using handwoven cotton using natural dyes.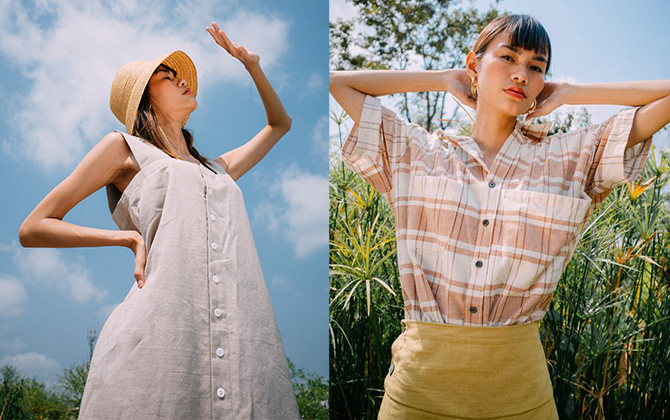 At the workshop, Nan Tohch will be speaking about her passion for slow fashion, working with natural dyes and her work in empowering Northern Thailand's weaving collective, especially in Nakhon Pathom and Chiang Mai provinces while she teaches you how to weave two kinds of bracelets out of fabric scraps. 
The workshop tickets are priced at RM60 (equipment is provided) and will take place this Saturday, 4 May 2019 at Unplug in Bangsar Village II. There will be two sessions, one at 11AM and another at 3PM, seats are limited so book your slots quick!