AW16 began with a bang in London. Here's what we saw, loved and learned from London Collections: Men
There is a youthfulness and electricity that makes the London shows so exciting. AW16 is the city's eight instalment (relatively young as fashion weeks go) and while there are the sartorial stalwarts such as Hardy Amies, Gieves and Hawkes and Dunhill to satisfy the more traditional, gentlemanly dressers, there were also the rebellious youth the likes of Casely-Hayford, Craig Green and newcomer Grace Wales Bonner who agitate as much as they inspire, pushing the boundaries of creativity and innovation.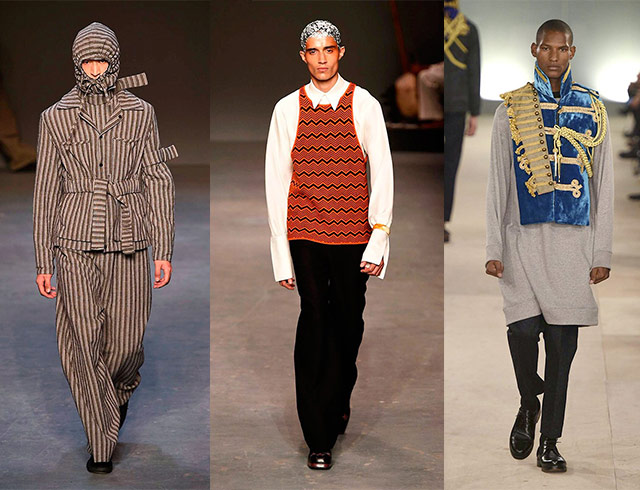 Gender fluidity was the word on pundits' lips; in the advent of Alessandro Michele's effete version of Gucci, his colleagues are following suit, tearing down the barriers between traditional masculine and feminine tropes and striding toward the notion of gender neutrality. LCM kicked off with Topman Design where Gordon Richardson showed plenty of velour and velvet in '70s tones of oranges, browns and burgundy complemented with floral details in voluminous proportions: clothes that can be worn quite comfortably by any sex. A growing trend for some seasons now is that of a shared runway, perhaps an attempt at reinforcing the idea of a communal wardrobe but is something that quite frankly irritates me. Female models Ruth Bell, Hayett McCarthy and Jourdan Dunn walked for Coach, Moschino, Agi & Sam and Burberry: quite enjoyable when the clothes they wore were a seamless part of the collection but not so much when dresses seemed to have been thrown randomly into the mix. I came for men's clothes and dresses seemed a touch unwieldy and unnecessary.
Two main takeaways from LCM were texture and volume. Coats, pants and tops were loose, billowy and looked incredibly comfortable: clothes I can't wait to stroke before putting into my wardrobe. A mahogany shearling kimono coat by Coach was a particular standout, which I'm sure, would make me feel as fuzzy inside as out, while a navy wool storm system double-breasted trench coat by E. Tautz made me want to stand in a strong headwind and feel like a superhero. Marvelous.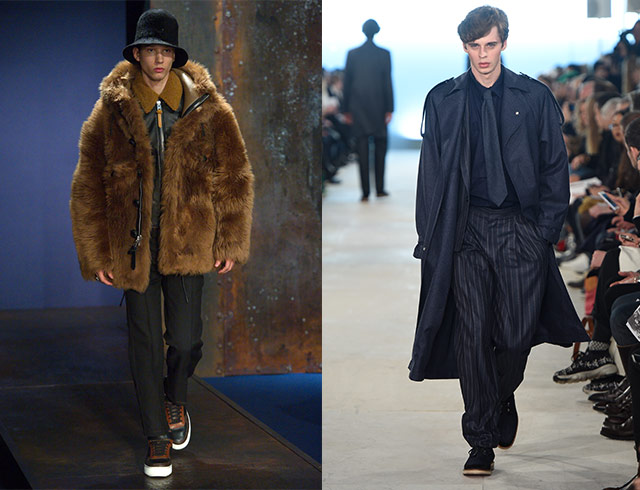 What really worked and what I particularly enjoyed was the fact that a rather large number of brands chose to exhibit their collections via the more intimate presentation format as opposed to a runway show. Whilst I understand the value of a runway presentation, I often find it difficult to focus on the clothes, especially when surrounded by peacocks too busy gossiping and taking selfies to care about why they've attended in the first place. I much prefer the connection and tactility afforded by a presentation and none were quite as successful as those conducted by Nigel Cabourn and Dunhill. Both presentations were on opposing ends of the spectrum: Cabourn's an intimate little affair at his cosy store  in Covent Garden, with all his small but tightly-knit team on hand to explain the excellent clothes. Clothes made with such love and attention to detail and built for utility: the ultimate partnership of function and form.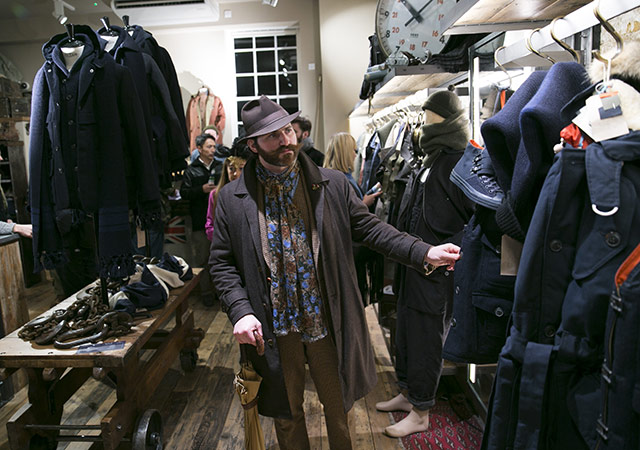 Dunhill's approach was on a slightly grander scale, hosted at a beautifully appointed 18th century house in the heart of Mayfair, the Savile Club. Vintage cars were parked in front of the house and trays of champagne and old-fashioned's did nothing to distract from John Ray's beautifully approachable (though not quite in price) clothes. The handsomest men lounged about in different sections of the house, divided into 5 distinct groups: Motorities, Country Weekend, Blazers, Formal Attire and Eveningwear. Guests wandered through the magnificent surroundings, just once allowed the privilege of witnessing the goings-on of the most elegant gentleman's club. The models seemed at once comfortable and smug: a natural occurence when given the advantage of Ray's deft hand.