By day, she is the Executive Director of SKB Shutters Corporation Berhad and by night (or any other day for that matter), Melissa Sin is the founder and lady boss of The Bag Atelier. Often spotted at the coolest events and photographed for her eccentric style, the 29-year-old is never seen without a to-die-for arm candy. A firm believer "more is more", we caught up with the 29-year-old as she talks about her minaudière label, the art of accessorizing and her love for all things sparkly.
Describe your personal style.
More is more. I'm always in the mood for celebration—I love sequins, embellishments, and crystal-embellished pieces!
Where do you find your style inspiration?
These days, inspiration is everywhere because of social media—it is made a lot easier and quicker! I personally love street style snaps. If I had to pick a style icon, I'd definitely go with Victoria Beckham. As cliché as it sounds but her style transformation is truly inspirational. Not forgetting her classic edgy style, even more when she started her own label.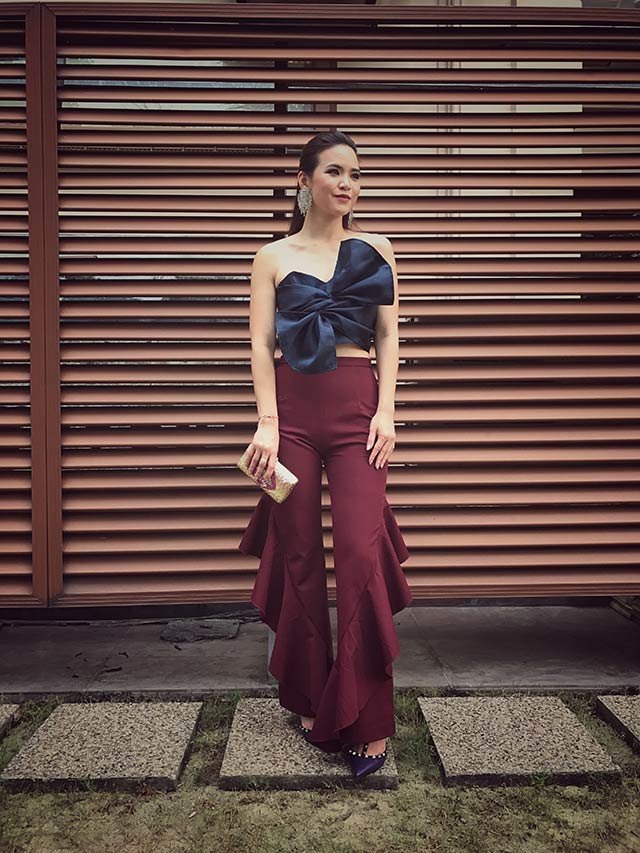 Tell us more about The Bag Atelier. How did it all start?
I fell in love with crystal strass minaudière since I first had it when I was 14. My mom gave me a customised minaudière with Swarovski crystals all over. She had them handmade in a workshop and since then, I was hooked. It took me 12 years before I decided to visit the workshop, curious to know what it is like. I couldn't stop thinking about tapping the potential of personalised customisation. The next day, I browsed the name, The Bag Atelier on Instagram and I said to myself, "If the handle name is available, we should do it!" Within our first month, our orders were overwhelming but absolutely encouraging! We hit 10 times the target we initially set for the first three months of inception.
What sets The Bag Atelier apart from the other e-labels out there?
I always wanted to make The Bag Atelier a personal experience, selfishly for myself for a number of reasons. I wanted it to be challenging, individualistic but also experimental. We headed off with zero-capital, reasonably affordable and individually customized. Hence, we opted for Instagram, WhatsApp and email rather than a click-and-go website. With no initial capital at all, we insisted zero-capital all the way to encourage other young start-ups and first-time entrepreneurs to work on their ideas. It is tough because many times, I am tempted to spend marketing dollars out of my own pocket but I always reminded myself there must be a way—just start brainstorming and act on it!
Speaking of personalisation, The Bag Atelier offers made-to-order services. Can you walk us through the customisation process?
Sketch-to-strass is simple and entirely up to your preference. You can start with choosing the shape. We have more than 30 over cases to choose from—different sizes, shapes and clasp. Some like it bigger to fit an iPhone, some like it palm-size for a good grip. You may have a ready-sketch whether drawn or even an inspiration from Pinterest; The Bag Atelier will work on simplifying the sketch to make them strass-friendly. Once that is done, we can work together on the shades. For Swarovski crystals, there are up to 50 different shades ideal for gradient blending and more complex strass. It will take a couple of weeks for your personalised piece to be hand-placed by one of our craftsmen and then, it's good to go!
Do you have any personal favourite(s) on The Bag Atelier?
I can't possibly name them all! I would say the 'Pop Art' series are my favourite. It was a turning point for The Bag Atelier when 'Pop Art' first debuted on our Instagram—we went from ready designs to sketch-to-strass, where most enquiries that came through were customisation orders with some even hand-sketched by our customers,. Ultimtately, we want to give them a truly personalised experience.
How would you style a minaudière for a daytime outfit?
I would pair a crisp white shirt, knotted at the waist, with high-waist dark denim jeans and a cross-body chain hooked to a 'Galaxy Girl Vintage Box'.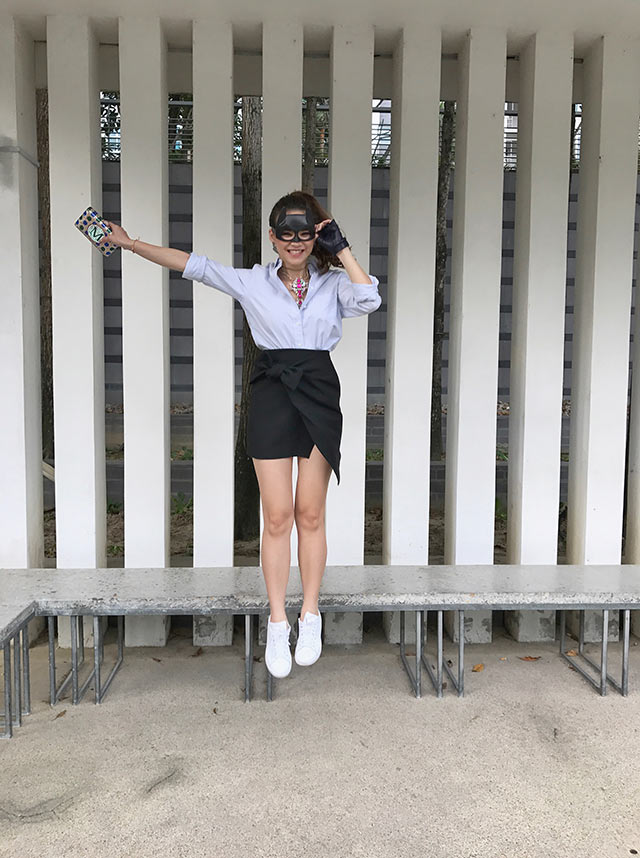 Any plans on exploring other bag styles on The Bag Atelier?
Definitely, we are constantly looking out for interesting pieces that would embed a luxurious accent yet friendly to the pocket.
Favourite cities/places to shop?
I love going to craft markets to be inspired! I love the quaint shops in the alleyways of Paris. I once discovered a glove room in Madeleine and spent two good hours admiring the workmanship on many fancy designs that I've not seen elsewhere.
If you could wear one designer for the rest of your life, who would it be?
This is tough, I love to mix and match! Can I make that two? Alaia and Balmain. I love anything structured and I think you can never go wrong with Balmain. Alaia creates statement wear but it gives an entirely different vibe—it simply spells chic.
What are some of accessories that you can't leave the house without?
My watch, definitely, then my rings. I am really sticky with time. Wearing my rings makes me feel like I've got an armour! No kidding, I just feel more empowered like some warrior.
What is the most cherished item in your wardrobe? Why?
It has got to be a vintage black Kelly that is as old as I am. It's more of a sentimental piece. I still use it regularly; it's classic and ages really well.
What is the last fashion item you bought?
A pair of Christian Louboutin shoes with an organza attachment on the heels. How sexy.
What is the best and worst fashion advice you've ever received?
Never to dress head-to-toe in the same shade—ironically, it's actually the best and worst! But hey, nowadays, I believe being decked in monochromatic colours can be pretty bold and statement-making.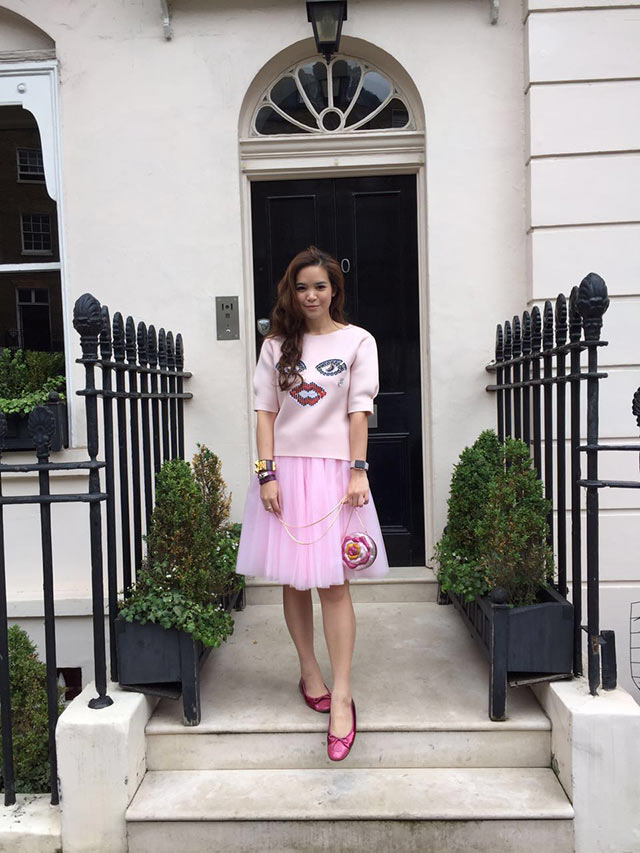 What is your personal fashion rule?
Don't be afraid to be bold. Confidence is the key to pull off anything!
Finish this sentence: I would not be caught wearing…
A turtleneck and choker at the same time.
If you were to give advice to someone who is thinking about becoming a fashion entrepreneur, what would it be?
Try everything that you need to. Never be afraid to seek advice, feedback or even compliments.
Do you have any upcoming projects or announcements you wish to share?
I can't reveal too much, but I can tell you that we've got something in the pipeline!
Related links
You wish you were: Tengku Chanela Jamidah