Features
Selangor's Princess Zatashah, Celest Thoi and Izrin Ismail on creating Disney Princess-inspired couture for charity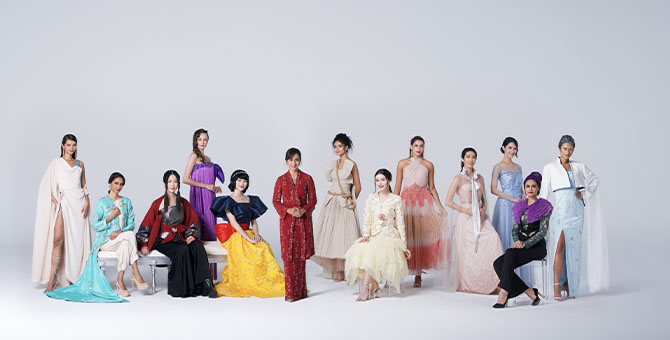 Who was your favourite Disney Princess when you were growing up? Was it Belle, who dared to be different? Or Moana, who was always up for new challenges? Highlighting the values and strengths of its star heroines, this year's global Ultimate Princess Celebration by Disney sees leading Malaysian designers––Alia Bastamam, Celest Thoi, Fiziwoo, Innai Red, Khoon Hooi, Melinda Looi, Mimpikita and Variante––join forces with Make-A-Wish Malaysia Royal Patron, Her Highness Princess Zatashah of Selangor, to bring to life a one-of-a-kind Disney Princess-inspired couture collection.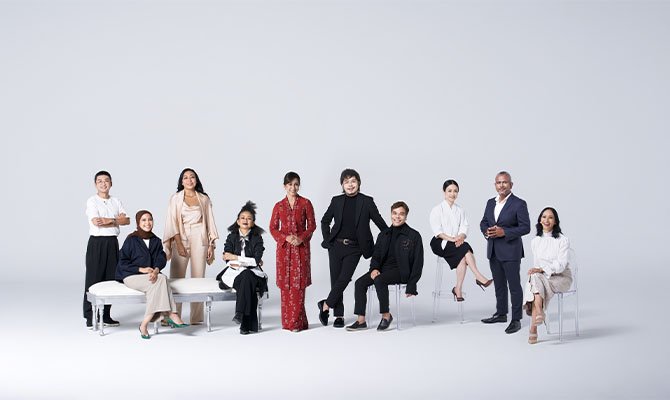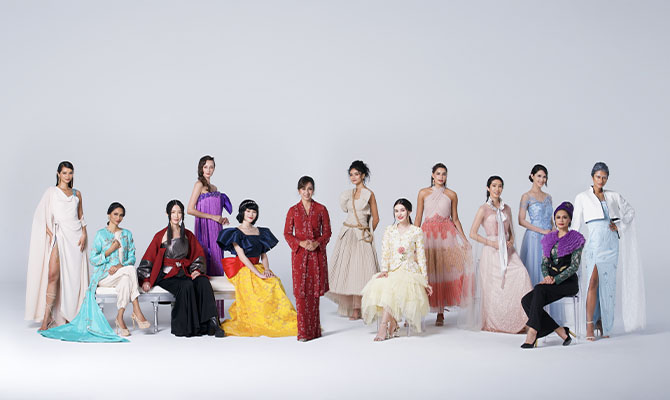 In celebration of courage and kindness, each designer brings their distinct styles and interpretations to the tales of Disney's most iconic heroines, injecting them with a local, modern twist––from Celest Thoi's regal five-in-one Cinderella dress inspired by the stitching and sewing helped by her animal friends, to Izrin Ismail of Innai Red's Kebaya top adorned with a statement embellished rose to reflect of Belle's inner beauty and bravery. The collector's pieces will be up for auction this December, with proceeds going to Make-A-Wish Malaysia, which grants life-changing wish experiences for children with critical illnesses in Peninsula and East Malaysia. Worldwide, more than 145,000 wishes have been granted through Disney's partnership with Make-A-Wish.
Ahead, we spoke to Princess Zatashah herself, as well as designers Celest Thoi and Izrin Ismail of Innai Red, on the dream-come-true collection and auction: 
Princess Zatashah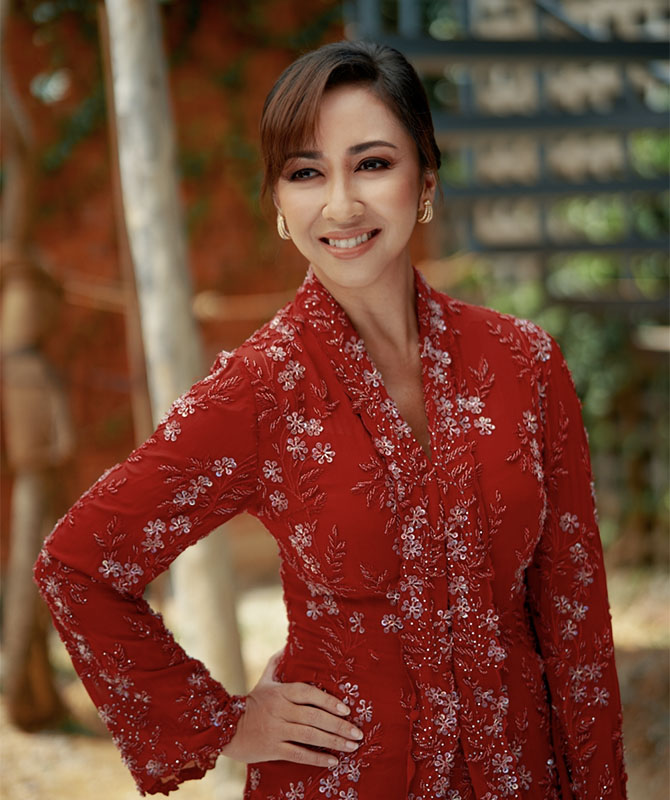 BURO: How did the idea behind the Ultimate Princess Celebration and couture designs by the Disney Princesses came about?
Princess Zatashah: "Globally, Disney has been working with Make-A-Wish for over 40 years, and embarked on more local team-ups up with Make-A-Wish Malaysia since 2018. With the launch of the Ultimate Princess Celebration, which shines a spotlight on how Disney heroines inspire courage and kindness, it was the perfect moment for all of us to come together to benefit a great cause."
"The Ultimate Princess Celebration is close to my heart as it embodies values I believe in, such as staying fearless in the face of challenges and being kind in thought, word and deed. We're so glad that eight of Malaysia's top designers embarked on this journey with us. I have always admired these designers' unique styles, so it was incredible to see how they incorporated their signature styles with each Disney Princess. This has been my most exciting project in 2021 for sure!"
BURO: Could you tell us a little bit more about your work with Make-a-Wish Malaysia?
Princess Zatashah: "I've been Royal Patron of Make-A-Wish Malaysia since 2015 and not only do we embark on fundraising projects, charity runs, but the best part of what we do is our Wish Granting. I have been involved with granting many wishes over the years, from our Wish Kids wanting to be Rapunzel and inviting them to the palace for a tour, afternoon tea and games, to organising special movie screening of Disney's Frozen 2 for all our Wish Kids at the cinema, alongside a Winter Wonderland stay at SnoWalk theme park. I try to attend as many wishes as I can whether it is online due to pandemic lockdown or physical wishes in the toy store. I love gifting toys that I've bought for our Wish Kids. Nothing beats seeing the smile and laughter from our children."
View this post on Instagram
BURO: What can we expect from the upcoming auction and how will it benefit the organization?
Princess Zatashah: "The public may learn more about the couture designs and register their interest for the auction from now until December 8 here. There, they may click on "I am interested to buy a dress". The twelve winners of the auction will be announced on December 9. Proceeds from the auction will go towards Make-A-Wish Malaysia to grant life-changing wish experiences for children with critical illnesses in Malaysia."
BURO: As a real-life princess yourself, you also embody the characteristics of courage and kindness through your countless philanthropic initiatives, activism, and achievements. Is there a Disney Princess that you relate to the most, and why?
Princess Zatashah: "If I had to pick one Disney Princess it would have to be Snow White. I loved Snow White as a kid—I love her kindness and compassion, and how she befriends the forest animals and beloved by the Seven Dwarfs who became her friends. Although she went through adversity, faced against evil, she confronted her fears with resilience and optimism. She has a wonderful story!"
View this post on Instagram
"Having said that, I do love all the Disney Princess characters. Like many people, I grew up with Disney Princess stories and still have a connection with them today. They show us that we can all become extraordinary heroes by being our authentic selves and impacting the world through actions big and small. I truly believe that courage and kindness is an intrinsic way of life, and to have empathy and compassion for those around us."
Celest Thoi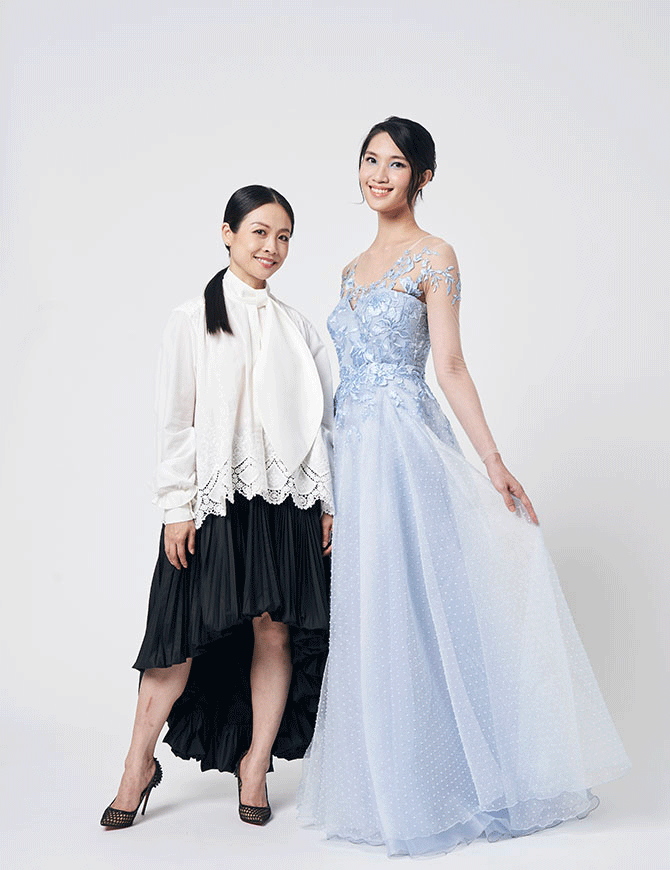 BURO: Could you explain the concept and inspiration behind your design?
Celest: "I grew up with Disney and still have memorable moments imprinted in my mind like Aurora singing and dancing with her cute animal friends, as well as the iconic Cinderella moment when the Fairy Godmother transforms her ragged clothes into a grand ball gown. With these moments in mind, I designed an Aurora- inspired dusty blush pink gown with rose gold glitter that one can dance and dazzle in. With a soft tulle cape as the icing on the cake, exuding that regal final touch."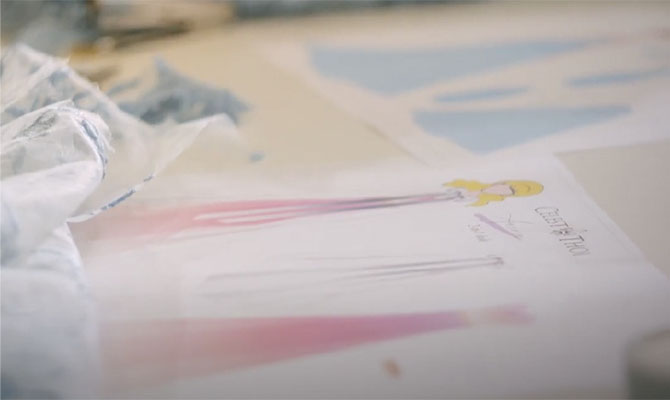 "For Cinderella, I wanted to pay homage to the iconic transformation scene, so I designed a five-in-one ensemble. This idea was to have any modern "Cinderella" seamlessly transform from her day look into something more formal with added detachable straps and an overlay skirt. The base is a short strapless lace pencil cut dress with detachable straps. An optional nude tulle bodysuit with embroidered lace for a more modest look. Add on the lace cascading overlay skirt for an evening look."
BURO: What was the creative process like?
Celest: "We started with sketching a few looks to narrow down what we have created. We wanted to keep the iconic colours that are recognisable and signature to both the Disney Princess characters: powder blue for Cinderella and dusty blush pink for Aurora."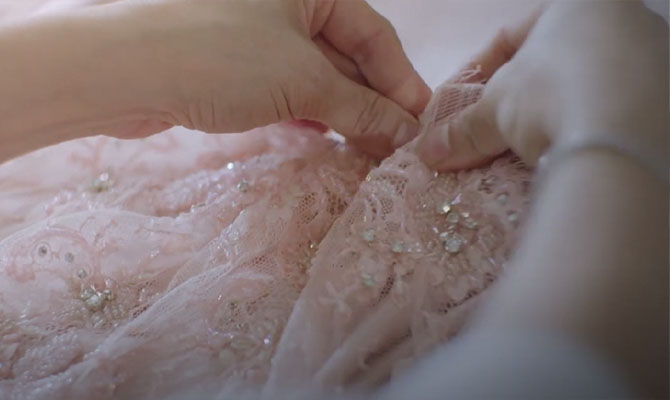 "After determining what we wanted to create, we had to source fabrics in the right texture to build the right silhouette that I envisioned. It was more challenging than normal as these creations were completed during the nationwide lockdown. However, what kept us going was that we were inspired by Cinderella's "Dare to Dream" attitude as she believes her circumstances will change, and she does not give up easily."
BURO: Could you describe how details of the couture piece reflect the unique traits of the Disney Princess with a local, modern twist?
Celest: "Normally, I design with the subject's personality and environment in mind. As for the couture creations inspired by the Disney Princess characters, I used mainly soft tulle and satin for Aurora to give that flowing, romantic feel as Aurora is feminine and graceful. The soft tulle cape is an optional add-on to create a more regal feel to the whole outfit. The wearer can achieve an elegant look with or without the cape which is great for any formal dinner or occasion."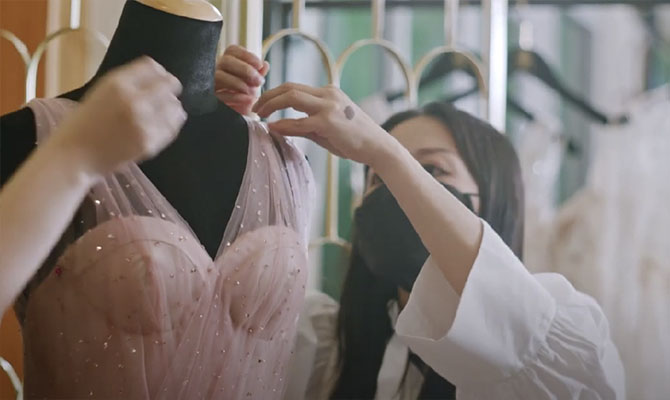 "For my Cinderella-inspired ensemble, I used powder-blue embroidered lace to give the dress a modern yet timeless look. Then I created a classic bustier full-lace pencil cut dress as the base with add on details like a pair of soft tulle detachable straps, an optional illusion V-neck bodysuit with patched laces and a long overlay organza skirt to transform it into a dreamy, floating ballgown befitting a dreamer like Cinderella. I can imagine 'A Dream Is a Wish Your Heart Makes' playing in the background. I envisioned a modern working lady wearing this pencil cut dress to the office with a jacket. And when it is time to go to a party, she will throw the overlay skirt over and voila! It's an evening number suitable for black-tie."
BURO: How did designing for this project differ from designing bespoke pieces for bridal or evening wear?
Celest: "Disney stories and heroes will forever be part of our culture, transcending generations to come. It is consistent with my core design principle of timeless elegance. I was honoured to work with Disney, and I wanted to find a unique way to translate Aurora and Cinderella's courageous and kind personalities into gowns. There are not many differences in terms of design processes. This is because when I work with my brides and clients, I spend time with each of them to find out more about them before I start sketching. In other words, I need to understand their characters first to draw inspiration before sketching anything."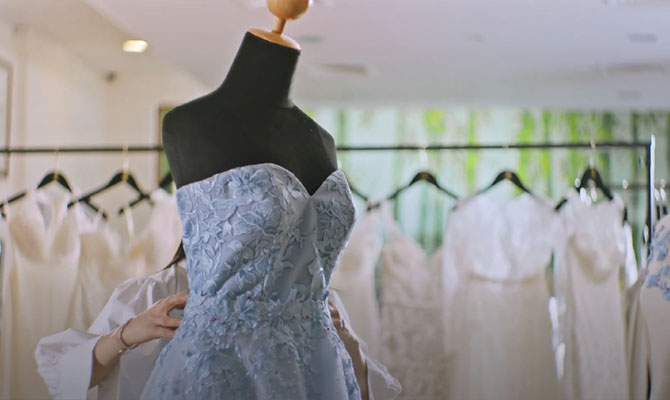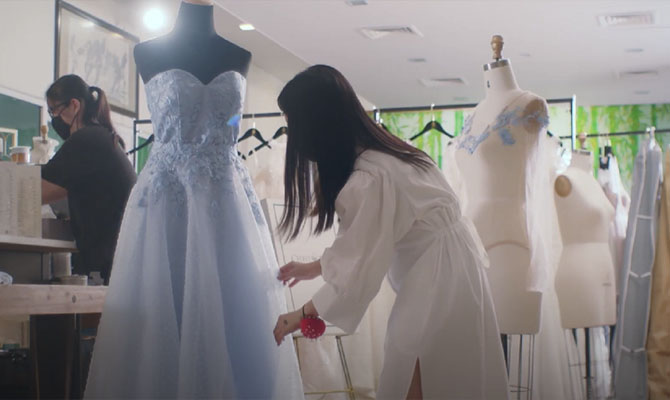 BURO: What is one wish you have for the future of local fashion?
Celest: "I grew up admiring the major designer Maisons like Dior and Chanel. I still do. Their legacy, innovation and quality continue to set the benchmark for industry standards. Although some local fashion brands have stuck around for some time, there has yet to be a lasting one within the luxury segment. My hope is for one of us to be able to stand shoulder to shoulder with any atelier in the world. To achieve this, the business of fashion requires an ecosystem."
"Firstly, locals should always support locals. Secondly, government agencies should also provide more support to the fashion industry similar to how the organisers from Tokyo, Hong Kong, New York, Paris and Milan are fully supported by the government, which then attracts global buyers. And finally, to have better understanding from financiers to give fashion startups a chance."
Izrin Ismail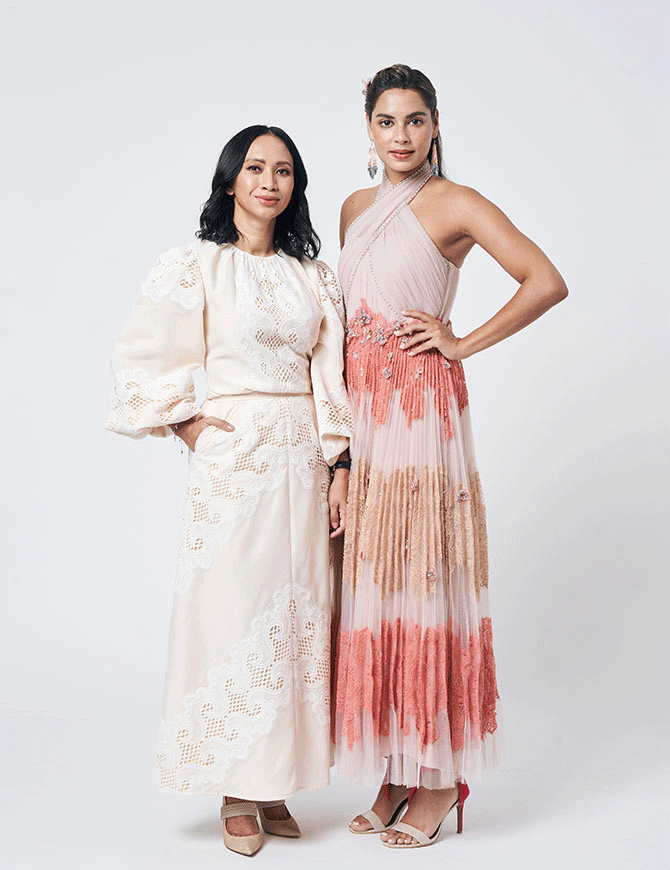 BURO: Could you explain the concept and inspiration behind your design(s)?
Izrin: "There were two couture creations that I created: the first piece was inspired by Belle from The Beauty and the Beast. My team and I were inspired by the scene when Belle walked down the grand staircase in her iconic yellow gown. It is arguably one of the most memorable scenes and recognisable, stunning outfits for Belle. With this in mind, we wanted to embrace designing a look that was whimsical with a fresh outlook."
"Instead of focusing on designing a one-piece gown, we decided to opt for a two-piece ensemble. We injected a local twist: a reimagined Kebaya top with overlap detail and a statement embellishment of the "Enchanted Rose". The rose is an iconic symbol in the movie, and I feel that it represents not only the fragile nature of life and the Beast's need to reform from his previous life of vanity and excess, but also Belle's compassion and courage to always see the best in people, and help break the curse. This modern top is paired with a tea-length tulle pleated skirt that forms scallop tiers."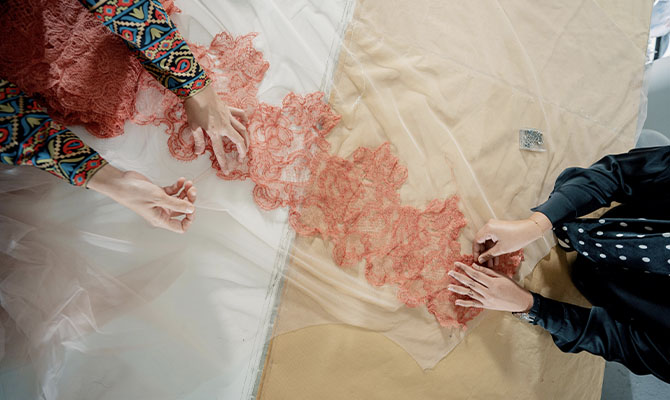 "My second piece was inspired by Moana. As Moana is a character that is deeply rooted in Polynesian tradition, we decided to recreate a modern translation drawing inspiration from the volume, texture, and color palette of Moana's outfit. The outcome is a dress designed in sunset shades, a soft nude tulle that was then pleated in a sun-ray pattern. The upper bodice features a draped tulle in overlapping halter fashion with turquoise crystal beads embellishing the outlines. The lace applied on the waistline of the dress features mixed tones of coral, orange, and sea blue with fully beaded 3D floral appliqué––colours representing Moana's love for the coastal outdoors."
BURO: What was the creative process like?
Izrin: "We started by rewatching the movies, both Beauty and the Beast and Moana, to gain inspiration. Throughout the two movies, we then decided which scenes and traits of each Disney Princess we wanted to capture."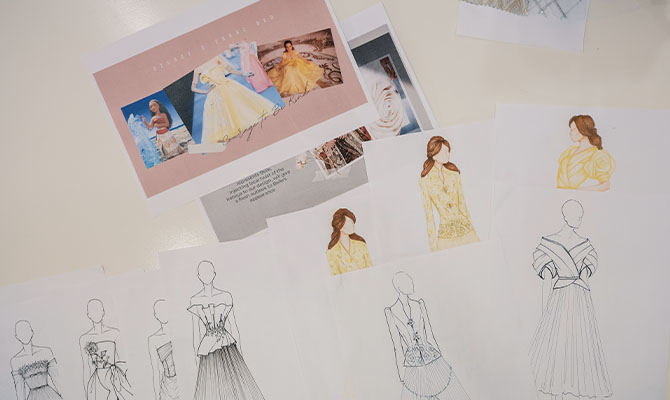 "After that, we put together a mood board of each Disney Princess and their aesthetics, details, and songs from their movies. As we were working on these couture creations during the lockdown, my team and I faced challenges sourcing fabrications, but we were able to find beautiful fabrics that suited the designs that we intended for each Disney Princess. We passed it on to our team, which included the cutter, pleating supplier, and our seamstresses to complete the finished creation. The whole process took two months, which was slightly longer than usual, due to the lockdown. The two couture creations were finally completed during the lockdown period."
BURO: Could you describe how details of the couture piece reflect the unique traits of the Disney Princess with a local, modern twist?
Izrin: "Our design pieces reflect Belle's confidence in always being true to herself, with a fitted re-imagined Kebaya top in concoctions of yellow rose and gold leaves adorned with the embellished enchanted rose replacing the Kerongsang. Before creating the dress, we had to find the right shade of yellow that is evocative of Belle."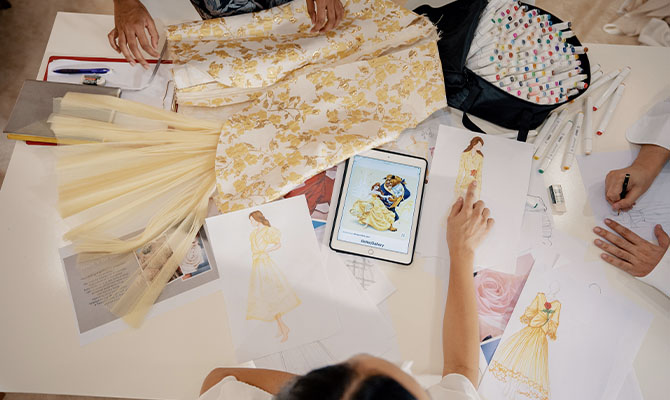 "As for Moana, she daringly sails after her dreams and is an inspiration to us all with her strong nature, forging her path and overcoming obstacles in front of her. As the design of her dress was also deeply rooted in tradition, it did pose a challenge for us especially since Polynesian fabrications and design tend to be meticulously hand-crafted. Therefore, we decided on a modern translation drawing inspiration from the volumes to the textures and coloration of Moana's outfit and tried to incorporate as much without overwhelming the design."
BURO: How did designing for this project differ from designing bespoke pieces for bridal or evening wear?
Izrin: "The creation processes for the couture pieces inspired by these two Disney Princess heroines did not differ much from designing bespoke pieces for bridal or special evening wear occasions. The design processes remain the same. However, the slight difference was that we needed more time sourcing for the fabrications and elements that can better represent the characters in our design and make it more wearable and avoid being costume-like."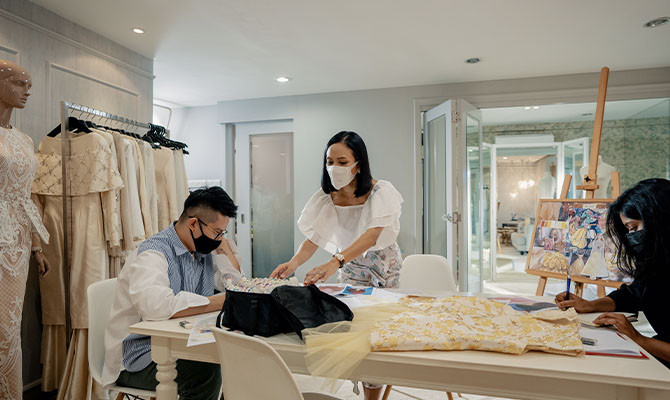 BURO: What is one wish you have for the future of local fashion?
Izrin: "My wish for future local fashion is to see more collaborations with reputable global brands whether in the fashion or non-fashion fields."
For more information on Disney's Ultimate Princess Celebration and ongoing auction until December 8, go here. 
Read more fashion insider stories here.
| | |
| --- | --- |
| SHARE THE STORY | |
| Explore More | |