With its phantasmagoric imagery and psychedelic colours, French animator René Laloux's 1973 sci-fi fantasy stop-motion classic Fantastic Planet makes for the ideal stay-at-home distraction during times of crisis. The film tells an adventurous tale of survival on a foreign planet, touching upon themes of non-violence and anti-conformity to showcase the tenacity of the human spirit. Searching for an escape during lockdown, this was where Cyii Cheng and David Han, the creative pair behind KL-based label Ghostboy, found inspiration for their debut collection.
Launched in April, 'Portal To Another Planet' riffs off the film's fantastical vision with a design language built around the power of youth. Slashed cut-outs and bright primary hues dominate body-flaunting silhouettes across a series of clubwear imbued with a fetishistic twist, ranging from high-waisted bikers and asymmetrical bodysuits to a pair of made-to-measure ass-less chaps. A product of lockdown ennui and post-pandemic revenge dressing, the collection straddles the line between escapism and reality, with just one message to deliver: celebrate yourselves and have fun whilst you're at it.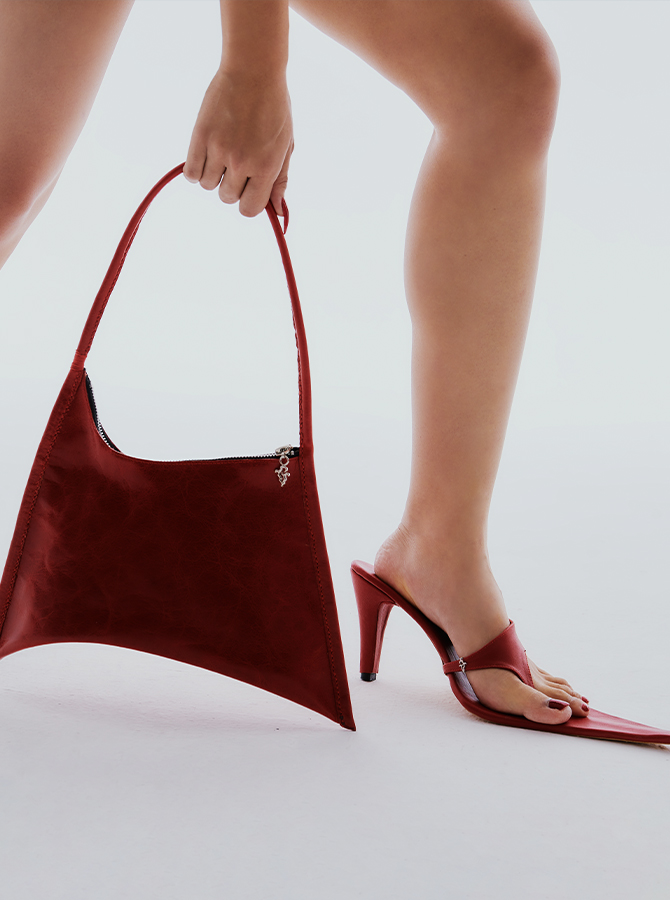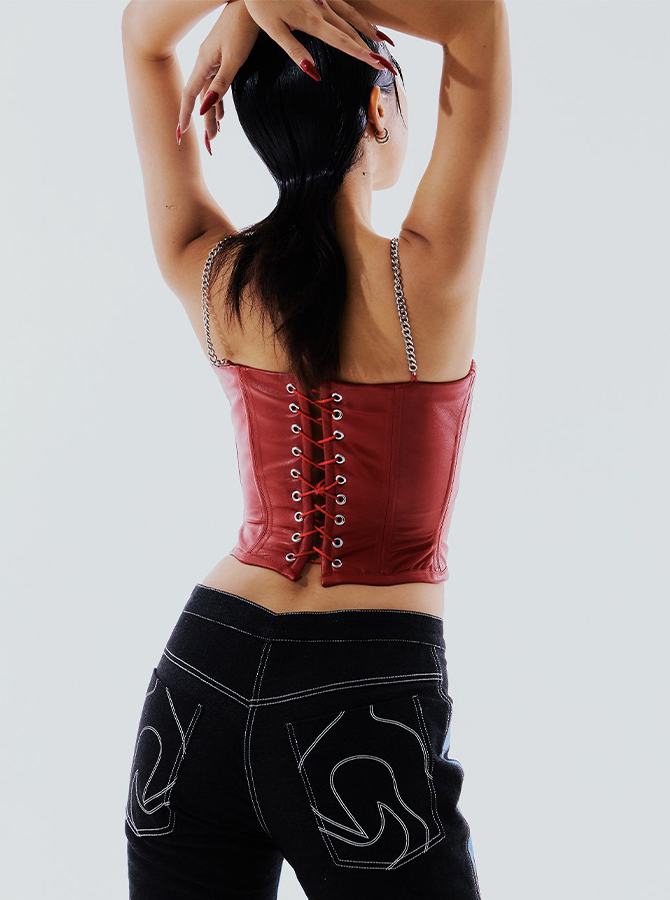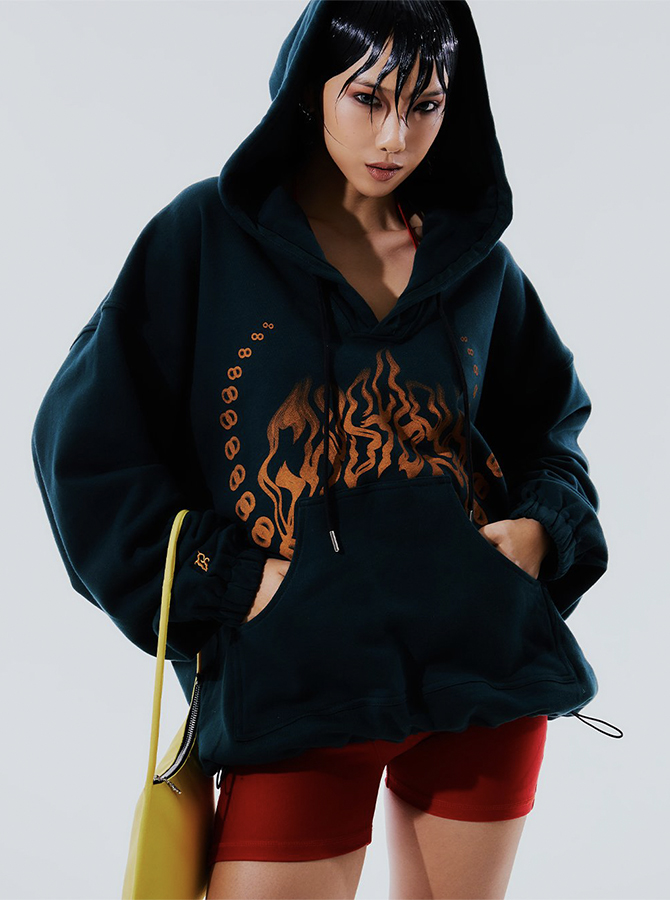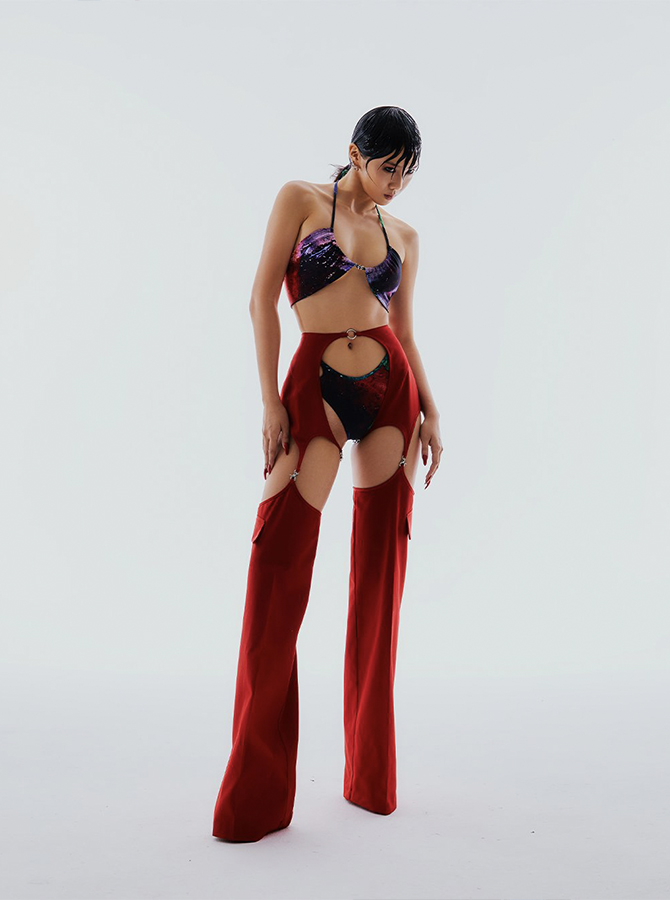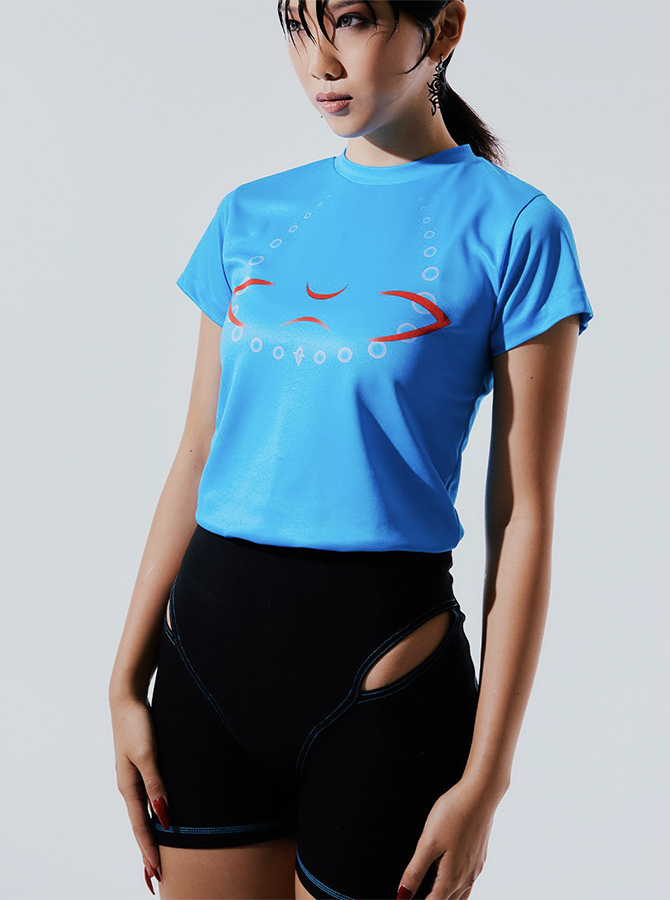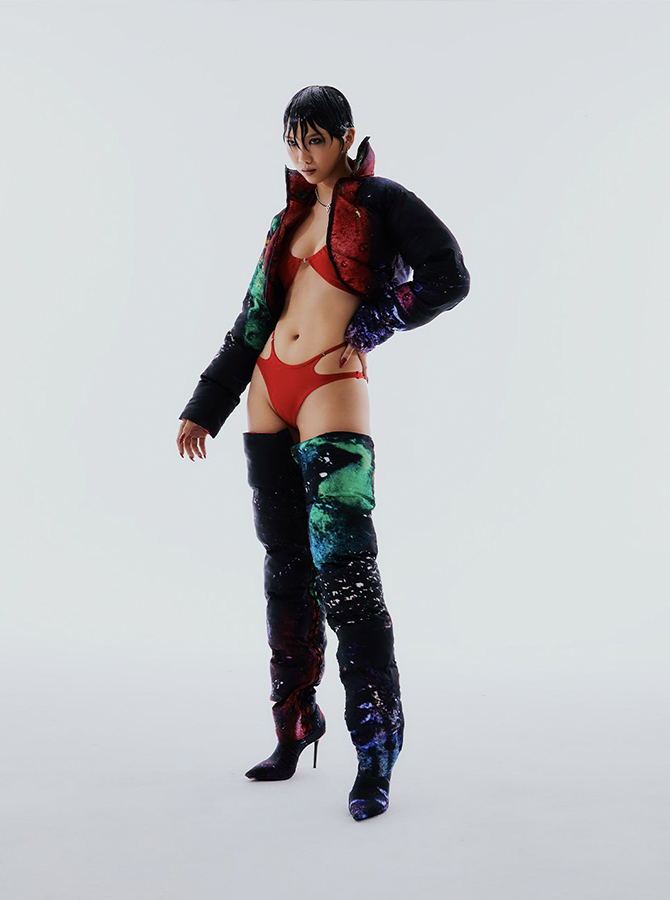 Ghostboy was established early last year after the co-founders struck a chord with an online community for their one-off, upcycled creations. The pair first met through mutuals and got to know each other when David would hire Cheng as a model for assignments that were part of his fashion design degree. Keen to pick up sewing, Cheng (who also stars in their debut campaign) found a knowledgeable teacher in the designer––David taught her how to make leather chokers while he was still in college. Not long after, they began thrift flipping new designs that she couldn't find in stores.
"In one of our early sessions, I went to his studio with RM50 worth of thrifted blouses that I got at a bundle store," she remembers. "We cut them up and turned them into some crop tops sewn together using an overlock machine––back then these types of tops weren't popularised yet. Long story short, a lot of people loved them and wanted to purchase them so we decided to make more and eventually turned it into a business."
Soon, Ghostboy's pieces were selling out in mere minutes via bids in their Instagram comments. The pair introduced cult designs spanning one-shouldered tanks and baby tees to double-loop Qipao tops before arriving at the full-fledged collection that we see here today. With a desire to continue experimenting and grow in whatever direction the future will take them, their only way is up.
In the spirit of DIY, the duo's shared an exclusive tutorial below to teach you how to repurpose your old clothes into cute outfits for your furry friends:
Ahead, we caught up with Cheng to gain insight into the brand, its values and what's next:
BURO: What's the ethos behind Ghostboy?
Cheng: "We don't want to put ourselves in a box. We want to be able to grow and try new things. We like the idea that people don't know what we're going to do next."
BURO: How did 'Portal To Another Planet' come about and what was the process behind the collection like?
Cheng: "'Portal To Another Planet' is our first collection and we spent a long time pondering about what we wanted to say with it. We realised it can be as easy as just touching on how we feel and what's going on around us. It was around the time that we were in and out of MCO months at a time and a lot of ongoing global turmoil––just a lot of noise with no end in sight. We really wanted an escape and to do simple things that we enjoyed before the pandemic.
View this post on Instagram
"The collection was designed with our dreams and fantasies in mind. It's clubwear with a touch of fetishwear. I think that's pretty explanatory of mine and David's dreams respectively. When I first watched René Laloux's Fantastic Planet (1973), I felt there were themes in the film that were relevant to how I was feeling at the time. It's an added bonus that the film has beautiful illustrations and a colour palette that matched the Ghostboy aesthetic."
BURO: What's the dynamic between you and David like? Do you divide yourselves between the creative and business aspects of the brand, or is it more collaborative?
Cheng: "It's pretty collaborative. I think it's quite common for people to think our roles are quite divided and I don't blame them; especially since David studied fashion and I studied business. We do almost everything together and make decisions together. David and I have similar interests that we want to explore and we have similar tastes so we very rarely disagree with each other. We design and plan looks together, produce our clothes together and also come up with marketing ideas or events together. Of course, there are things that we have different skillsets for, like David patterning and making samples while I do the bookkeeping and handling customers."
BURO: Ghostboy first gained recognition for its one-off, upcycled pieces. Will this be something that you plan to continue exploring and expanding on?
Cheng: "Yes! Although we are slowly branching out to making reproducible pieces (still in very small quantities), we do want to keep one-off items as part of our brand. It keeps things fun for us because it's something we enjoy. We are slowly expanding the range for our upcycling––tote bags and bikini tops are the recent additions. Although with this prolonged lockdown, it has been harder for us to restock upcycled items because we are out of thrifted clothes in our studio and we can't access thrift stores to get more material.
View this post on Instagram
"Something that we are very keen on though, is making DIY videos to teach people how to repurpose their old clothes at home (David loves teaching)! The two of us can only upcycle so many shirts, and it would be cool to see other people trying out for themselves too. Hopefully, we'll be able to educate our young following about sewing and fixing their clothes. Teach a man how to fish and whatnot."
BURO: How has working with upcycled materials informed your approach to design?
Cheng: "It's about using what we have on hand, which can be quite limiting but we love a good challenge. It pushes us to try new things and experiment on new materials. Sometimes I'll come back from the thrift store and show David some funny finds of the day––handkerchiefs, towels, a bolster pillowcase, and David's reaction would always be 'It's amazing!!! We can try making a …' and that's always a thrill.
View this post on Instagram
"David says upcycled clothes are an archive of what's been done before, so we can learn from them to make something new. Observing a lot of second-hand clothes really teaches us a lot too; sometimes we find a pair of pants that has a very interesting construction, or a jacket with a very well-sewn pocket and that's how we learn to be clever about designing and producing. Even with the making of our OG Suckerpunch tops, it's been fun to figure out how to deconstruct a shirt so that we utilise as much of the fabric as possible without compromising the design of the end product."
BURO: Ghostboy is rooted in ethical production and driven by a curiosity to subvert normativity. Why are these values important to you?
Cheng: "Fashion has so many flaws. David and I wouldn't feel right contributing to that and it's something we agreed on since the beginning. We decided we wanted to focus on one thing at a time, starting with ethical production when it comes to our clothes, especially with the people who make them. All of our upcycled pieces are made by us, and some of our reproducible items are made in-house too.
"With subverting normativity, for us, it's really about the exploration of people and things around us as well as what we're interested in the moment. We all have ever-changing interests and new things we want to try. Ghostboy is the reflection of avenues that David and I want to explore, whatever it may be. We know for sure that we always want to offer something different than what the current Malaysian market has to offer."
View this post on Instagram
BURO: The brand finds its biggest source of inspiration in youth culture. How does the current generation of young Malaysians inspire it? 
Cheng: "We're lucky enough to be surrounded by lots of people from the creative scene. We are inspired by our friends! Notably, it would be artist @softbwoi because we love her art and passion in uplifting the local scene (she's also our graphic designer); musician Shelhiel for his style and music; and party collective @offdaymotel––they used to throw great Y2K parties that were so fun to dress up to attend and dance the night away."
View this post on Instagram
BURO: What have been some of the challenges and highlights of running your own brand?
Cheng: "One of our challenges has to do with production. We want to make sure we find suppliers/factories that pay their workers fair wages and are able to produce quality work. We are currently working with a local factory to produce our small MOQ orders, which we are so grateful for.
"A big highlight is definitely our pop-up event at Safehouse exactly a year ago. The turnout was great and so was the turn-up for the afterparty! It was super gratifying, almost mind-blowing, to see how many people showed up to support us and I loved being able to meet our girls and talk to them. We were so exhausted and sleepless in the days leading up to the event but it was so worth it."
View this post on Instagram
BURO: From your experience of the industry as a model and a designer, is there anything about it that you'd like to change? Are there any parts of the fashion system that you think does not make sense for young designers?
Cheng: "I think there's a long way to go and a lot of room for growth in the Malaysian fashion scene. There isn't a lot of funding from the government for the fashion industry and most brands have been grassroot efforts. I can see that it's hard for young designers in Malaysia to turn their passions into sustainable careers, which sucks to see because there's plenty of talent but not a large enough market to appreciate it. Ideally, I would love to have a supportive community where fashion creatives could collaborate, share ideas and resources (no judgement and no gatekeeping!)."
BURO: What are your goals for Ghostboy? Where do you see it in five years, and what's next?
Cheng: "We see ourselves venturing into events––creating a space with our look and feel and collaborating with local musicians and artists. We want Ghostboy to be synonymous with local nightlife culture here in KL. David and I toy with the idea of making furniture in the future too. I definitely want to be able to have our own fashion show at some point, and a physical concept store!"
View this post on Instagram
BURO: What are your hopes for the future of Malaysian fashion?
Cheng: "We hope to see more emerging designers, not just within KL but maybe from other states as well. I also hope that young people can grow to appreciate local fashion more, to support Malaysian creatives and value their work. It would be great to be within an industry that is welcoming, inclusive and uplifting."
Read more fashion stories here. 
| | |
| --- | --- |
| SHARE THE STORY | |
| Explore More | |