Features
Buro 24/7 Exclusive: Jeff Koons on his latest collaboration with Louis Vuitton
Art meets luxury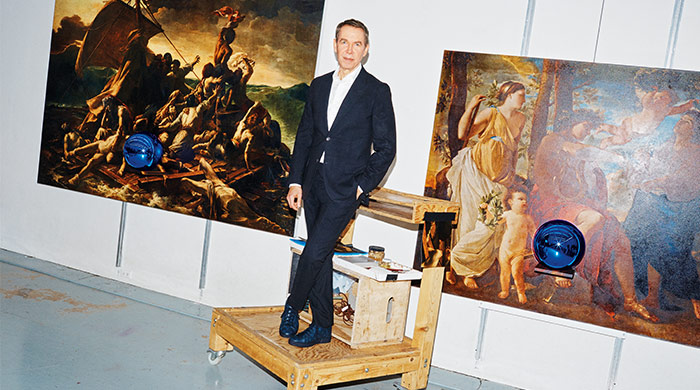 Contemporary artist Jeff Koons is no stranger to controversy. His famous works—including a stainless steel, 40-inch sculpture of a toy rabbit—have been both lauded and dismissed by critics, yet he has steadfastly stood by his belief: that his artwork is a celebration of what it is to be human. Recently, his collaboration with French luxury house Louis Vuitton culminated in a new collection of bags and accessories featuring imagery from his long-standing 'Gazing Ball' paintings. Below, we scored an exclusive interview with the influential artist to find out more about what this new collaboration entails:
How did your collaboration with Louis Vuitton begin? Were you issued with a brief or set any parameters for this project?
What's wonderful about working with Louis Vuitton is that there really aren't parameters. When they come and speak to you about a project, everybody already has an understanding of what the possibilities are to create something special. We both had the same objective: we wanted to make something that really uses material, texture, and colour to communicate and create something desirable. So there was tremendous freedom.
Why did you choose to put the names of the artists in big shiny letters on the bags?
Having the names of the artists in reflective type is in a way performing a function like the gazing ball in the 'Gazing Ball' paintings. But there's also a reflective process about the person being interlinked with the bag. To walk around with something that shows you really believe in giving it up to things outside yourself — it's another form of reflectivity.
"To me, art is something which lets us become more aware of our life, our potential and what we can become. The art is never the object — it's the object's ability to communicate to us that we can continue to have vaster lives." – Jeff Koons
You've mentioned in the past that you want your artwork to inspire emotional states in people. What emotional states are you hoping to create in the people who carry these bags?
One of the things I really enjoyed in working with Louis Vuitton on these bags is that both of us have this great desire to use craft, materials, and detail to communicate to the public, to the owner of the bag, to the viewer of the bag, what we really care about. We don't just care about being able to make a stitch perfect: we're communicating to the viewer and to the owner of the bag that we care about them. I care about the viewer, not detail for detail's sake. So I hope somebody who sees the bag or acquires the bag can emotionally feel this connectivity, can feel a sense of union. And not just with the artist of that bag. If they happen to have the Van Gogh bag, [that connection] is not just with Van Gogh. Van Gogh loved Gauguin and loved the Dutch Old Masters and loved Rubens.
There's all of this interconnectivity. The idea of being able to have appreciation for things that came before us, for things outside the self — that lets us have transcendence and become broader. And it lets us change our own being. I believe that through ideas we can change ourselves. I can become a better person and I believe I can pass that on to future generations. Right now in science we know that we can morph our mind: our genes can morph temporarily. We haven't been able to show that we can pass it on, but I know emotionally that this happens.
So would you say that the rabbit represents the Jeff Koons signature?
I would think that it represents me philosophically. It represents that I believe in generosity, I believe in transcendence. For me the rabbit captures that.
Do you see this collection as art or as fashion?
If I had to classify them I would think about them as art. To me, art is something which lets us become more aware of our life, our potential and what we can become. The art is never the object — it's the object's ability to communicate to us that we can continue to have vaster lives. And I think a Louis Vuitton product does that: it communicates that through all the time and craft and materials it entails. And my art tries to do that also, through ideas and through the same appreciation of craft.
What was your primary objective in undertaking this project: to make a statement, or to create a desirable object?
My primary motivation was to celebrate life! To make something special. This is the time we live in. I've been productive up to this point and I really still have a chance to make things I want to make. And I wanted to make this special grouping of bags with Louis Vuitton.
Louis Vuitton x Jeff Koons collection will be launched worldwide this 28 April 2017, and Louis Vuitton stores in Malaysia will carry the Da Vinci and Van Gogh range. The brand's flagship store in Malaysia is located on Indulge Floor of Starhill Gallery (hours: 11am – 9:30pm daily).
Related stories:
Louis Vuitton collaborates with Jeff Koons on a range of bags and accessories
| | |
| --- | --- |
| SHARE THE STORY | |
| Explore More | |