With the launch of the highly anticipated Erdem x H&M collection a day away, the buzz—which has been building up since the news was first announced back in July—has definitely intensified tenfold. But before you make a mental wishlist on the pieces you'd like to cop tomorrow (check out the full collection here), read what Erdem Moralioğlu has to say about the inspiration behind the looks, which is a mix of his childhood memories and Erdem's early designs.
How do you feel about collaborating with H&M?
It really is such an honour to be asked to join the group of designers who have already collaborated with H&M. It's so amazing to be able to explore what I do on such a massive global scale. I think there's something so democratic about offering what you do to so many people in so many different countries.
Tell us more about Erdem x H&M?
Erdem x H&M is full of totally new pieces that look back at the different themes since I started my label in 2005. I also looked at my own personal memories, my childhood and my family, and things that inspire me in pop culture. I also think by having both menswear and womenswear it serves as an invitation to take pieces from each wardrobe to make it your own.
What are some of the childhood memories that inspired the collection?
This is the first time I've ever designed menswear, and it got me thinking about what I wear now, and also what I wore when I was young. This then led me to start thinking about what my twin sister Sara wore when we were growing up, and how she would wear a fleece over vintage tea dresses—it's something I've always thought was so cool. Then I remembered how my mother would put our father's tweed blazer over her shoulders when she drives us to school, or the structured handbags she carries in photos of her from the '60s.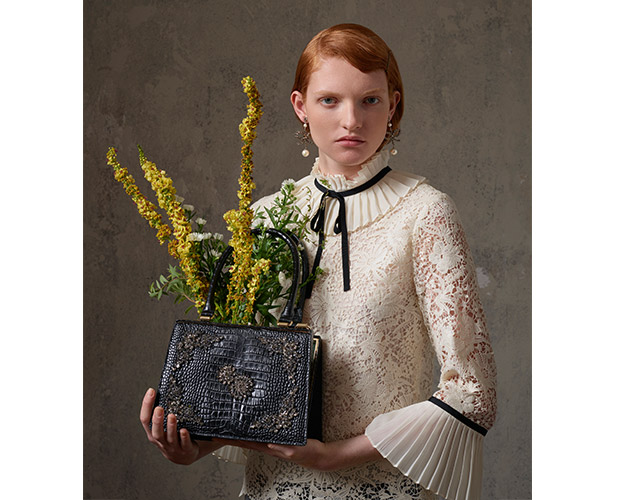 What was it like to look back at your past collections?
It was such a pleasure to return to my work; to re-examine and then re-appropriate it for Erdem x H&M. The sunray plisse dress reference is from my very first collection, so it's an important piece with many memories for me. Then there are details like Victorian button loops I use as a trim detail in ERDEM x H&M—it comes from a collection I did three years ago that was about unbuttoning Victorian dresses. It was about looking at these themes and approaching them in a new way.
Can you let us in on your love of flowers?
With each of my collections I'm interested in exploring the language of femininity and playing with its codes. Flowers are a recurring theme for this reason along with my preferred materials of lace and other intricately crafted fabrics. For Erdem x H&M, it was also fascinating to see how well flowers worked for men's clothing.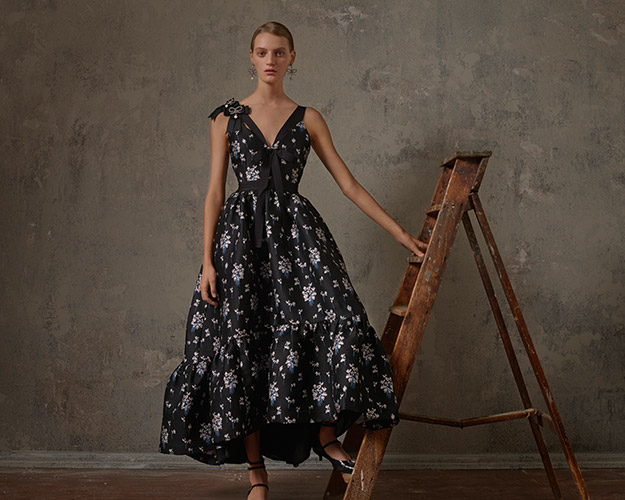 How was it to design your first ever men's collection?
It was an absolute joy. Designing the men's collection was almost forensic. It was great to work with tailoring, and to think about the nipped-in suits that my father used to wear in the '60s, with a neat shoulder and a clean leg. With every piece, I thought about how I wanted it to be: what does an ERDEM coat look like? What is its length? How does it fit? How should it feel? It was like taking a wardrobe apart and putting it back together again with the pieces that matter most. It's very personal, and very satisfying.
How does the design process for menswear affect womenswear?

Designing the menswear gave a new dimension to the womenswear, because I was thinking about how these women's pieces would be if they were mixed with the male wardrobe. I also think it works the other way too—guys could look great in the women's white shirt with the ruffle that extends down from the collar, so I added that for the men's collection as well.
You mentioned there are cultural references to Erdem x H&M—can you elaborate on that?
One of my favourite TV shows of all time is Twin Peaks. Everyone in the show has such amazing style. The look of the series inspired the mohair cable knits in the women's collection, and they can be mixed with so many pieces in the collection. I've also always loved a video from the '90s of the Pet Shop Boys song Being Boring. It was shot by Bruce Weber, and it's that idea of a group of young people invading a country house, dressing up and playing with their look. It was such a big inspiration for the whole collection.
One final question: how do you feel about working with Baz Luhrmann?

I'm so honoured and excited to be able to work with Baz Luhrmann. He's one of the greatest storytellers of our time, and I know we share so much in common with our love of narrative, and how clothing can say so much about character.
The Erdem x H&M collection will be available at the H&M Lot 10 and Aveneu K stores on the 2nd of November.