1. Lagerfeld isn't his real birth name. He was born Karl Otto Lagerfeldt but decided to remove the silent 't' at the end of his last name as it sounded "more commercial".
2. It's no surprise that the creative genius was born with an incredibly imaginative mind and aspired to be a cartoonist as he was growing up.
3. Besides being a multi-talented creative, Karl Lagerfeld was also a polyglot and spoke 4 languages fluently. Aside from his native German tongue, he added English, French and Italian in his vast vocabulary.
4. Learning that fashion design could possibly be more lucrative, a 14-year old Karl Lagerfeld moved to Paris and majored in drawing and history at Lycée Montaigne, a famous French secondary school.
5. At just 21, he became Pierre Balmain's assistant after winning the coat category of the International Wool Secretariat Design Awards. (Fun fact: Yves Saint Laurent won the dress category in the same year)
6. With the logomania trend making a comeback and noticeably at Fendi, it's imperative to know that Karl is behind the now iconic Double F monogram which he coined in 1965. He recalls in Loic Prigent's 2013 'Karl Lagerfeld Sketches His Life' documentary, "I drew the [Double F] in three seconds and it became the acronym of the [Fendi] house."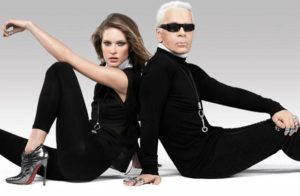 7. Way before the hype of H&M and their annual designer collaborations, Karl Lagerfeld was the first to release a collab collection with the Swedish retail giant in 2004. Its success saw the birth of future designer collections and paved the way for the phenomenon that it is today.
8. He staged the world's longest running show for Fendi at The Great Wall of China for Spring/Summer 2008. The 1,500 mile fashion show took 12 months of planning and preparation. It was so immense the runway was even visible from outer space.
9. Nobody could come in the way of him and Choupette, his adorable Birman cat. In 2013, he revealed to CNN he would marry the furry feline if he could. "There is no marriage, yet, for human beings and animals… I never thought that I would fall in love like this with a cat."
10. He admired the Hedi Slimane's work so much, he made changes to his lifestyle to lose weight to fit Hedi's designs (which are notoriusly known to be in very small sizes). He reportedly lost 42kg in 13 months and published 'The Karl Lagerfeld Diet Book'.
| | |
| --- | --- |
| SHARE THE STORY | |
| Explore More | |