Ever since Alessandro Michele took the helm less than two years ago, the creative director introduced a new aesthetic to the Italian luxury house, had all of fashion talking and sent sales rocketing. Thus, there is no doubt that Gucci's showcase is one of the most anticipated shows at Milan Fashion Week. Let alone, the entirety of Fashion Week. This season, Michele drew references from the '70s once again. While it may not be Studio 54-inspired like last season's collections, the flamboyant elegance remains with look-at-me pieces like a double-zebra mink coat, matching sequined sets and glitter-framed Elton John-esque eyewear. The collection has its quirky side: from a tiered evening dress that had a giant embroidered heart pierced with a jeweled dagger on the front to a "Hollywood Forever" sash. Nerdy, eccentric teamed with Renaissance-chic vibes, the multiple references converged harmoniously, heightening the maximalist fashion brought by the Michele-led style revolution.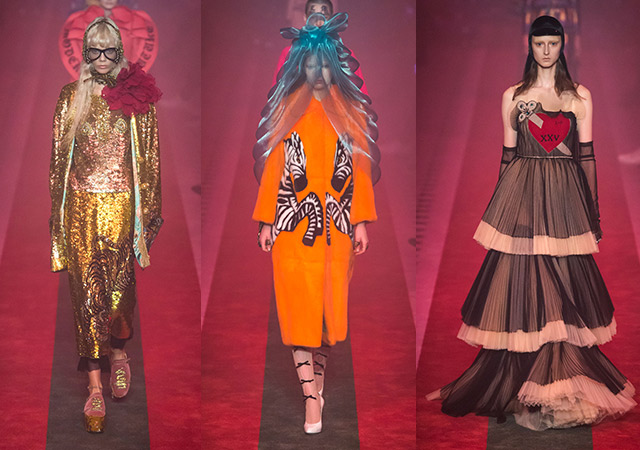 At Roberto Cavilli SS17, the '70s trend showed no signs of slowing down as the era's carefree elements are apparent throughout. This season, Peter Dundas cross-referenced American textiles Najavo blankets with Scandanavia, presenting snow-inspired polka dots and platform boots à la chunky wooden-soled clogs. The collection simply spells gypsy luxe with its mixture of ponchos, shawls and drifty dresses, making every girl wish they could don the pieces at Woodstock in 1969. Adding on to the "more is more" style with numbers like an apricot silver-embroidered silk velvet flared pants, patchworked denim and multi-tiered dress, it is safe to say that bohemian has never looked this chic.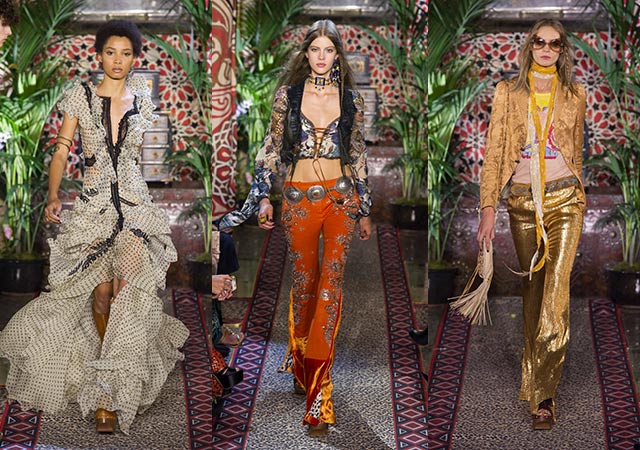 At No. 21, Alessandro Dell'Acqua redefined femininity in his exuberant Spring collection. Featuring net hems on macramé dress, tulle-lined anoraks and feather-trimmed scuba-tops, Dell'Acqua merged a romantic direction with sporty elements, bringing athleisure to new heights. While layering is not a trend emblematic of summer, it was done effortlessly and lavishly at No. 21. With loose mesh as an underlayer, the athletic touch is seen under piled-up skirts, patchworked dresses and pleated lamé. Although girlie and light, the looks are far from precious with pieces like an eyelet-detailed oversized shirt, a sweatshirt with ruched chiffon sleeves and pocketed bomber. If there is anything that lets you have the best of both worlds, it is this collection.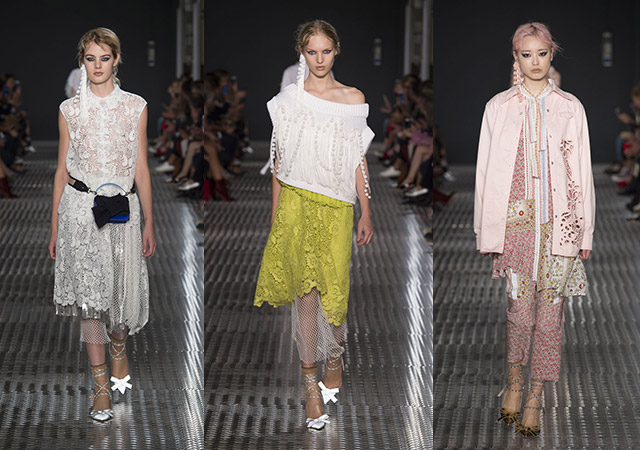 Related stories:
Watch: Gucci Spring/Summer 2017 livestream
| | |
| --- | --- |
| SHARE THE STORY | |
| Explore More | |