50 years ago, the LGBTQ rights movement was born
Have you ever wondered why Pride Month occurs in June? In the early morning hours of June 28, 1969, a police raid took place at the Stonewall Inn, a popular gay bar in New York's Greenwich Village. Frustrated with their continuing unfair treatment, the queer community resisted, which led to a series of demonstrations in New York City, sparking the gay rights movement in the United States. 50 years after that uprising, the WorldPride NYC 2019 march will take place in the same city that sparked the movement, marking half a century of the LGBTQ liberation.

In full support of equal rights for all, these fashion brands have released limited-edition rainbow-hued collections to celebrate Pride Month 2019. Support equal rights for all individuals, and look good while doing it, too.

It's only apt that the brand that shares its name and home city to the birth of the LGBTQ rights movement in the United States dedicate a collection to the Stonewall uprising. DKNY incorporates the many colours of the rainbow into its bold block letters for a fun and playful take on the iconic print logo. Top pick: The oval belt bag with the names of New York's city streets nestled in between the colour-blocked logo grid. A portion of the proceeds will go to the Hetrick-Martin Institute's Arts & Culture Program, an outlet of empowerment, education and advocacy for LGBTQ+ youth in the NYC metropolitan area and beyond.
The instantly recognisable logo gets a complete rainbow makeover in this capsule collection for Pride Month 2019. The simple yet impactful rainbow horse and equestrian is printed on white tees and sweaters for a clear and direct message: Ralph Lauren supports equal rights and wants you to look stylish as you too, champion for human rights.
Flaunt the rainbow stripes in style with this cheerful capsule collection, filled with easy ready-to-wear pieces to rock during the month of June and beyond. Each item instantly elevates your look with its bold bands of colour. Slip into the casual multi-hued sliders during the day, while the fully sequinned t-shirt dress is perfect for a night out. All proceeds from the sale of rainbow-hued MK logo tees go to God's Love We Deliver, a non-profit that delivers healthy meals to those living with severe illnesses in New York City.
Three Reebok classics get a subtle update for Pride Month 2019. The Club C 85, Classic Leather and Freestyle Hi are reimagined with vibrant rainbow-coloured stitching while a bright Pride flag replaces the Union Jack. Simple and subdued, the swap will go unnoticed to an untrained eye. Until June 30, Reebok will donate a portion of the proceeds to Fenway Health. Founded in Boston in 1971 by Northeastern University students, the facility firmly believes in healthcare as a human right and aims to provide adequate healthcare to the lesbian, gay, bisexual and transgender community as well as all people in their neighbourhood.
The classic 1460 boot gets the full rainbow treatment across its entire body for Pride Month this year. Upon closer inspection, you'll notice the other tiny details inspired by the Pride flag: the coloured eyelets, the rainbow welt stitching and heel-loop. A portion from each sale of the Pride boots will go to The Trevor Project, a national non-profit organisation focused on crisis intervention and suicide prevention for LGBTQ+ youth.
H&M supports love for all, and firmly believes in equal rights for all women, men and non-binary individuals. They've released a series of gender-neutral clothing to celebrate Stonewall50, with slogan tees emblazoned with names of iconic cities across the globe decorated in the many colours of the rainbow. 10% of the proceeds will be donated to the UN Free & Equal campaign (by the United Nations) for equal rights and fair treatment for lesbian, gay, bi, trans and intersex people around the world.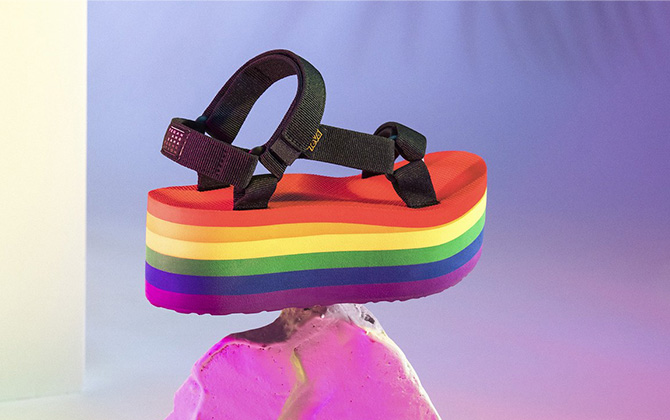 Equipped with its Universal Strapping System, the trendy "ugly" chunky sandal gets a whole new rainbow sole this June. Created in partnership with musical twins, Tegan and Sara, the ultra thick 7-layer flatform is made from 100% recycled polyester from post-consumer materials (such as used water bottles). For each pair of Flatform Universal Pride sandals sold on Teva.com, the footwear will donate US$15 to the Tegan and Sara Foundation which fights for economic justice, health and representation for LGBTQ girls and women.
The Kenneth Cole Kam Pride sneaker is found in neutral white and black, save for the rainbow strip along its heel. If you're looking for something that would make more of a statement, check out the Bailey Jogger with the eye-catching rainbow strip at its sides. Our favourite piece in the collection? The slogan tee that reads 'Solidarity' which cleverly incorporates the number 50.
RuPaul's Drag Race star Alyssa Edwards is the face of Fossil's Pride campaign. Commemorating Pride Month this year, Fossil has released a limited-edition large-faced timepiece with a multi-coloured watch dial and colourful rainbow strap. Total proceeds from sales will be donated to the Hetrick-Martin Institute, an organisation that provides support and safe environments for LGBTQ youth. What time is it? It's time for equal rights for all!
Converse is committed to supporting movements for positive social change and has been releasing a dedicated Pride collection since 2014. This year, Converse updates their classic silhouettes with colours of the rainbow in multiple styles that will suit just about anybody. The iconic Chuck 70 is remixed with a diffused rainbow across its length and glitter lightning motif on the tongue. For a more subtle approach, the All Star gets the allover rainbow treatment with tiny lightning bolt motif. Brownie points: A portion of the proceeds will go to the It Gets Better Project and Out MetroWest.
You may already recognise the sneaker silhouettes from Adidas' latest 'Love Unites' campaign. Say hello to the limited-edition Ozweego Pride, Nizza Pride and Continental 80 Pride. The shoes are dominated by their leather white uppers but see pops of colour on the sides with rainbow accents. Adidas aims to champion social movement and change by also supporting The Trevor Project (alongside Dr.Martens)—a suicide prevention and crisis intervention organization for LGBTQ youth.
Nike honours the creator of the pride flag, Gilbert Baker with its latest 'Be True' collection. Each hue in the 8-striped flag bears meaning; Pink: sexuality, red: life, orange: healing, yellow: sunlight, green: nature, turquoise: magic, blue: serenity, and violet: spirit. The Nike Air Max 90 'Be True' sneaker breaks down the Pride flag into its individual components and colours with colour-blocking panels for a beautiful, deconstructed multi-hued homage.
The sports performance brand celebrates the 50-year anniversary of the historic moment that propelled the gay rights movement with a splash of colour. Under Armour acknowledges the conflict, discord and chaos that brought on the necessary change. "Sometimes, beauty is born of chaos", says Under Armour and this notion is perfectly and beautifully illustrated with the rainbow-splashed shoes and rainbow laces.