Tidying up your wardrobe is anything but a chore with these tried-and-tested tips
We all have a love-hate relationship with our closet, no? We love our clothes, our bags, and our accessories, but when these items start to spill out of our wardrobe, things can get a little overwhelming. Ahead of Chinese New Year (and to kick-start the year on a neater note), there's no better time to get your spring-clean on. Organising expert Marie Kondo has been making waves for her KonMari method the past few years, but rewatching the Tidying Up with Marie Kondo series earlier this month made me feel slightly...lost. What do you do if you're neither a hoarder, nor exactly willing to get rid of your precious clothes? Fashion trends, after all, come and go, and keeping the pieces and rewearing them in a few years' time is definitely a more sustainable option compared to purchasing a new one every time the trend's in style again.
I'm by no means a tidying expert (I don't colour coordinate my hangers, and my bag closet isn't exactly the most organised), but I have my own way of keeping my wardrobe uncluttered, and it has proven to work. So, if you need any alternatives (and if the KonMari method doesn't quite inspire you this year), below are some of my tried-and-tested tips on how to store all your knick-knacks in an orderly manner.
My clothes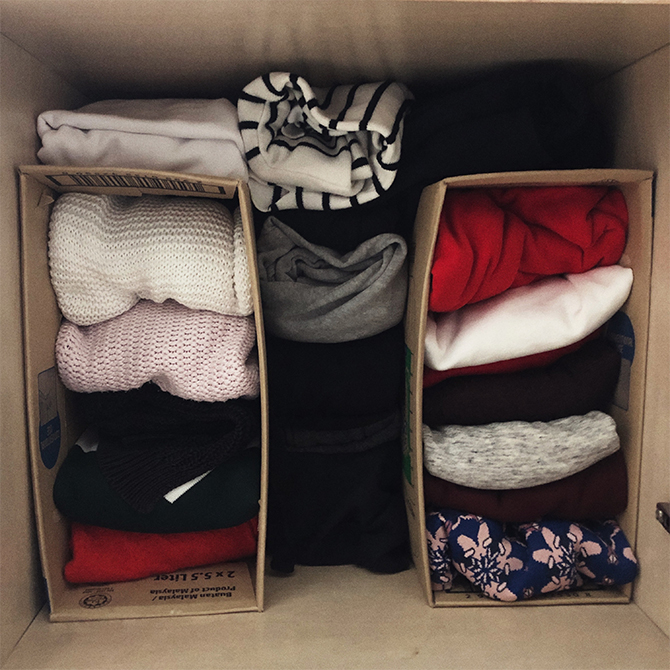 Unlike Marie Kondo, I do not believe in keeping clothes that "spark joy" simply because they all bring me happiness—you feel me? As mentioned, fashion trends can make a comeback anytime, and if you find it hard to toss out clothes like I do, here's my way of keep things super neat while maximising your limited closet space.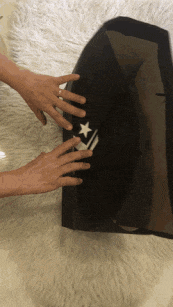 I have my mum to thank for this trick. Instead of buying different boxes to compartmentalise the clothes, she made her own using the unused paper bags at home. Simply pick one depending on the width you prefer, fold it downwards in half, staple it to keep everything in place, remove the strings and you'll have a new organiser—it's as easy as that. I like that I'm able to customise it according to my colour preferences too. Want colourful hues? Opt for paper bags in rainbow shades or striking prints. Prefer black and white to keep things chic? Go for it. The combinations are endless, and the best part is the organisers can be stacked, so you can truly maximise the smallest of space.
When it comes to folding clothes, while I find Marie Kondo's method pretty useful, I didn't like how you could only identify the pieces based on its colours when they're stored vertically. What happens if you have a lot of black T-shirts? It'll be difficult to look for a particular piece. Fret not, here's how I do it: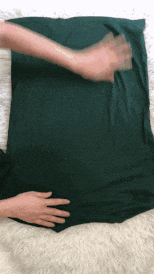 First, place your T-shirt face down, bring the left half of the shirt to the center or more depending on the width of your organiser and repeat on the other side. Bring the bottom hem to meet the collar before folding it backwards to reveal the label. Remember to flatten the shirt using your hands as you go. Arrange the pieces vertically and you'll be able to identify your garments based on the brands, necklines, and colours.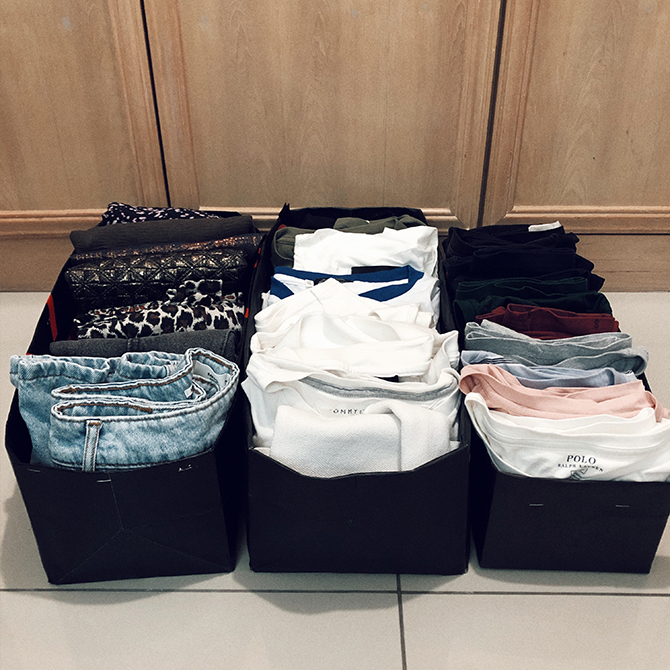 My jewellery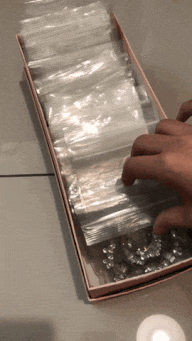 I've tried using organisers to store my jewellery previously, but zip-lock bags—although not exactly the eco-friendliest—is truly the most fuss-free way to do it. I like how 1) it takes up minimal space, 2) I can browse my collection at one go, and 3) packing for trips is so much easier. The box above is a recycled shoebox in the perfect width and length to store my earrings collection—feel free to use it for your necklaces, bracelets, and rings too.
My miscellaneous items
Introducing my personal inventory. From precious childhood memorabilia, makeup and skincare, to angpow packets I've collected over the years, I store and label them in individual boxes so I could easily keep tabs on what I have, and I try to make it a habit to go through and clear them every half a year.