On day 4, Self-Portrait goes rock 'n' roll; Dion Lee flaunts its architectural and sculptural aesthetic; and Alexander Wang sticks to the streets (literally)
Self-Portrait's Spring 2018 collection was a mix of old and new. Channeling the nostalgia which was inspired by Mick and Bianca Jagger, the looks are a modern reiteration of the flamboyance of the '70s and the charisma of '80s. From asymmetrical hemlines to ruffles, instead of its signature guipure lace, its creative director and founder Han Chong opted for lighter fabrics for most of the pieces this season, pulled together by classic motifs—polka-dot, stripes and star prints. To seal the cool-girl vibe, models are accessorised with neckerchiefs, leather beret and round sunglasses.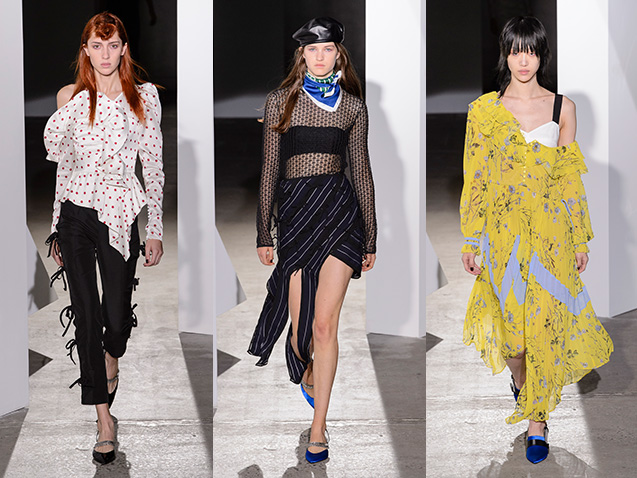 Aside from the clothes, the brand is also introducing a capsule collection on its own, after collaborating with Robert Clergerie for the past two seasons. Kitten heels and sock boots are adorned with chain details for that modern update.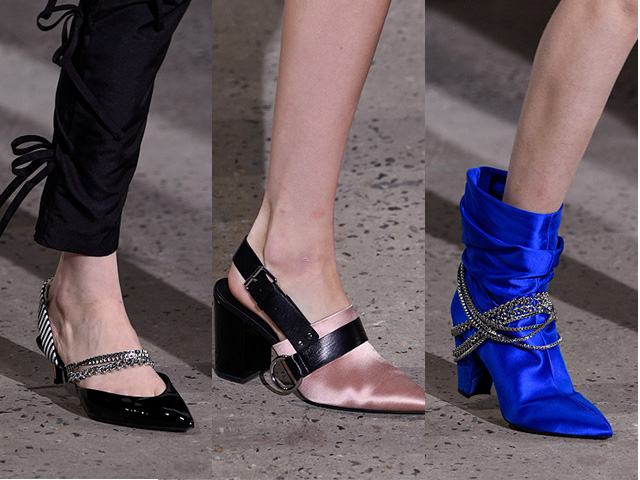 For this season, Dion stuck to a more muted colour palette, with pops of red and green serving as a pick-me-up. An array of deconstructed outerwear was sent down the runway, and our favourites are the workwear staples such as blazers and vests that are given a tune-up. As the show progresses, the hard tailoring was juxtaposed with soft draping in the form of soft knitwear, and ended with beautifully pleated skirts and dresses for its finale; they're every girl's ideal day-to-night wardrobe.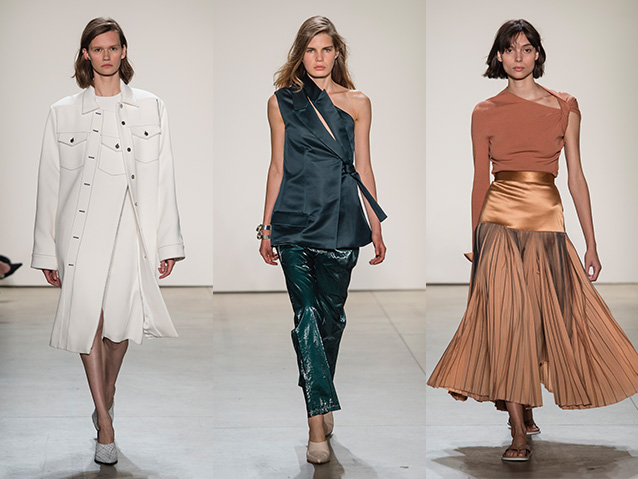 Titled #WangFest, Alexander Wang's show was a party on the streets, with three outdoor shows scheduled in Lafayette and Center streets, Astor Palace, and Brooklyn (the first two were opened to public). Models poured out of tour buses for the outdoor shows—a reminiscence of the guerrilla pop-up trucks that sold his Autumn 2017 Alexander Wang x Adidas Originals collection. The show opened with Kaia Gerber in a draped mini dress, kicking off the sexy-meets-street aesthetic. The brand experimented with materials—denim shorts worn over leather leggings, button-down shirt spliced with silk camisoles and layered under leather bustiers, with extra sleeves tied around the waist, over jackets, dresses and trousers. Spotted on tailored pantsuits and on jeans, Alexander Wang's signature zipper and stud details were also given a new iteration.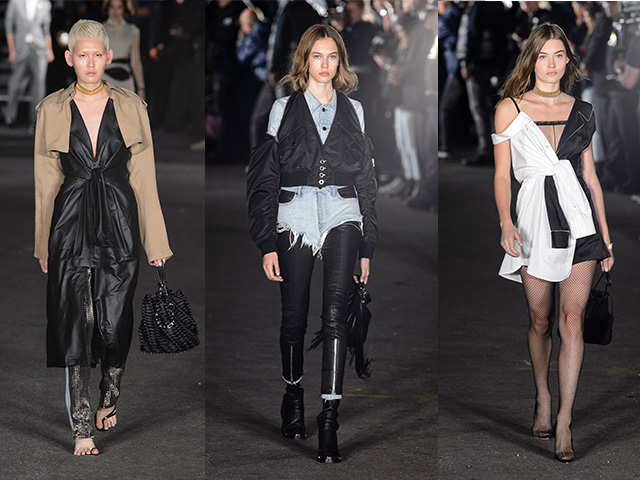 Related stories:
Everything you need to know about the upcoming Spring/Summer 2018 Fashion MonthNew York Fashion Week SS18: Highlights of Day 1 and Day 2New York Fashion Week SS18: Highlights of Day 3