The city's past is redundant; the city's future resplendent. A new New York heralds the dawning of Spring
As designers Dao-Yi Chow and Maxwell Osborne reached for new meaning within the time-tested codes of DKNY, a futuristic concept was born: Neo SoHo.
DKNY SS17 revolves around the idea of finding newness while being grounded in the unmistakable rhythm of New York City. It is an unique pairing of aspiration and pragmatism, not unlike the tropes and ideals of its target—the much-discussed millennial.
Appealing to the aforementioned faction, the collection plays to the contrasts of a modern wardrobe. Pieces are simultaneously polished yet gritty, elegant but streetwise, they embrace tech but value tradition, and they construct via deconstruction.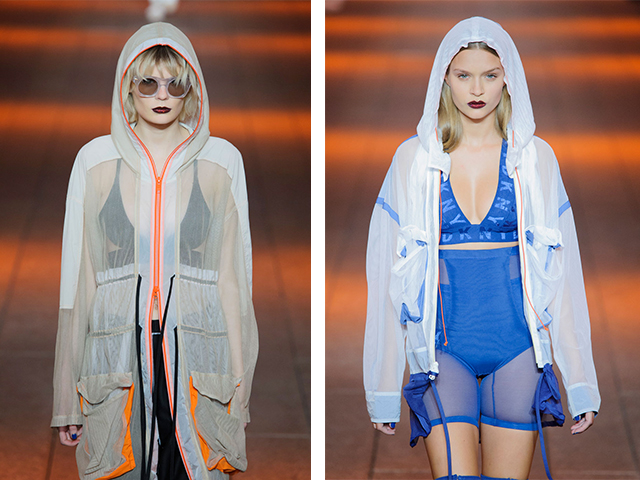 Confidently redefined classics juxtapose the DKNY SS17 ready-to-wear line for this block of the 21st-century. The power suit leads the pack by projecting masculinity with a divergent nip of obvious femininity at the waist. Notions of sports luxe echo throughout the line up with athletic tulle-centric outerwear and jersey dresses making a convincing proposal for daytime. 
The athleisure trend continues with footwear and accessories. Bungee cords, technical fabric, and rubberised leather materialise in in no-sew slip-on booties and sleek hobo bags. Architectural shapes and modular creations are rendered in a spectrum of neutrals with graphic punctuations of pilot, orange and military green—cementing the sports leaning of the designers' vision 0f a new New York City.
Related stories:
DKNY Pre-spring 2017 is the definition of so fresh, so clean