Is there anything Beyoncé can't do?
For Beyoncé's latest 'Spirit' music video, Queen B donned statement looks close to every shade in the rainbow. Considering her firstborn child is named after a significant primary colour (Blue Ivy also made an appearance in the stunningly shot music video), we're not surprised that she's attuned to her hues. Which has made us question...is there a colour Beyoncé cannot pull off? Ahead, we break down every look from her latest music video for the Lion King OST while we question... is she even human?
# 1 She can definitely work a lilac and red colour combo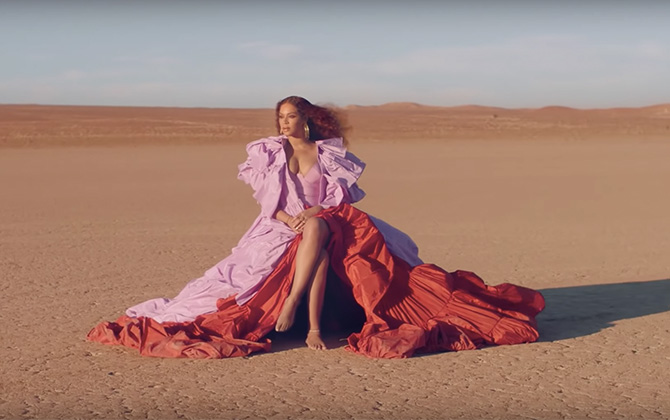 Queen B made her grand entrance sitting in the middle of a scorching desert, appearing as a beautiful mirage wearing a voluminous ruffled dress from Valentino Spring 2019 Couture collection. Ever the trendsetter, she paired exquisite couture with a latex tulip cup minidress from Los Angeles-based designer, Venus Prototype.

Special guest star: Blue Ivy Carter
Blue Ivy is ready for her close-up! The eldest daughter of Beyoncé and Jay-Z donned a custom sheer tulle dress from Japanese label, Microwave.

# 3 Can Queen B wear indigo? Yes, she can
For Beyoncé's second look in the video, she was seen standing in front of a gushing waterfall and pristine waters. Her striking indigo ensemble stood out against the pale blue hues—a fitted gown with a slit and draped hem with an attached headscarf accessory. Her stacked golden bangles and choker was a dutiful homage to African culture.

#4 She can also wear monotoned hues
Queen B continued to honour African design by wearing a bespoke suit decorated in traditional print and futuristic metallic jewellery by Senegal-based label Tongoro.

# 5 Beyoncé is pretty in pink
Beyoncé also chose to highlight other talented designers from across the globe. This frilly hot pink number was created by Israeli designer Shahar Avnet,
#6 It's official, she can also wear impossible colours
Is there a colour this woman cannot wear? Beyoncé pulled off the tricky hue of chartreuse yellow in a maxi dress by Norma Kamali.

#7 Seeing red is a good thing when it comes to Queen B
If there's a person who can pull off handmade erotic rope lingerie, it's Queen B. In one of the more iconic scenes in the 'Spirit' music video, Beyoncé and her girl gang wore matching skin-baring macramé ensembles by Déviant La Vie.

#8 Pearls and shells are not an official colour, but for her we will make an exception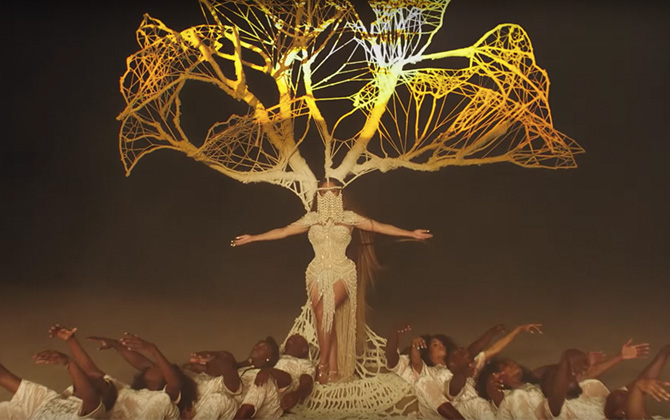 We are not worthy! All hail the Queen in an exquisite beaded pearl dress by Brazilian label Maison Alexandrine, with a custom cowrie shell and chain harness by Laurel DeWitt. For an added air of mystery, a headpiece by La Falaise Dionn, shielded her face.

#9 Ivory is a pretty shade on Ms. Knowles
In the video's more dynamic shots, the icon donned an ivory fringed coat by Paris-based designer Hyun Mi Nielsen, which swayed with her every move.

#10 Feeling blue never looked so good
Laurel DeWitt's design makes another appearance in an electric blue fringed bodysuit.

#11 Orange is the new black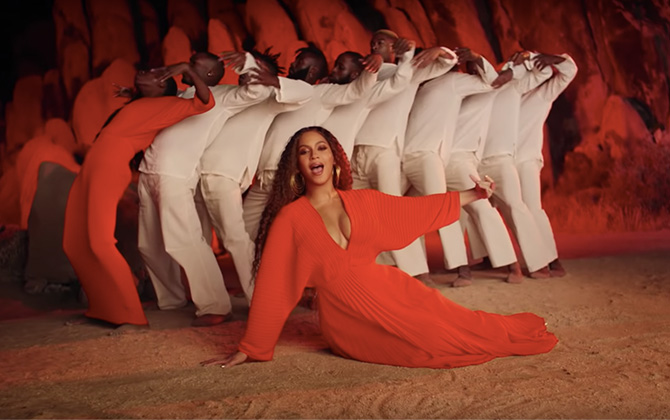 Spotted: Another challenging colour. Beyoncé's bright orange pleated v-neck dress was custom-made by UK-based label, Solace London.
Which was your favourite look?