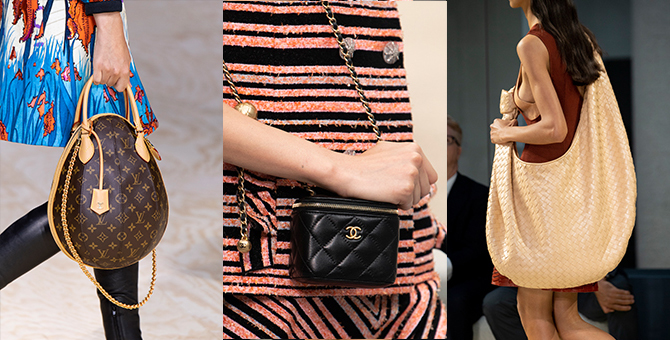 Net worth
String is (still) in. The net bags are undoubtedly one of the most well-loved bag trends by the It-girls last year, and the designers are giving them a high-fashion spin, whether it's juxtaposed with leather or straw details, or in XL size for that statement-making finish.
Itty-bitty
Small in size, big in impact. The mini bags have been shrunk to an even smaller size this season, and practicality aside, it's a playful trend we can get behind.
Hands off
It's the revival of the wristlets! The updated piece comes in all shapes and forms, but the ones with oh-so-pretty jewel chain and pearl strap have got our full attention.
Bucket list
Do not confuse this with drawstring bags. The bucket bags are reintroduced in a rigid, circular shape this season, but regardless of your style, there's an option for you.
Make room
Need more space for all your knick-knacks? These supersized bags have got your back. And the best part? They'll let you score in the style department too.
Clutch play
Our obsession for supple leather clutches continue this SS20 with an array of lust-worthy picks, from a minimal envelope piece to one in a juxtaposing combo of pretty pastels.
The last straw
Just when we thought the trend has been put on pause for now, the straw bags have proven that they're here to stay, and their designs are more sophisticated than ever. You don't have to be on a beach holiday to tote these babies.
Bag of tricks
Is it a casette? Is it a bag? You can always count on novelty bags to add that good ol' fashion fun into your ensemble, which is why they'll always have a special place in our closet.
Pull the (draw)string
If you're a bucket bag lover, these drawstring designs will probably tickle your fancy too. Pack your essentials, pull the string, and you're good to go.
The 9 Biggest bag trends you should take note of this Spring/Summer 2020
Bag that!