Culture
Malaysian racing driver Weiron Tan on what he does in a day during CMCO, tips for fitness on-the-go, and more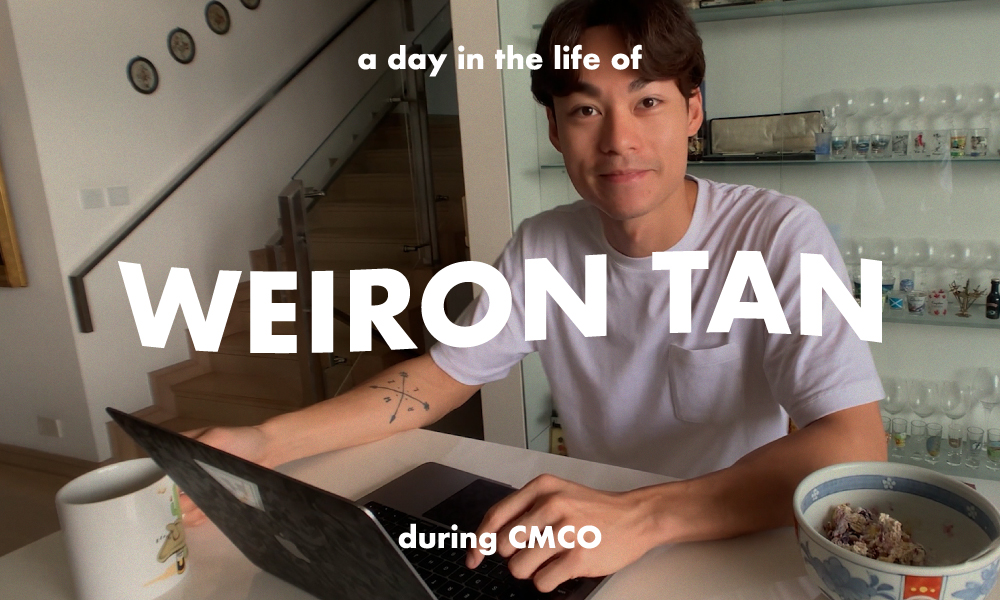 With vaccines for COVID-19 yet to be found, society has to keep maneuvering and adapting to new norms—as well as finding safer ways to do things from the past. One figure to look to as prime example is Weiron Tan, the official works driver for Audi Sport Asia. In addition to being a driver coach, the Kuala Lumpur-born racer is also a major fitness enthusiast. In fact, Weiron started his own YouTube channel dedicated to fitness and more specifically, working out from home (#WOFH).
At only 25, the Malaysian racing driver already has a successful career—from being a World Endurance Championship (WEC) race winner to his introduction into the Hall of Fame of the Motorsports Association of Malaysia by former Prime Minister Tun Dr Mahathir Mohamad. His WEC win made history for being the first ever all-Asian lineup to win in the competition, along with fellow Malaysian racing drivers Jazeman Jaafar and Nabil Jeffri.
With the CMCO still in effect (until 9 June 2020), racing has to be put on hold but Weiron isn't one so stay idle. His passion towards fitness is highlighted in his workout videos—with follow-along videos where viewers can workout together with him anywhere. With the Malaysian borders still shut, Weiron is now spending his days in Hong Kong.
In the video above, he shows us what he does in a day during CMCO (and pizza is involved). He also spoke about a career in race driving, advice for aspiring drivers, tips for fitness on-the-go, working out in the "New Normal", and more.
1. When did your interest in racing begin, and how?
My dad and I share a common passion in racing. I definitely got the genes and "drive" from him. I remember watching Formula One with him at night on weekends after dinner all the time at a very young age. I only had an opportunity to get behind the wheel of a go-kart when I was 13. Then things changed…
2. Who were your biggest inspirations in the field of professional racing?
My hero in this sport would be Michael Schumacher. I grew up watching him race with Ferrari and have seen many of his interviews. He's an all-rounder and a top driver. He has a phenomenal personality and is—in my opinion—the most determined athlete on the grid. I learnt how to self-discipline because of him. He would outwork and outperform his rivals and it was just so inspiring to see. A true admiration.
3. How long have you been racing professionally and has it always been a career choice?
I've been racing professionally for about 12 years now. It has always been a dream to be in Formula One back then. However, God works in mysterious ways and I'm now racing for Audi Sport. It's definitely not what I was expecting 10 years ago but I'm loving every second of it.
4. You have been in many races throughout your career. What was your most memorable?
There are quite a few memorable races in my career. One of the most memorable is racing at the 24 Hours of Le Mans for the very first time. I will never forget that whole experience.
5. You were introduced into the Hall of Fame of the Motorsports Association of Malaysia last year by former Prime Minister Tun Dr Mahathir Mohamad. Would you consider that a career highlight? What are your proudest moments so far?
Oh yes, definitely! It was quite a spectacular night. There are a few other moments in my career that I feel proud of—such as being selected to be in the Junior Driver Development programme with the Caterham F1 team. I was also the first Malaysian in history to ever win in the USA, both circuit and oval.
I also made history as part of the first-ever all-Asian driver lineup to win a race in the World Endurance Championship. Recent moments that I'm proud of include winning races with my favourite manufacturer—Audi Sport.
6. What should an aspiring racing driver do to start a career in professional racing?
Go-karting! It is the foundation of all motorsports. Here, one can learn the most basic technical knowledge and racecraft. Although racing and karting are not popular in Malaysia, it's where I started. I spent most of my time racing abroad, especially in Europe and America.
Asia is now the fastest growing industry in motorsport. I just joined the newly reformed Motorsports Association of Malaysia (MAM) as a committee member, and we will work on the growth of motorsports development in our country—providing more opportunities to young aspiring racing drivers.
7. What are the challenges that one should expect to encounter?
Racing is not for the faint-hearted. It is a cut-throat industry, and there is only one winner at the end of the day. It is not a one-man show like running, golf, or tennis.
There is no team sport like racing. There's you (the driver), the mechanics, the engineers, team manager, team coordinator, and more—adding up to a minimum of 10 crew members. Everyone is working behind the scenes to fix and improve the car. On race day, all that pressure is on the driver to compete and win.
Another challenge is financing. Before becoming a paid or "works driver" (a racing term for a professional driver who gets paid), one has to invest in their career first. Motorsports is not cheap.
8. What's a common misconception or assumption about race car drivers?
The glitz and glamour you see on television—"the life of a racing driver". That's not entirely real. I sacrificed a normal social life at a young age to pursue a career in this field. Hard work, dedication, and talent are required to do well in any sport.
9. Do you have any advice for aspiring racing drivers?
If you really want it, put your heart and soul into it. Give it a 110 percent effort every single time. Always remember the following: to finish first, first you have to finish.
10. In your opinion, how does fitness correlate to race driving?
Racing drivers are required to have a certain level of fitness. Driving those race cars is nothing like driving your own road car. You're wearing three layers of fireproof undergarments and a helmet, strapped down to your bucket seat with a six-point belt, and you have no air-conditioning in the car.
Drivers are usually racing at midday when it's 37º Celsius outside and it's about 50º Celsius in the car. The cars are high in downforce. This means that, when you corner, you have a load of G-Force putting strain on your whole body—working almost every muscle fibre in your body.
More importantly, the mind loses focus and concentration when the body is fatigued—resulting in no performance. That's why fitness plays a big role.
11. When did your passion for fitness and working out begin?
Around the time I started training for racing.
12. What inspired you to start a YouTube channel and what are your objectives?
During lockdown, training at home was the only option. To be honest, there was nothing much to do as well. So, I decided to share my own home workout routines with effective HIIT (High-intensity interval training) workouts you can do at home that require only a small space and no equipment.
I hope to encourage people to live a healthier lifestyle and most importantly, stay active during this time. My YouTube channel is more fitness-centric now but I hope to include more racing and lifestyle content later.
13. How do you think the COVID-19 pandemic will affect working out in the gym in the future?
I think working out in the gym will return to normal pretty soon, but not everyone will go back to their usual workout places for a while in order to practise social distancing. However, the norm to wear a mask outside and sanitise frequently will probably stay.
14. Is fitness on-the-go better in the age of coronavirus and is it the "New Normal"?
Fitness on-the-go will become more popular, I'd say. Yes, it'll become the new norm, to some extent. Working out at the gym is different when you have weights and other equipment, but working out at home is still a good enough alternative to stay fit and active.
15. What are your top tips and advice for those who want to workout on-the-go?
First of all, subscribe to my YouTube channel and follow my workout routines! I'm always on-the-go and travelling for races. So, my hotel room also becomes my "gym floor".
My advice is: don't be picky with location. Just think that after 10 or 20 minutes, your workout of the day would be completed. For me, 20 minutes is a good overall time for a HIIT workout. Of course, listen to your body as well.
16. Last but not least, do you have any words of encouragement or message of hope for everyone experiencing the pandemic?
We all go through tough times and this is one of them. Think of better times, push through, and we will one day get there again. This is not the end.
There is a saying in Chinese that I strongly believe in—"Bitter first, then Sweet" (先苦后甜). We are strong together and we can do this. Stay safe!
Above, Weiron Tan shared his thoughts for those thinking about being a professional race driver and anyone interested to work wherever they are—especially with gyms being places with high risk of COVID-19 infection. These are unprecedented times and we will all require time to get used to new realities. Why not get through this together as a collective? Thank you, Weiron, for helping us adapt to the "New Normal" with finesse. One step at a time. Don't forget to subscribe to Weiron Tan's YouTube channel for *safe* workout videos!
For more #MCODiaries, click here.
| | |
| --- | --- |
| SHARE THE STORY | |
| Explore More | |