By tapping into the transdisciplinary aspect of architecture, Pamela Tan blurs the boundaries between art disciplines, birthing a diverse portfolio that ranges from large-scale murals and installations to 3D-printed jewellery. While her work constitutes varying mediums, a rather distinctive aesthetic still shines through. Structural, skeletal forms and uniform curves seem to be a running theme—this is apparent in Eden, her most recent project in 163 Retail Park. Reimagining the 'Garden of Eden' as a dreamy garden of delight, an ethereal all-white landscape is created, where her take on a garden passageway flanked by vines and other elements of nature merge to form a single growing structure.
Take a virtual walk through Eden in the video above.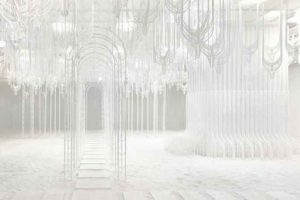 Eden' by Pamela Tan. Image by David Yeow
Here, we delve a little further into her work and upcoming projects to look forward to:
How would you define your role as an architectural designer?
"I explore various fields in art, architecture, and design. My work blurs the boundaries between disciplines that embody narrative and values in all forms. I am interested to work at a range of scales, from product design to spatial design. I believe in the collaborative nature between these disciplines and that it could contribute to one and another in practices and processes."
And how did your background in architecture come into play here?
"I think architecture is quite infinite in a sense that it has the most comprehensive field of knowledge. When I pursued my master's degree in the UK, I was exposed to the transdisciplinary nature of architecture. It was during that period when I realised how diverse this field could go."
Can you describe your design style?
"I think in most of my projects, I prefer expressing forms and elements that reveal what is normally hidden or unnoticed. Sometimes it reveals movement and strength; at other times the linearity and simplicity of a singular line itself enable me to highlight and outline a particular pattern or distinct network of the subject and form. Often times the highlighted forms are composed in a lyrical manner thus my preference of curves and arches."
What are some of your frequent or biggest sources of inspiration?
"It depends on the subject or content I'm looking for for that particular project. My inspiration mainly came from the subject research material and certain personal experience I had related to it. It could come from reading, films, interviews, photographs and etc."
While your background lies in architecture, your work has spanned large-scale murals, installations, household objects and even jewellery creations. What else do you hope to channel your creativity into?
"There is still so much to explore. Given the opportunity, I would love to work on animal architecture, public parks, public utilities, meditative space, festivities, landscape and nature, fashion, humanitarian, and community/society engagement."
What are your thoughts on the increasing demand for "Instagram-able" art? Do you think social media has changed the way people connect with art?
"I do think social media is helpful in a way, particularly for public art. It may not capture the full essence and experience of being physically there or witnessing the whole thing, but it enables people from near and far to catch certain glimpses of it. I see it as a positive thing in a sense it helps generate publicity and accessibility to a wider audience. However, I did notice that there is a certain demand of artworks or installations that solely focus on serving as an attractive backdrop for social media or press purposes. I think that approach generates an impression that only lasts a short time as its main purpose is to create the short burst of 'hype'. I personally prefer producing work that focuses on the spatial experience because experience leaves a deep impression."
Is there usually a message behind your work?
"Every project I work on has its own narrative but it does not have a specific message per say. I believe the audience has their own takeaway."
If you had to choose, what has been your favourite project so far?
"I think Eden is my current favourite project because it is my latest form of work that is both realised and spatially immersive."
Any upcoming projects we can look forward to?
"I'm working on several at the moment. One of them is for KLAF 2019 (Kuala Lumpur Architecture Festival). I'm curating this exhibition called 'AWAS! User Manual of Emergency' along with my fellow curators; Muhammad Shamin, Nur Nadhrah, and Zan Nureen. The show highlights the ways in which we can pre-empt and respond to natural disasters and calamities. It will launch some time end of June 2019."
Discover more of Pamela Tan's work on her website.
| | |
| --- | --- |
| SHARE THE STORY | |
| Explore More | |