Hi there, it's your resident Swiftie here again and I. Am. Not. Calm. After her paddlepop, infectious Me! (feat. Brandon Urie) bop comes another colourful anthem, except this time, Taylor Swift is making it crystal clear. While Me! celebrates mostly individuality, You Need to Calm Down is all about equality and that everyone deserves it. 'Cause shade never made anybody less gay.
Recently released, the music video for You Need to Calm Down only cemented it further, especially with the majority of the cast being notable figures in the LGBTQ community. From Ellen DeGeneres to (co-executive producer) Todrick Hall to RuPaul to the Queer Eye guys—and yes, to Katy Perry, who has confirmed that the two pop queens are now beef-free.
View this post on Instagram
Confession: I've watched the video at least ten times now (you might think that's a lot but that insufficient number could easily revoke my Swiftie status); and while it's full of sass, humour, colours and pride, I realised there's a bigger message behind You Need to Calm Down. Fans can egg each other to watch it a thousand times to get TayTay on the charts. Media outlets can either ride on her for being too political or shout in support of her stance. But once all is said and done, is that it?
The song and music video is Taylor Swift's visual essay on equality; her, to put it bluntly, marketing tool to promote her petition for the Equality Act. It's a love letter to the LGBTQ community as well as a catalyst for starting a conversation among the public—and the latter is what's lacking. In our community.
LGBTQ rights in Malaysia
Yes, anything same-sex related is illegal in Malaysia, and especially controversial—so much so it seems to be a popular tactic for defaming the people in politics. The most notable case being the 1998 case of Anwar Ibrahim who was accused and charged with corruption and sodomy. And more recently, the gay sex video that went viral, featuring PKR Youth Santubong chief Haziq Aziz and apparently, Datuk Seri Azmin Ali, the Economic Affairs Minister. The minister has strongly denied any involvement with the video, claiming it to be a "filthy act of political sabotage".
Political scandals aside, two Malaysian women were found guilty of attempting to have sex in 2018, and were thus caned six times each in the Terengganu sharia high court before an audience of 100—a punishment that was first of its kind. They were also fined RM3,300.
There are no LGBTQ rights in Malaysia—not for anyone who identifies as being lesbian, gay, bisexual or transgender; not for anyone who was born with sex characteristics that differ from the traditional makeup (e.g hermaphrodites); not for anyone who feels more comfortable expressing their gender through clothing, hair or makeup in a way that's "not usual".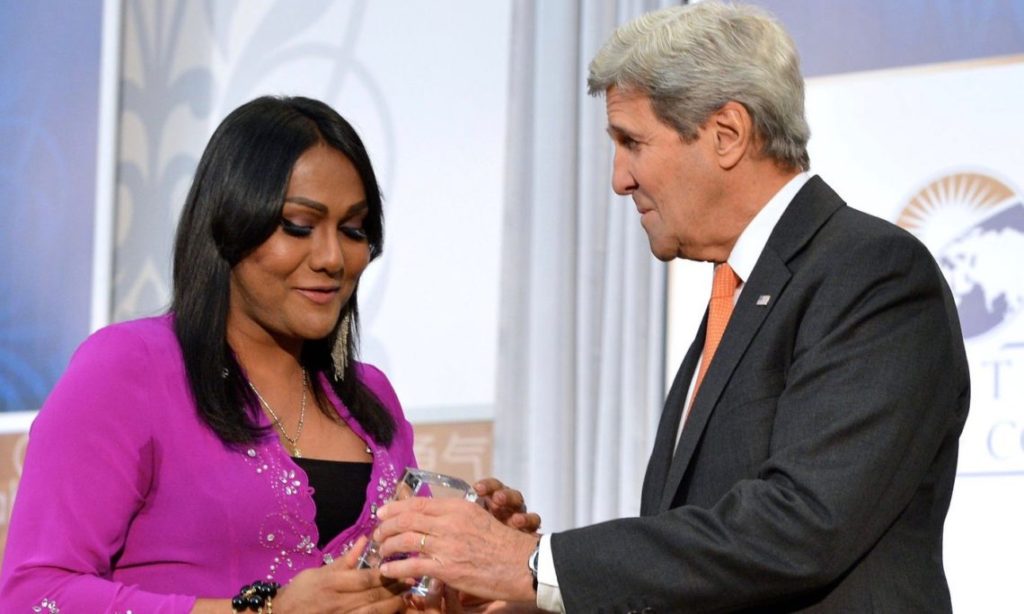 nisha ayub international women of courage award
The Human Rights Watch had constitute LGBTQ rights as human rights too and plenty of rights groups agree. Hence, the public caning was considered, to most, a form of torture under international human rights law. Another good example would be Nisha Ayub. A notable Malaysian activist, winner of the illustrious International Women of Courage Award 2016, and a transgender. At 21, she was sentenced to three months in prison where the judge had hoped would make her return as a real man. Nisha was sent to a male prison and was forced to strip for the prison authorities, was made fun of and, worse of all, was forced to fellate them. This is common among transgender women in Malaysia—being arrested and subjected to various forms of abuse, including assault (physical and sexual) and extortion.
Walk down memory lane: Malaysia's past reactions to LGBTQ
In 2010, The Film Censorship Board of Malaysia

said

that "it would only allow depiction of homosexual characters as long as the characters 'repent' or die."

According to Today Online, a representative from the Royal Malaysian Navy (RMN) stated in 2005 that they will not accept homosexuals "as we have to protect the image of the navy".
After Anwar's first release from his 2000 sentence, he stated that "the national criminal laws against homosexuality ought to be reformed to protect consenting adults' rights to have a private life" but same-sex marriage "is going a bit too far".
More recently (2018), he told Nikkei Asian Review that "Malaysian society must live with different beliefs and ways of life and must respect people who are different, including gays, bisexuals and those who identify as transgender."

He added, "If people have their own sexual orientation, it is up to them," though he did say the government will not recognise such partnerships legally.

In 2018, portraits of LGBTQ activists were removed from a George Town Festival exhibition showcasing Malaysian patriotism because of Putrajaya's policy to not promote the "lesbian, gay, bisexual and transgender lifestyle".

In response, Marina Mahathir said, "I am personally very sad about this. When people say they are not treating LGBT Malaysians as second-class citizens, this is exact proof that discrimination exists."

Deputy Minister of Women, Family and Community Development, Hannah Yeoh agreed, tweeting, "I fought for a new Malaysia that is free from racism, corruption and discrimination. This administration does not promote homosexuality, BUT we also cannot discriminate. We accept all Malaysians, even though we don't agree with everyone."
Violence against LGBTQ people
That being said, being sexually harassed, publicly embarrassed or sentenced to prison aren't the worst that can happen to anyone whose sexual orientation differs from traditional roles. Violence against LGBT people is real—as real as Brazil recording more than 380 murders in 2017 alone. In April 2019, Brunei announced that anyone convicted of gay sex is punishable by law, which includes death by stoning. Upon receiving major global backlash, Sultan Hassanal Bolkiah, Brunei's ruler, has responded that the country will not impose the penalty, though no further actions have been taken. The world may have been shook but Brunei wouldn't be the only fatal country for the LGBTQ people. Nine countries actually punish homosexuality with death: Afghanistan, Brunei, Iran, Iraq, Mauritania, Pakistan, Saudi Arabia, Sudan and Yemen.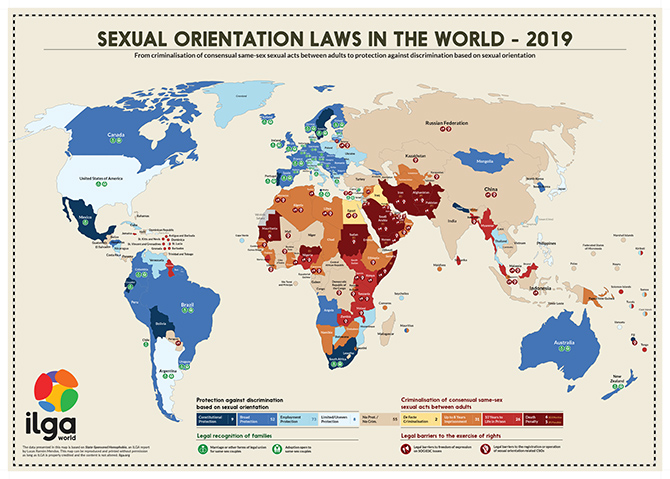 lGBTQ-laws-and-legislations-map-2019
Presumably, being queer is a crime. A hate crime, no less, in 70 countries—and some of them (Bangladesh, Barbados, Guyana, Sierra Leone, Qatar, Uganda and Zambia) could sentence a homosexual to a lifetime in prison. Let's face it—can you really help who you are and who you love? Instead, many of these people have to live in fear. According to Amnesty International, gay men in Chechnya have been abducted, tortured and even killed during a campaign; while LGBTI activists in Bangladesh have been hacked to death by machete-wielding armed groups. Unfortunately, some of these places have police forces and governments who simply have little to no interest in protecting their very own citizens who were victims.
What other LGBTQ rights are there
Extreme situations aside, the rights aren't just about death, torture and imprisonment. It's also about allowing same-sex sexual activity, recognising same-sex relationships, same-sex marriage, adoption, entitlement to serve in the military or politics, laws against discrimination and for gender identity or expression. Some people can't even get a job or receive basic medical treatment. In a 73-page report released by Human Rights Watch, "I'm Scared to Be a Woman: Human Rights Abuses against Transgender People in Malaysia," shared the story of a transgender woman in KL who encountered a government hospital nurse who didn't want to touch her. All she had was a fever.
View this post on Instagram
Taiwan being the first country in Asia to recognise same-sex marriage is a huge step for the more traditional-minded region. But before such a big step can be taken (much less the talk about adoption), let's all review basic human rights. Taylor Swift is in support of the Equality Act in the United States. This law, if passed, protects "LGBTQ Americans against discrimination on the basis of "sex, sexual orientation, and gender identity," specifically in areas including housing, employment, access to public accommodations (restaurants, bathrooms, etc.) and more", as well put by Billboard.
View this post on Instagram
Can we do that at least? Can we not condemn a person for their sexual orientation/identity and deny him/her of the basic human needs? Can we not hurt or kill another person for who they are and how they feel? While yes, most of the naysayers are traditional-minded and religious, but civilised human behaviour and religion also teach us to be kind to one another. You don't have to agree with the choices of the LGBTQ community or the "lifestyle". You only need to not discriminate them. At the very least, you need to calm down because shade never made anybody less gay. It really says more about you than about them.
| | |
| --- | --- |
| SHARE THE STORY | |
| Explore More | |