Art has always been a part of Joanna Chia's life. Some might know her as Quirky by Design, the design moniker under which she has collaborated with the likes of Chanel, Louis Vuitton and Dior, while sharing her delightful art, calligraphy and pensive thoughts on Instagram—the videos of her writing in metallic ink are especially captivating.
But there is more than one string to Joanna's bow—she also holds a PhD in Nanomaterial Engineering. In fact, it was while she was wrapping up her PhD thesis when she founded Quirky by Design. In her words, "art became my escape and also my worst kept secret".
Joanna also believes strongly in giving back to the community. The Melbourne-based artist volunteers in her free time, and in 2014, she spearheaded a social enterprise working on various projects, including helping out with a water project in Borneo. Pretty amazing, no? Here, get to know the multi-faceted lass a little better as we quiz her in two ways—the first part in a regular Q&A, and a silent interview section where she answers us through her brand of art:
What drew you to calligraphy?
"Handwriting has always been an obsession of mine. My grandfather had beautiful penmanship and I used to make him teach me cursive (and grade my writing, trust me I was a really fun kid). There is something so personal about handwriting, and a beautifully penned card or letter that communicates more than just the message it encapsulates. To me, calligraphy is an unspoken token of someone's appreciation for the person that the words were intended for."
Being based in Melbourne, how does the city inspire you as an artist?
"Melbourne is a beautiful city with an openness to self-expression. I love how there is always something interesting to do every weekend, be it a gallery opening, ballets, musicals or just a simple walk in one of the beautifully landscaped gardens around the city. There is such a strong appreciation for attention to detail and design that it is hard to not be inspired."
Do you get artist's block? What do you do when you run out of inspiration?
"All the time! The best advice I've ever been given is "Leave it alone and take a break". Unfortunately, there are two things I don't do really well; leaving things alone and listening to good advice. Whenever I find myself running out of inspiration, I revisit the works of some of my favourite artists and writers. Falling in love again with all these works remind me of why I do what I do and kickstarts my inspiration. It is true what they say; inspiration doesn't always come to you, sometimes you have to seek it."
Any new projects planned for the year ahead? 
"I started painting on a larger scale this year and have plans to do more, including painting more murals. This year, Quirky by Design launched a social initiative to help provide a safer environment and educate girls in developing nations, so I will be working on releasing more collections over the course of this  year and the next. The initiative is called Firgun, which translates to 'the act of sharing in or contributing to someone else's pleasure or fortune, with a purely generous heart and without jealousy'. It is the soul and backbone of why I am passionate about this business and I am very excited to dedicate more time to it."
Fondest childhood memory.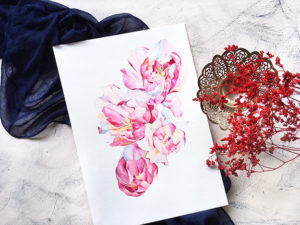 " Afternoons dancing with my grandfather."
We notice that flowers are a constant feature in your artwork. What is your favourite flower to draw?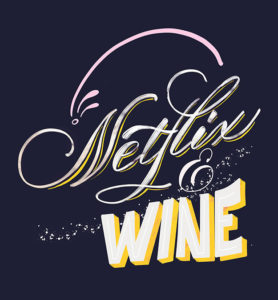 "Peonies."
How do you wind down when you're not creating art?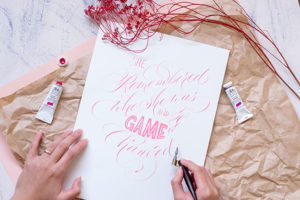 "Netflix and Wine."
What is your favourite quote?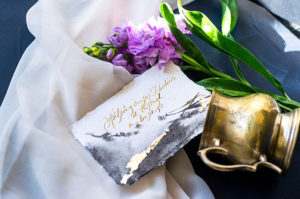 "She remembered who she was and the game changed — Lalah Deliah"
Where do you see yourself in five years?"Helping causes I believe in through my business." 
Keep up with Joanna's work at www.quirkybydesign.com.au and on Instagram at @quirkybydesign.
| | |
| --- | --- |
| SHARE THE STORY | |
| Explore More | |