You might have heard that Rascal Voyages is your window to the most exceptional, luxurious off-the-grid yacht holidays (ICYMI: read about EIC Cai Mei's recent liveaboard adventure here), but did you also know that they are highly committed to the conservation of the seas that they voyage onto? This commitment has been bolstered by a partnership with Conservation International Indonesia (CI Indonesia), which sees the launch of The Exploration Series, allowing travellers aboard the luxury yacht Rascal to play a part in marine conservation and witness breakthroughs in the scientific understanding of marine biodiversity.
"The partnership between Rascal Voyages and Conservation International follows a successful collaboration earlier this year, where we saw major scientific breakthroughs during a Rascal and CI Indonesia voyage to Raja Ampat," says Erik Barreto, co-owner of Rascal Voyages. "As well as the discovery of two new species of fish and two manta cleaning stations, the initiative led to the identification of at least 25 new manta individuals, and proof of new drone surveying technology. These accomplishments inspired us to develop the programme further, in line with our Rascal Voyages expansion across Southeast Asia."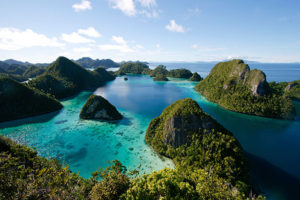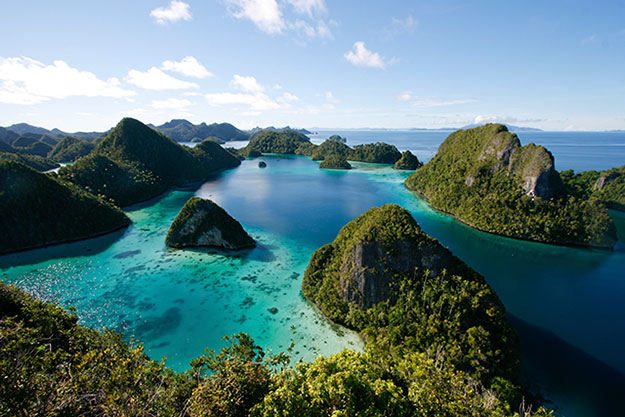 The Exploration Series will feature just eight exclusive itineraries each year, kicking off its maiden voyage next month with a 5-day expedition to Mapia Atoll. The trip will be led by turtle expert Dr Ricardo Tapilatu from the State University of Papua, along with Dr. Mark Erdmann of Conservation International and a team of Indonesian marine conservation experts. Aside from the Rascal signature experience of venturing into virtually untouched areas of natural beauty in the most luxurious on-board cruising environments, guests will be able to learn about the Atoll's reef fish diversity and coral health, take part in a pioneering survey of turtles and mantas, and understand the local communities' approach to marine resource management and current threats.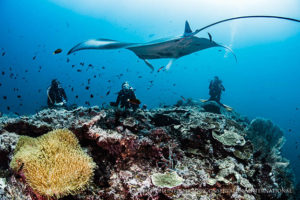 Later expeditions will be announced in due course. This comes on top of Rascal Voyages' plan to add five more Phinisi vessels to its fleet, so guest can expect more luxurious, eco-conscious journeys beyond the Indonesian Archipelago in the near future.
To further understand the pioneering eco-conscious luxury travel effort of The Exploration Series, we speak to Dr. Mark Erdmann, Vice President of Asia-Pacific Marine Programs for Conservation International:
How can travellers play a part in conservation and reducing the negative impact of tourism on board 'The Exploration series'?
"The Exploration Series has been explicitly designed to allow environmentally-concerned, adventurous travelers to participate in cutting-edge marine conservation research whilst immersed in the luxurious setting offered by Rascal Voyages — Rascal combines unparalleled regional expertise, traditional Indonesian shipbuilding techniques, and modern touches to offer a world-class experience for her guests.
"Simply by chartering Rascal for one of The Exploration Series itineraries, guests are directly enabling critically important conservation work to proceed, while at the same time being able to directly participate in and learn from this work. Every Rascal Voyage is entirely bespoke to suit the individual guest, so the level of participation is 100% at the discretion of the guests themselves.
"Over the course of each itinerary in The Exploration Series, guests will be able to interact with leading marine conservation scientists and will inevitably learn a great deal about the challenges facing the ocean today (including unmanaged tourism development) — including how best to ensure their own experiences have minimum impact."
Tell us about some of the planned journeys so far, and how the destinations were decided upon?
"The itineraries have been designed to address urgent marine conservation research priorities, whilst at the same time providing exciting opportunities for guests to participate in the work and explore some of the most stunning and remote areas of the Indonesian archipelago.
"We've moreover selected itineraries that visit these incredible locations while pursuing "sexy" scientific objectives — which we believe will ensure an unforgettable experience. So, for instance, while marine plastic pollution and ocean acidification are both currently considered top priority issues in marine conservation science, we did not feel these topics lend themselves particularly well to the luxury travel experience we are aiming to provide. Rather, we've focused the itineraries on priority conservation research which we believe has broad appeal to luxury travelers — ranging from conducting satellite tagging of endangered manta rays, thresher sharks and hammerhead sharks to conducting photographic identification surveys of whale sharks and mantas and even surveying for new species of marine fish and sharks in particular — all of which contribute to conservation."
What are some common malpractices in the marine travel industry?
"Threats to the marine environment from marine tourism are varied, and range from rather obvious concerns such as guests harassing marine life (such as whales or mantas) or inadvertently trampling fragile coral reefs to more subtle ones, such as the destruction of reefs caused by ship's anchors, and marine pollution from improper waste treatment by beachside resorts/tourism operators. All of these are avoidable threats and can largely be addressed by limiting guest numbers and "spreading the pressure" around whilst only choosing travel operators committed to sustainable practices including sourcing of their menus and treatment of their wastes.
Would you say the rising trend of eco-conscious luxury travel has projected positive effects on conservation efforts?
"Absolutely. I believe that eco-conscious luxury travel, as exemplified by Rascal Voyages' The Exploration Series, is increasingly having a positive impact on marine conservation efforts. When guests choose a travel itinerary (from an environmentally-focused operator) that supports marine conservation research whilst allowing them to learn more about priority issues in marine conservation, they are not only minimizing their own impact, they are also directly contributing to conservation outcomes. Truly a win-win situation for both the guests and the oceans!"
Rascal is available for private charter only. Book a voyage on The Exploration Series by visiting the website. 
| | |
| --- | --- |
| SHARE THE STORY | |
| Explore More | |