Culture
Summer reading: 7 Page-turners to keep you engrossed and enriched during the sunshine season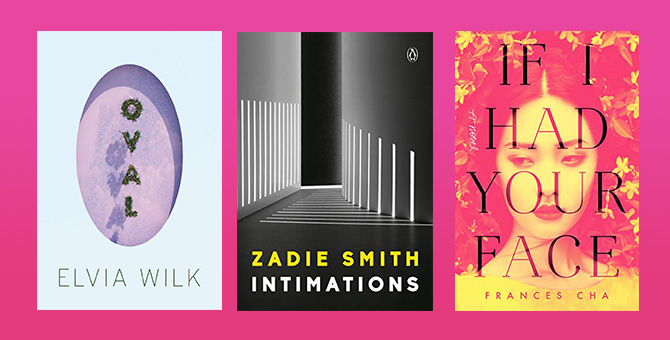 Whether you're chilling at the park, off on a short but sweet city staycation or simply staying in bed with the AC on full blast, books are the ideal companion to keep you stimulated and satisfied during the sticky, sweaty season (there's a reason why more books are sold during summer than any other time of the year—and for us, that's every day). Whatever genre you prefer, here are some of the books we'll be burying our noses into for the next few months:
If I Had Your Face by Frances Cha
A universal tale about the restorative power of female friendships, If I Had Your Face explores the relationship women have with themselves and others in a hyper-competitive world defined by impossible standards of beauty and expectations. Set in glittery contemporary Seoul, Cha's riveting debut book follows four young women with different backgrounds and dreams as their lives intertwine amidst heartless social hierarchies, all-consuming K-pop mania and never-ending challenges in a city where plastic surgery is the norm and status can change your life.
Shop now: Kinokuniya | Amazon
Oval by Elvia Wilk
Set in a near-future Berlin, Oval follows millennial scientist Anja who lives with her boyfriend Louis in a (rent-free) eco-friendly housing project located at the side of an artificial mountain, run by huge tech corporation Finster. There, real estate has been transformed in the name of "sustainability"—only to make it even more unaffordable—creatives hold ambiguous roles as consultants to big businesses and the weather is acting strange. Wilk's dystopian sci-fi debut feels uncannily familiar with real-life, painting a searing portrait of modern society, and where we may be heading, to remind us of the inequality that shapes our world and the unfaltering promise of a better one through the way things are sold.
Shop now: Amazon
The Vanishing Half by Brit Bennett
A tale of twin sisters born in the Jim Crow South, The Vanishing Half is an important meditation on the complexities of racial identity, freedom and belonging in America through generations of one family against the intertwining, inescapable influence of historical and social reality. The Vignes sisters are identical but after running away at the age of sixteen, they take very divergent paths to adulthood, with one passing for white in Los Angeles while the other raises her Black daughter in the same Southern town she tried to escape. Propulsive, thought-provoking and with HBO recently winning the rights to turn it into a limited series, Bennett's second novel is a must-read about what it means to be and who we want to be whilst negotiating a place in a world fraught with issues of privilege, trauma and insurmountable inequality.
Shop now: Amazon
Sex and Vanity by Kevin Kwan
Crazy Rich Asians author Kwan is back with another tale of privilege, seduction and decadence through a new world seen through the eyes of Lucie Churchill, a half-Chinese, half-white woman who grew up in the upper echelons of New York's wealthy and finds herself torn between two men: the fiancé of her family's dreams and George Zao, a man she can't stand but can't help herself feeling drawn to. A homage to E.M. Forster's A Room With a View, the novel explores identity and self-discovery while being torn between two cultures and is already on its way to becoming another cinematic blockbuster.
Shop now: Amazon | MPH Online
Rainbow Milk by Paul Mendez
London-based writer Paul Mendez engrosses with his semi-autobiographical debut novel, Rainbow Milk which follows the journey of Jesse McCarthy, a young black gay man with a Jehovah's Witness upbringing, as he struggles to make sense of the world and turns to sex work in London to redefine love, fatherhood and spirituality for himself. Set against the backdrop of the legacies of the Windrush generation, the intersectional coming-of-age tale explores race, religious and sexuality across generations and class in the UK through an original, vital voice for the current age.
Shop now: Amazon
Intimations by Zadie Smith
One of the most critically-respected writers of her generation, Zadie Smith spent her months during lockdown capturing the uneasiness of our modern moment into words. Musing on isolation priorities to the global response towards George Floyd's death, Intimations is a series of six essays set to be released over the next month that reflects on the COVID-19 pandemic and everything that happened so far, exploring important ideas and questions prompted by the unprecedented situation. Smith's power of observation and inimitable voice, as exemplified through her short fiction collection Grand Union (2019) and modern classic White Teeth (2000), make for an urgent perspective to think about what has happened and what should happen next.
Shop now: Amazon
Burnt Sugar by Avni Doshi
Another highly-anticipated book about women in the modern world, Burnt Sugar brings us to India to portray the strained relationship between a mother, Tara whose memory is disappearing due to dementia, and her daughter, Antara through a cathartic examination of familial bonds as they navigate societal expectations and traumas of both the past and present. A tale about love, betrayal and the ties that bind us for the rest of our lives, American-Indian writer Avni Doshi charts the complicated dynamics between the women as they search for the truth in the secrets and memories of their shared past.
Shop now: Amazon
| | |
| --- | --- |
| SHARE THE STORY | |
| Explore More | |