In town recently to for an intimate showcase of his debut album 'A Place We Knew', Dean Lewis sat down with Buro Malaysia for a chat on his breakout success
This wasn't Dean Lewis' first time in Malaysia. Interestingly enough, his first visit to Malaysia was also for work, but not as the singer-songwriter the world now knows him by. Back then, he used to be a sound engineer for TV shows. "I didn't think my music was that good, or my voice was any special, although I've always been very ambitious and goal-orientated", Lewis reflected. As fate would have it, his best friend passed his demo to the former manager of fellow Australian band Savage Garden at a boat party—that landed him a publishing deal as a songwriter. While the gig was short-lived, it was certainly an important stepping stone that launched the career of a breakout star. "That's how my career started. I was very lucky."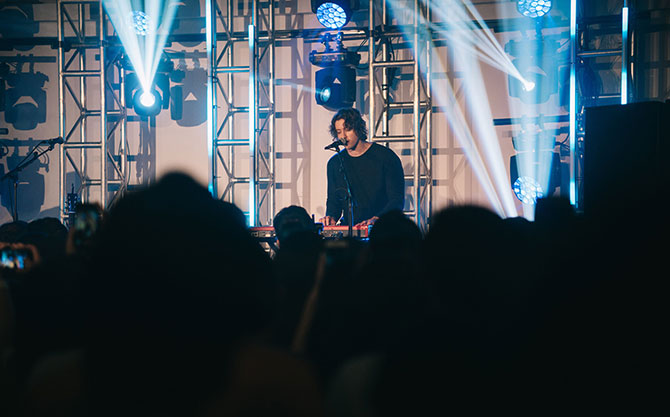 Armed with personal, heartfelt lyrics and raw vocals, his music soon found its way to the airwaves not just at home in Australia, but across the world. Just last week, his hit single 'Be Alright' surpassed one billion streams globally—not bad for someone who just had his debut album released earlier this year. Below, the easy-going artiste sheds light on his creative process:
Tell us more about the album. What was the recording process like?
"The first song I wrote for the album is called 'The Last Time', and I wrote that about six years ago. It was the actually the first song I wrote where the words and melody all worked; it was the moment that sparked the thought that maybe I can pursue this as a career. From that point on, I spent a lot of time just developing music—writing song after song, idea after idea. I had like more than 6,000 voice memos on my phone, which came up to about 100 rough songs. Eventually, it was narrowed down what we have on A Place We Knew, which took about a year and a half of to record."
Why did you choose to name it after 'A Place We Knew' in particular?
"I love it when a phrase or a sentence tells a story. 'A Place We Knew' reminded me of when you drive past a house you used to live in with your ex-girlfriend say five years ago, and you've both moved on, but the memories are still there. There's a line in the chorus that says "your heart is my home", and that was something my ex-girlfriend said to me. The song is dedicated to her and I'm re-telling all the memories we used to have. It's bittersweet, but that's how I want the songs to be, to make people feel something."
How does it feel when people come up to you and say that your songs make them cry?
"(Laughs) I feel very bad that I'm making them cry, but then I feel very good because that means the songs are making people feel something. And I think it's cool that they feel like they're not alone, because they realise that it's happened to someone else before, and hopefully that helps them in a way."
How would you describe your songwriting style?
"I'm always writing sad songs. Some of the songs on the album sound happy, like 'Stay Awake' and 'A Place We Knew' sound happy, but then the lyrics sing otherwise. Don't get me wrong, I'm quite a happy guy—people sometimes get confused when they meet me.  I guess I resonate more with sad songs. They come out easier. I try to make things more raw, like keeping the instruments organic, or maybe sometimes my vocals can be imperfect but it sounds better that way, if you know what I mean. Lyrics are really important, and I love it when they can paint an image in your head."
The last few years must have been quite the ride, going from being a singer-songwriter in Australia, to having your songs chart worldwide. Looking back, is there anything you would've approached or done differently?
"I feel like I'm just getting started, but just looking back on the last few years, I'm proud of some of the decisions I made, like backing myself and choosing songs that I believe in. I have a good team that I trust, but having a good sense of who I am is also important. I think I could've made some better choices along the way, but I'm pretty happy with how it all worked out, and I've learnt to trust my instincts more."
Who would you say are your biggest influences in music? Is there someone whose music or career you'd like to emulate?
"I really look up to Bruce Springsteen—I love his songwriting—and Oasis. Career wise... I don't know; I don't necessarily need to be like the biggest artist in the world. I just want to write really good albums and keep releasing good music."
Being on tour, your schedule must be pretty tight. How do you find time for yourself?
"Yeah it's tough to find time sometimes, but if I had the morning off, I'd go to a cafe by myself with a notebook in hand—I love that. Or I'd go to gym for a run."
Stream 'A Place We Knew' here.