Katy Perry whisks us to an escapist's wonderland on 'Witness: The Tour'
Last Sunday night
What you missed at Katy Perry's grand stop at Singapore Indoor Stadium for her worldwide tour
It was the evening before the start of yet another workweek, but clearly no amount of blues in the world could bog the spirit that filled the air in the Singapore Indoor Stadium as fans gathered from near and far for Katy Perry's 'Witness: The Tour'. ICYMI, here are the highlights that made up a night of colourful, stellar fun: 
1. The captivating, larger-than-life stage set
As we waited for the show to start, a gigantic eye loomed on stage looking out at the audience—the first telling sign of the visual spectacle that was about to unfold before us. When the clock struck 8.30pm, the band took to the stage, and trippy, cosmic visuals kick-started the extra-terrestrial experience. 
Before long, Katy Perry appeared at the end of the runway that extended beyond the main stage, setting the crowd off into a frenzy as she belts out the chorus of 'Witness'. The stage sets only got bigger and better from thereon; from a pair of larger-than-life dice and glowing acrylic platforms, to towering roses that doubled as dance poles and Venus flytraps. Perry's multiple glitzy costume changes, as well as her dancers', added to the escapist wonderland's set-up.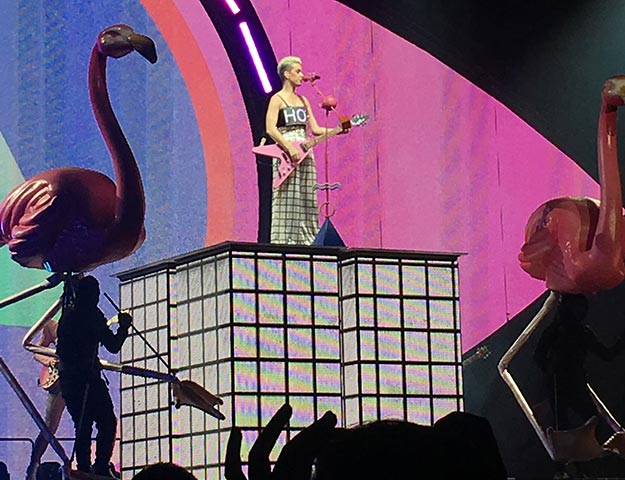 2. Audience interaction
It was a packed set list (19 songs!), but Perry still made time for light banter and fan interaction, much to the stadium's delight. She mused about her experiences in Singapore—this was her fourth time performing there—attempted to pick up a few Mandarin and Malay phrases from the crowd, and took the time to introduce every musician and dancer on stage.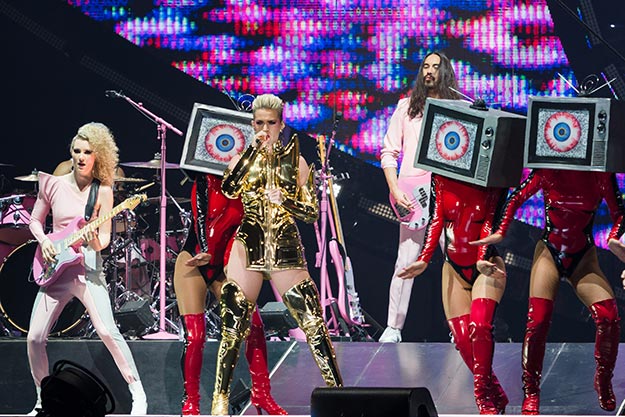 3. Sea of lights
In between the ultra-upbeat numbers, Perry slowed things down with an acoustic set, baring her emotions with 'Wide Awake' and Into Me You See'. The stadium lit up with a sea of lights in return, as instead of the feverish documenting that occurs so often in gigs these days, fans waved their flashlight-lit phones along with the rhythm, a beautiful show of appreciation for the emotional segment.
4. Confetti party
A pop concert extravaganza wouldn't be complete without a shower of confetti, or in this case, three! At the start of the show, 'Roulette' prompted a burst of spades, hearts, clubs and diamonds in red and black. Later on, 'Swish Swish', the rumoured diss track aimed at Taylor Swift, summoned a rain of fictional receipts from "Karma Coffee & Tea". Perry closed the night on a high with 'Firework', where star-shaped confetti filled the arena while she sang in a sparkly, sequinned power-shoulder dress—it was quite the sight.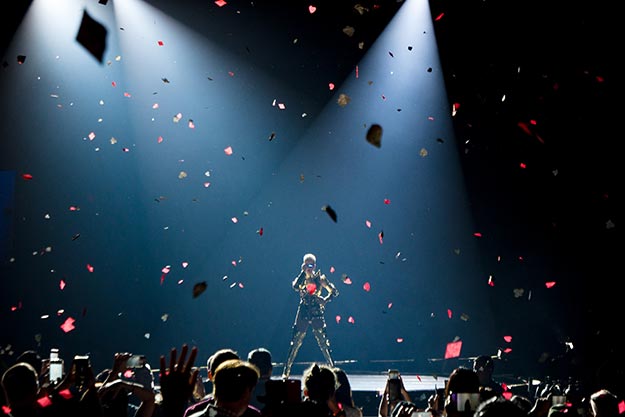 5. Hit after hit
While the tour highlights several new tracks from her latest album Witness, the set list ensured that fans both old and new were in for a smashing good time. Perry had the crowd dancing with her as she churned out hit after hit after hit—it really speaks of the success that Perry has enjoyed since breaking out with One of the Boys in 2008. Call it bubblegum pop if you will, but you have to admit it is hard not to sing along with the likes of 'Last Friday Night (T.G.I.F)', 'California Gurls' and 'Teenage Dream'. See the full set list here:
1 Show Intro / Witness 
2 Roulette 
3 Dark Horse
4 Chained To The Rhythm
5 Teenage Dream
6 Hot N Cold / Last Friday Night (T.G.I.F)
7 California Gurls
8 I Kissed A Girl 
9 Deja Vu
10 Tsunami 
11 E.T.
12 Bon Appetit / What Have You Done for Me Lately13 Wide Awake
14 Into Me You See
15 Power 
16 Part Of Me 
17 Swish Swish 
18 Roar 
19 Firework 
But alas, even good times must come to an end. It's back to the daily grind for now, and we probably won't be the only ones playing Witness on repeat to counter post-concert withdrawals.
Missed the concert? Catch up with Katy Perry's latest album 'Witness' here.