Music
The 1975's Matty Healy defends his actions at Good Vibes Festival
Good vibes to no vibes
FEATURED IMAGES: Jordan Curtis Hughes l Getty Images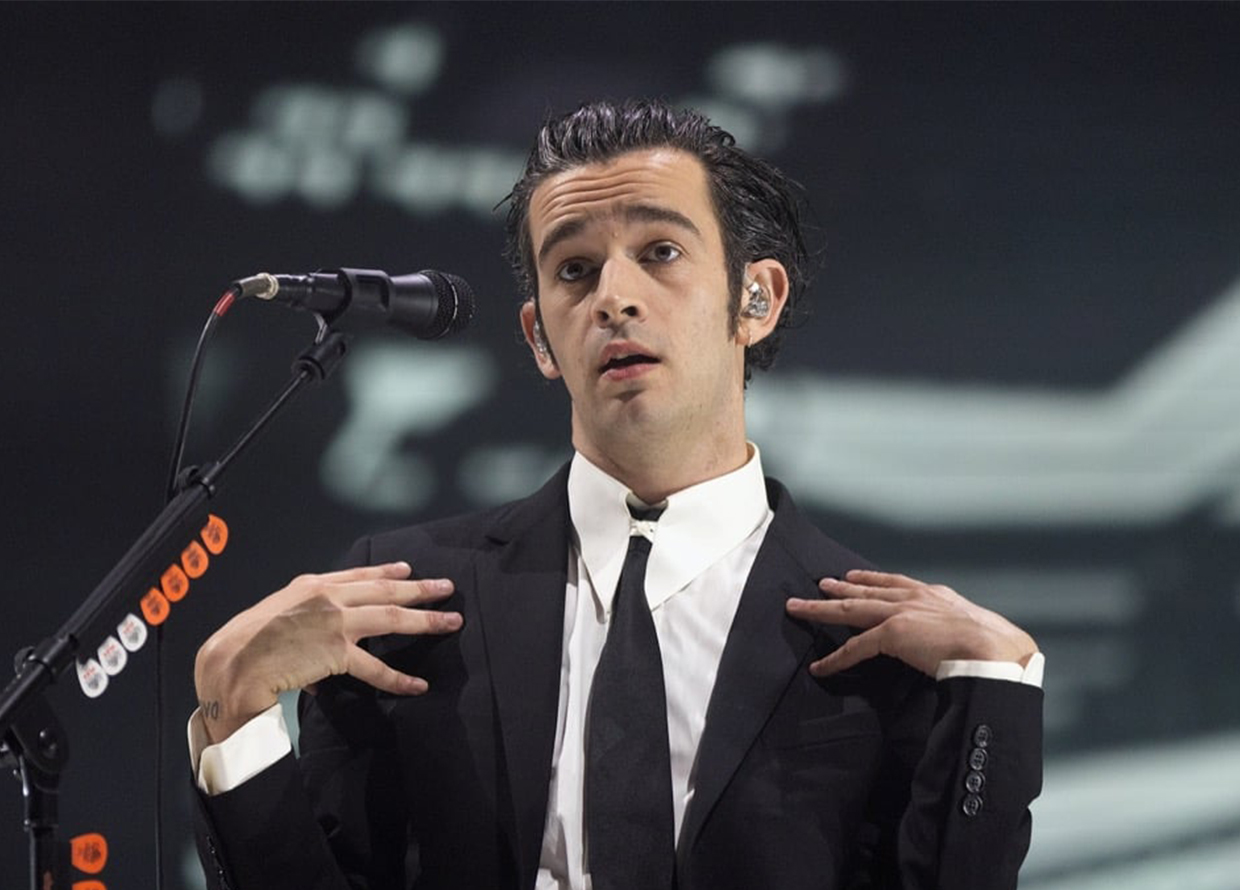 It looks like the dispute between Future Sound Asia and The 1975 is not letting up anytime soon. After sharing that the group would be going on an indefinite hiatus at the end of their Still…At Their Very Best tour and Matty Healy seemingly apologising for his actions that have "hurt some people" at the Hollywood Bowl on 2 October, his pledge to "do better" has many Malaysians confused after the vocal frontman made a lengthy speech about the controversy of the Good Vibes Festival 2023.
At The 1975's concert in Fort Worth, Texas on 10 October, Healy finally discussed the band's stance on the issue. "If you truly believe that artists have a responsibility to uphold their liberal virtues by using their massive platforms, then those artists should be judged by the danger and inconvenience that they face for doing so, not by the rewards they receive for parroting consensus," he shared to the audience in a 10 and a half minute speech. The singer also mentioned being "briefly detained" and publicly called out figures such as Julian Casablancas of The Strokes for their "bizarre mangling of colonial identity politics." 
Los fans del Matty Healy atacando a Julian solo por escupir verdades. pic.twitter.com/iWp1n8Yw2U

— Fernanda Torres (@MaferGooner) July 23, 2023
Despite Future Sound Asia's press statement that the band had signed a contract prior to the Good Vibes Festival that they would adhere to cultural customs, Healy did not acknowledge this point and instead, focused on The 1975's history of pro-LGBT activism. "[The 1975] were invited to headline a festival by a government who had full knowledge of the band with its well-publicised political views and its routine stage show. Malaysian festival organisers' familiarity with the band was the basis of our invitation. Me kissing Ross was not a stunt simply meant to provoke the government. It was an ongoing part of the 1975 stage show, which has been performed many times prior."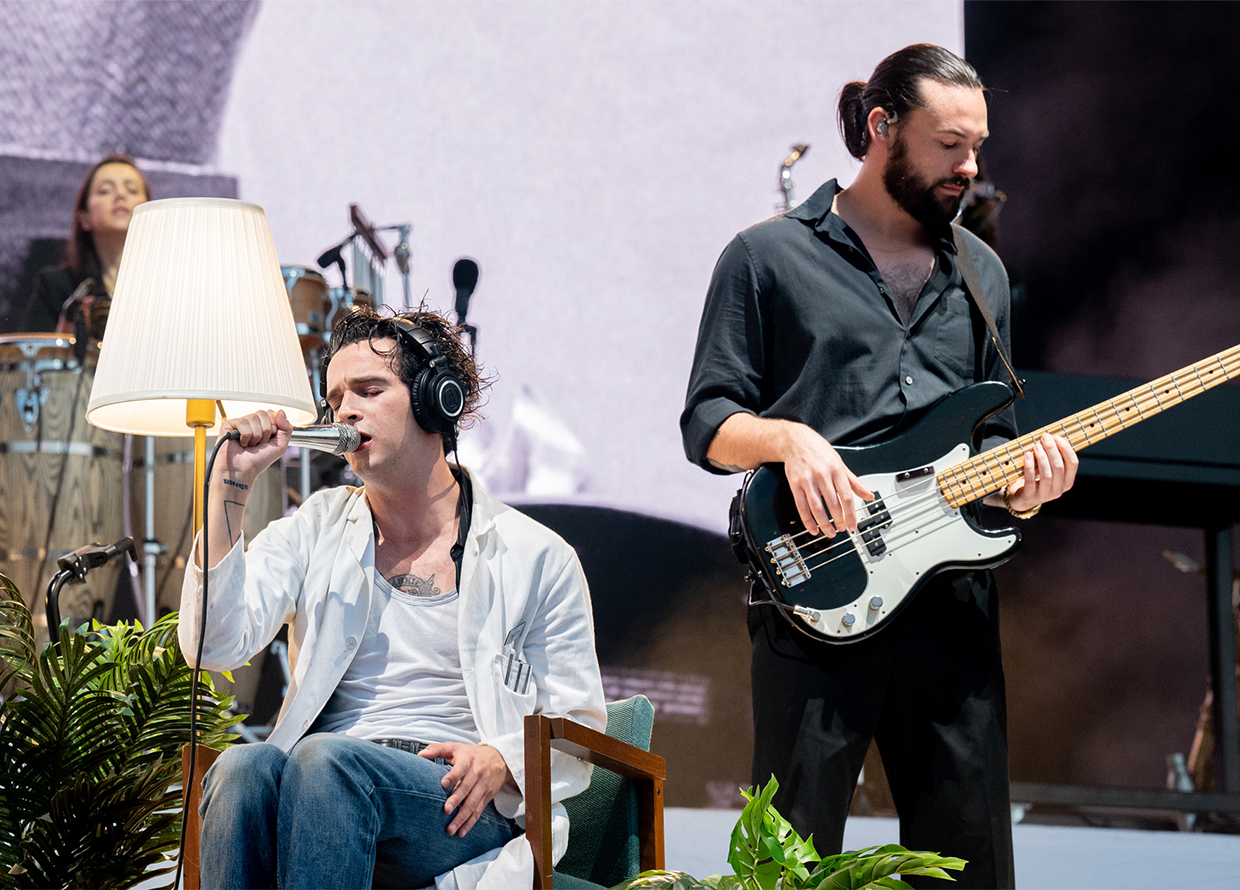 Malaysian netizens remain divided on Healy's actions and the ultimate cancellation of the festival. While some defend the indie band, others have reacted on social media by stating that international artists should respect the local laws and cultures of the country they are performing in. Healy shares his stance on the matter by ending his speech with this statement: "It should be expected that if you invite dozens of Western performers into your country, they'll bring their Western values with them. If the very same things which made you aware of them could land them in jail in your country, you're not actually inviting them to perform. You're indirectly commanding them to reflect your country's policies by omission."
Future Sound Asia has sued The 1975 for compensatory damages amounting to RM12.3 million. The results of the lawsuit have not been publicly resolved.
Watch his full speech in the fan footage below:
Matty Healy's full speech on Malaysia incident in Fort Worth tonightThanks to Emily and talktorossabouit#The1975 #SATVB pic.twitter.com/1DfP18kXND

— The 1975 TH (@the1975_thteam) October 10, 2023
[This article was originally published on 22 July 2023 and has been updated on 11 October 2023]
What happened at the Good Vibes Festival 2023 with Matty Healy?
Instead of social media buzzing about Good Vibes Festival's lineup of thrilling live performances, stunning fashion moments and the like, what was supposed to be the festival's 10th-anniversary celebration turned out very differently. On 21 July, the Internet was swarming with talks of one specific act by The 1975—namely, vocal frontman Matty Healy. 
As many would know by now, the headliner made several controversial remarks and actions during the band's set. Ultimately, this led to the cancellation of Good Vibes Festival 2023 after just one day. Ahead, we go through what really went down during The 1975's performance, Healy's actions, and how social media is reacting to the decision. 
The drone debacle
Things were already off to a rocky start when Healy destroyed a drone after his first song. After it was taken down, the vocalist took it and threw it across the stage, exclaiming "Fly one of these over my head one more f*cking time…I swear I will find you. Don't fly robots in my f*cking face." He then proceeded to jump on top of it, permanently damaging the equipment. 
The drone belonged to Ten Points Up, a media production company responsible for on-ground video footage and the drone was revealed to cost up to RM8,000. Here is a video from the founder Hazarizq explaining the situation:
View this post on Instagram
Where are the good vibes?
After performing another song, Healy made a speech expressing his frustration at performing in a country that bans same-sex relationships. "I do not see the point in inviting The 1975 to a country and then telling us who we can have sex with. I'm sorry if that offends you and you're religious and it's part of your government, but your government are a bunch of f*cking retards," he started. 
The British singer also revealed that he initially pulled the show the day before. However, after discussions with the organiser, the band decided to go ahead with it in order to not "let the kids down". In saying that, Healy also told the crowd they wouldn't be getting a set of "uplifting songs" as the singer was "f*cking furious" about the whole situation. He was also seen with a bottle of alcohol in his hand and smoking during his performances.
He also admitted earlier on that he did not do his proper research into the country before booking the show and said he had performed in a similar circumstance before, alluding to his previous controversy in Dubai in 2019. "I'll take your money, you can ban me—but I've done this before and it doesn't feel good," he stated.
The kiss of death
The final nail in the coffin was Healy's decision to kiss his fellow bandmate and bass guitarist Ross MacDonald on the lips before his third (and final) song. Fans noticed that during the song, the projection screens were shut off. 
View this post on Instagram
After the song, there was an intermission whereby the singer went offstage to talk to officials. He then returned and simply said, "Alright, we've got to go. We just got banned from Kuala Lumpur. See you later," before walking out. Fans were left confused and surprised at the turn of events, staying on to cheer the band back on. However, the show was well and truly over.
The aftermath
On the morning of 22 July, Communications and Digital Minister Fahmi Fadzil met with the organiser of Good Vibes Festival, Future Sound Asia, to discuss further actions. At 1.20pm, an immediate cancellation directive was issued. In Fadzil's statement, the minister reaffirms, "There will be no compromise with any party that challenges, belittles, or violates Malaysian laws. Therefore, I have directed for the immediate cancellation of the festival, which was supposed to continue until tomorrow."
Saya telah memanggil penganjur Festival Good Vibes 2023 iaitu Future Sound Asia, susulan aksi dan kenyataan sangat biadab yang dipamerkan oleh artis dari UK "The 1975" di Sepang malam tadi. pic.twitter.com/0X0xjnAmVJ

— Fahmi Fadzil 🇲🇾 (@fahmi_fadzil) July 22, 2023
The official statement made by Future Sound Asia highlights the "controversial conduct and remarks" made by British artist Matty Healy and calls his unprofessional behaviour and defiance of Malaysian laws and regulations "disturbing." Prior to the festival, the artist's management team assured that the band would adhere to local performance guidelines. 
Ben Law, Founder and Director of Future Sound Asia, shared his sentiments: "Over the past 10 years, we have built Good Vibes Festival to be a uniquely Malaysian platform for enjoyable music performances. This festival is not a transferable franchise, but a brand built from the ground up on Malaysian soil, cultivated by unyielding dedication, resilience and financial risk. Now, this decade-long labour of love faces an unprecedented threat due to the actions of a single individual. This is a very challenging time for us."
View this post on Instagram
Moving forward, Future Sound Asia has asserted that it will "emphasise the importance of professionalism and adherence to local regulations to ensure that future events are conducted with even greater care and diligence."
More details will be released regarding refund mechanics.
How is social media reacting to the news?
The event has sparked fervent discussions online about what Healy's actions and the cancellation could mean for the country as a whole. From debates on LGBT+ rights to concerns over Malaysia's burgeoning music scene for live performances, there are opinions on the Internet that go from one end of the spectrum to another. 
When in Rome, do as the Romans do
Because of this moron,the entire festival is now cancelled. @The1975
Learn to respect local culture even if u disagree.If u are invited to a country, learn to be gracious& not parade your stupidity. Local bands, vendors, & other hardworking people will now suffer.
#mattyhealy https://t.co/NYPFpBi8s5

— Gracie (@Crabcountess) July 22, 2023
People go to the Good Vibes Festival to literally get some good vibes and enjoy the music, man. I lost a lot of respect for Matty Healy for what he did.

Malaysia is a hospital country and we welcome everyone. What we can't tolerate is disrespect. What a betrayal to the fans.

— Phoebe Shafinaz 🤍 (@PhoebeShafinaz) July 22, 2023
matty healy rlly threw a fit on stage tonight at good vibes fest? he was drunk, broke a drone and went on an unnecessary rant abt lgbt rights in kl.. firstly ur job is to play the show not make it fking political? every country has its rules and even if u dont agree, respect it?

— chloe (@nachoindenial) July 21, 2023
One step forward, many steps back
Matty Healy and the 1975 leaving Malaysia thinking they've empowered the LGBTQ+ movement. #GVF2023 #GoodVibesfestival pic.twitter.com/32DbqMG6CG

— chino (@miggychino) July 21, 2023
As a malaysian queer, what matty healy and the 1975 did was WORSE for malaysian queers. Now we are gonna have tolerate the political shitstorm thats about to happen while they are fine getting drunk in another country. This wasn't their fight

— Shou's castles are crumbling. ⚡️ (@shoukunz13) July 21, 2023
Man, I dunno what to make of what Matty Healy did. Queer rights in this country is obviously appalling, but it just feels the whole thing was peak white performative activism.

And now a bunch of people are fucked (read: us)

— Nazeera Nasir 🏴 (@nzranasr) July 21, 2023
Thank you Matty Healy for coming over to Kuala Lumpur and throwing your unneeded white activism at us but you've just made it harder for us queer Malaysians now

— Khadi (@khudeejuh) July 21, 2023
international fans are never gonna understand how he has just made the situation for the malaysian queer community a thousand times worse but sure. applaud him. https://t.co/ECaIsjrHcm

— leia 🌙🏴 (@stylesmcvie) July 21, 2023
The only thing threatening Matthew's life is the amount of alcohol he consumes. Its the lgbt community in malaysia that will have to face the actual consequences of his actions today. https://t.co/rk8us1mDDt

— a (@magilaksa) July 21, 2023
Is cancelling the festival too extreme?
@fahmi_fadzil Good vibes is not at fault. Help us to share this out to create awareness for those of us who were affected. #gvf2023 #sausagesizzlemy pic.twitter.com/Hvzlpnj5AJ

— SausageSizzleMY (@SausageSizzleMY) July 22, 2023
It is not fair to cancel the event without appropriately compensating the ticket buyers. They should not take the blame. #GVF2023

— Solisidtor (@Solisidtor) July 22, 2023
@GoodVibesFest Think of all the smaller artists who dreamed of performing at #GVF2023 , and their opportunity is just taken away like that. Ban @the1975 and let the show go on. Not cancel the WHOLE festival, it just makes this country look like a snowflake. #the1975 #matthealy

— Vyper Syren (@vypersyren) July 22, 2023
Are we going to get any more concerts from now on?
Wow, thanks a lot, The 1975. You have officially made it very difficult for Malaysia to have anymore international concerts.

— Dini Azri (@hinamasayadini) July 21, 2023
Matty Healy single handedly destroyed our music scene in one night.

— I z z y M u s a (@izzymusamusic) July 21, 2023
I hope every Malaysian concert's goers realize the impact of Matty Healy's action tonight 😢 Your fav is definitely not coming here anymore, because they will be scared of getting ban and because the rules are definitely getting stricter from now on

— sasha (@aisyahlifeu) July 21, 2023
good job matty healy thank you for ruining our entire concert scene

— nigel (@nigalwang) July 22, 2023
Hopefully this doesn't affect the Coldplay concert 🥲

— Dr Nimelesh (@HausofHilton) July 21, 2023
For more pop culture news, head here.
| | |
| --- | --- |
| SHARE THE STORY | |
| Explore More | |