Born Louisa Rose Allen, Foxes made her debut back in 2012 with her debut single 'Youth'. Then just 23 years old and new to the industry, it wasn't long before big wigs started to take notice of the burgeoning star. You may recognise the British musician from her chart-topping singles with Zedd ('Clarity) and Fall Out Boy ('Just One Yesterday')—two tracks that eventually earned her international recognition.
However, with two LPs and an EP under her belt, the singer surprisingly went on to take a four-year hiatus from the business. As for her return? Well, that came in the form of her Friends In The Corner EP, released earlier this year. Now, as 2022 approaches, the singer is prepping for a triumphant return to the industry, with a brand new album, The Kick, set to be released on 11 February 2022.
Fret not, however—you don't have to wait that long to get a sneak peek! The singer has already released three singles from the new album, including 'Dance Magic', 'Sister Ray' and, most recently, 'Sky Love'. Ahead, we spoke to the singer about love, loss, and Zoom, as well as how that all culminated in the production of her new LP:
The Kick is your first full album in five years—what sparked your desire to release music again?
"I took some time away after writing two records; I wanted to realign myself with what I wanted to write about. Also, taking a step away from the music industry for a while really helped me to create a team I felt I could create the best art with."
The upcoming album was written and recorded via Zoom—what was this experience like and how did it work logistically?
"At first, I didn't like the idea at all—I love being in a room connecting with people whilst writing. But, eventually, out of being isolated for so long, I started to write poems, thoughts and feelings. It just started flowing out of me. I then reached out to Ghostwriter, who is a wonderful producer, to see if he would be up to giving Zoom a go—almost to escape the walls of my own apartment for a little bit of time and to see a friendly face.
"Somehow, though, we ended up 'Zoom-ing' back and forth, day and night—I had set up a mic and I would send lyrics melodies to him and vice versa. I loved it in the end! It was exactly the escape from reality that I needed."
How did you settle on the tracklist for 'The Kick'?
"I think my music always has two sides, and I like to end the album in a more soundtrack way. I guess I started with the more upbeat tracks that allow it to flow naturally. Also, on a personal note, lyrically things were probably happening in that order anyway.
What does the new album mean to you, thematically and otherwise?
"It's an emotional release—a huge release of pent up energy and finding my feet along the way. I lost a friend in lockdown and writing about that was hard. I also went through heartbreak and then I wanted to dance it all out but couldn't. So, it's almost an emotional whirlpool that allowed me to dance in my kitchen and be free and dance my emotions out."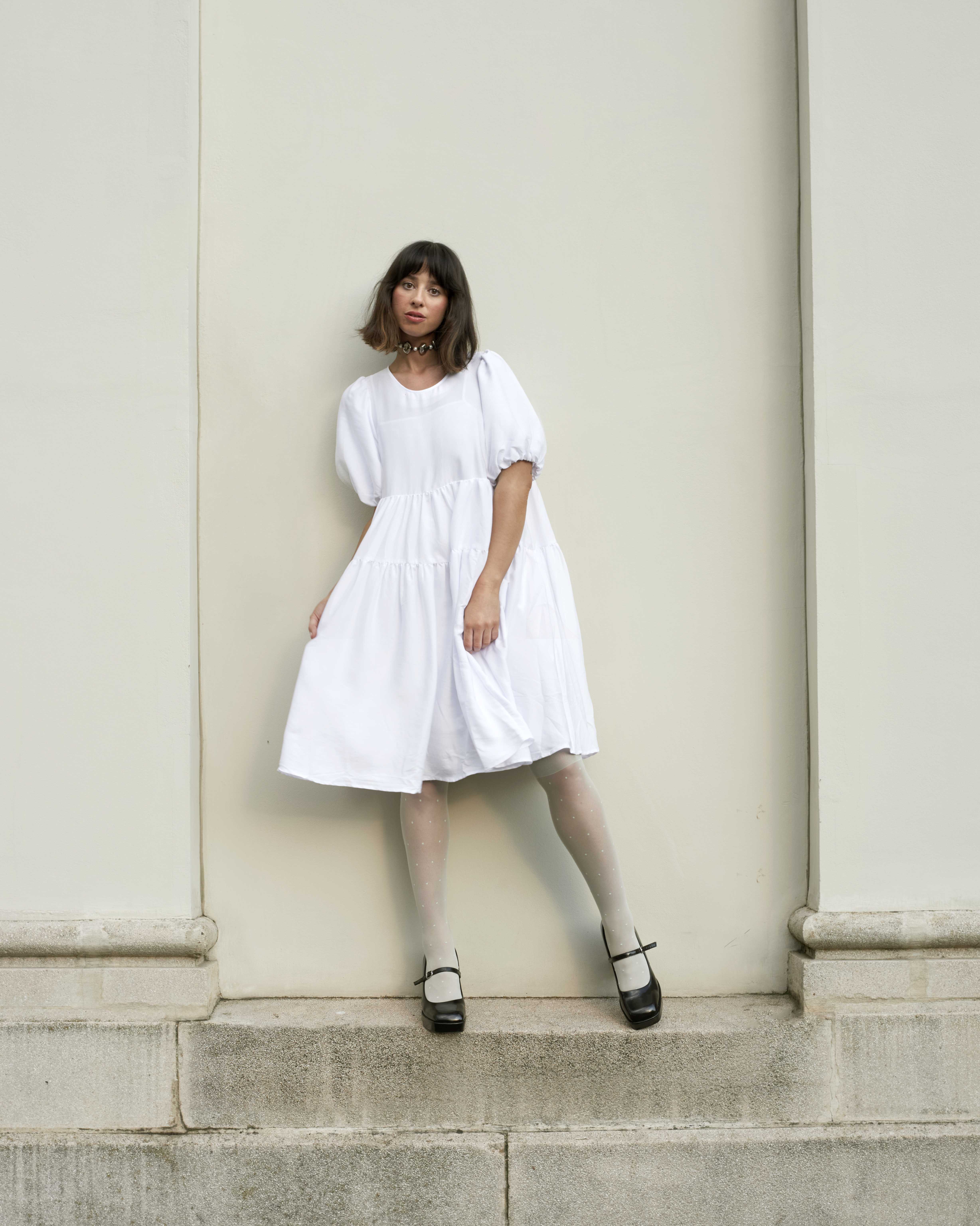 What are some of your favourite lyrics from the upcoming album (if you can divulge them, of course)?
"'I take too much colour in' is about over sensitivity. It's about feeling too much. It's about feeling overwhelmed by life. The colour. The energy. The infinite choice. Sometimes it's all too much. I find that, throughout my life, that feeling has followed me. I wanted to write about it so people who might feel the same don't feel alone."
Where does your stage name, Foxes, come from?
"My mum had a dream involving foxes running up our street one night. She said the howling sound reminded her of my voice, which I found funny because they don't sound great! But she said in her dream they sounded ethereal and beautiful, so I'll let that one go. I also wanted a name that personified the music first before myself—I would rather people hear the music first."
You released your EP, 'Friends in the Corner' last year. The concept behind the video for 'Love Not Loving You' is fabulous! Could you speak a little on the inspirations behind the video?
"I thought I was going to have to abandon plans for a music video due to lockdown. We had everything ready to go and it all got cancelled. So, I ended up setting up my iPhone and somehow learned how to edit while I had the producer and director on Zoom with me. It was so surreal.
"We then layered classical women over the top of parts of me and my body. I was really struck and interested in the idea that a lot of women in classical paintings seem to be just the muse, whereas a lot of them were probably just as creative as the famous men painting them. The cheeky look in their eyes speaks to independence and creativity, and I really wanted this video to celebrate women of all generations and make them the main focus."
View this post on Instagram
Who are some of your major musical influences?
I grew up loving all sorts! Eminem, Kate Bush, Patti Smith, Leonard Cohen, Fleetwood Mac, David Bowie, and Bob Dylan are just a few. I also love film soundtracks—I would just watch films for hours, getting inspiration from them and writing lyrics."
What are you most excited about right now?
"Touring and releasing an album after five years. I can't wait to be on stage again and dance with the people that have supported my music from day one!"
For more music stories like this, click here.
| | |
| --- | --- |
| SHARE THE STORY | |
| Explore More | |