After weeks of teasers, Ariana Grande's 'Thank U, Next' music video is finally here—and it does not disappoint in all its noughties rom-com glory
Ariana Grande's latest hit broke YouTube records as it became the first video to amass 1 million views in less than 34 minutes. That, everyone, is the power of a breakup song, coupled with an homage to no less than four of the most memorable teenage rom-com from the noughties. Did you spot all the references?
Here's a breakdown by movie...
Mean Girls
The video kicks off with a Mean Girls-style montage, with famous internet personalities and original actors from the movie re-enacting the student gossip montage.
Pages in the infamous Burn Book were dedicated to Ariana's exes, but instead of mean comments, the singer wrote sweet things about them.
A recreation of that famous slo-mo strut down the hallway, with former Victorious co-star Elizabeth Gillies as the Cady Heron to Arina's Regina George. The 'Needy' on her top hints at a yet-to-be-released single. Also spotted: a homage to Karen's weather-predicting abilities. 

Eagle-eyed fans pointed out Ariana's brother, Frankie Grande's signature on the picture of a figure skater on the wall here.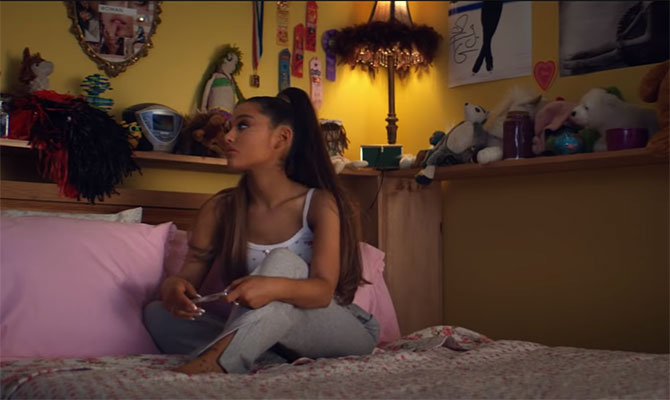 As the girls re-enact the Jingle Bell Rock performance sequence, Kris Jenner takes on Amy Poehler's "cool mom" character from the movie.
Bring It On
Matt Bennett, her love interest in Victorious also gets a cameo in the tooth-brushing scene made famous by the film's original stars, Kirsten Dunst and Jesse Bradford.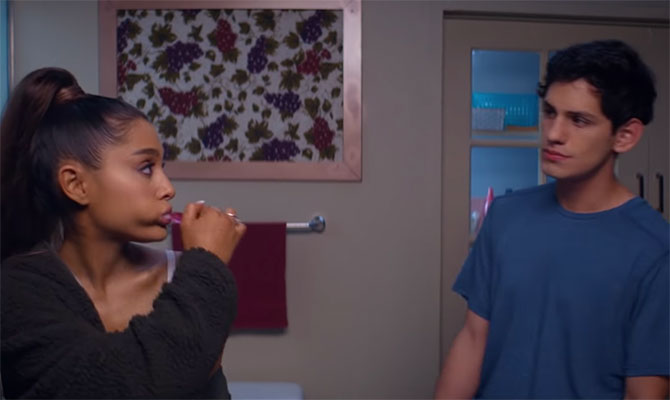 In another blink-and-you'll-miss-it moment, another rumoured name for a single ('Imagine') popped up in the video.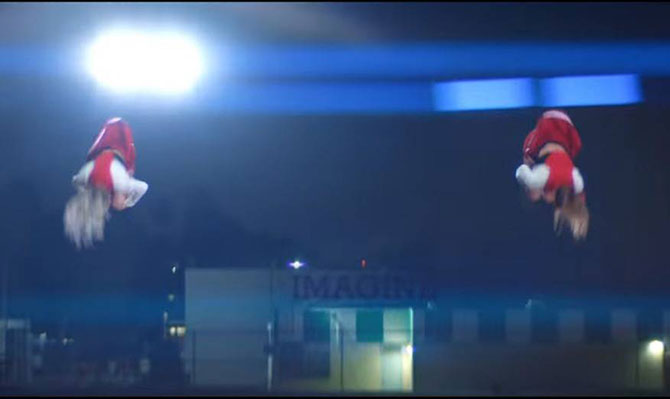 A lot of Ariana's friends appear in the cheerleading scenes. Colleen Ballinger (again) and Victorious co-star Daniella Monet is seen on Ariana's Toros team (but their outfits read "TUN" here in reference to the song title), while her back-up dancers Nekai Johnson, Luz Remigio, and Patience Aquart, as well as friends and fellow musicians Victoria Monét and Tayla Parx donned East Compton Clovers uniforms. 
13 Going On 30
Then comes Ariana as Jennifer Garner's character from 13 Going on 30, shoulder-length cut, dollhouse and all.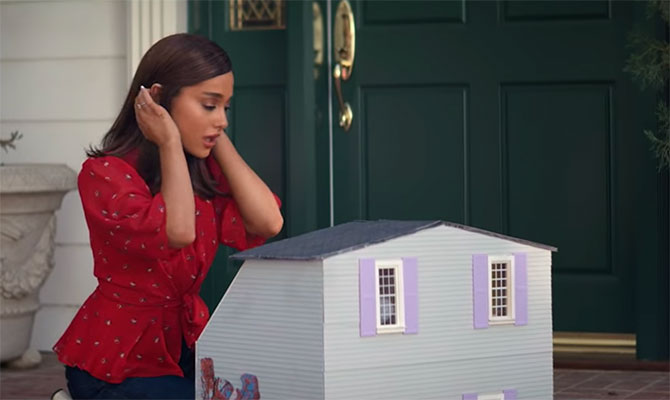 Legally Blonde
Last but not least, Ariana embodied the role of our favourite fiercely feminine law student, Elle Woods. One of her seven dogs, Toulouse, played Bruiser.  She makes an entrance in a car with the license plate "7 Rings"—yet another tease to an upcoming song and a nod to the seven rings she recently bought for herself and her BFFs.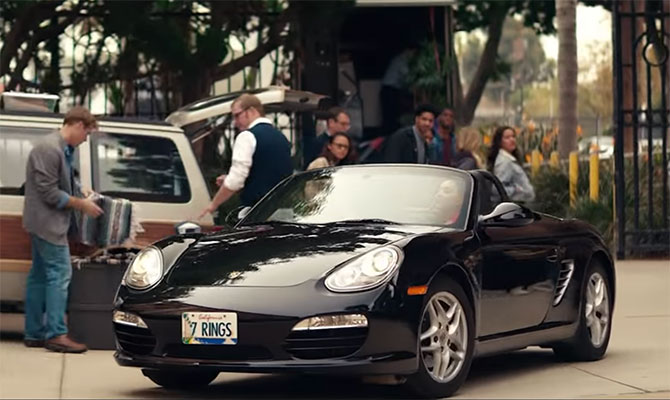 Jennifer Coolidge reprised her role as Paulette, whom Ariana is seen chatting with (talking about Pete Davidson's BDE?). 
Of course they had to do the iconic "bend and snap" scene.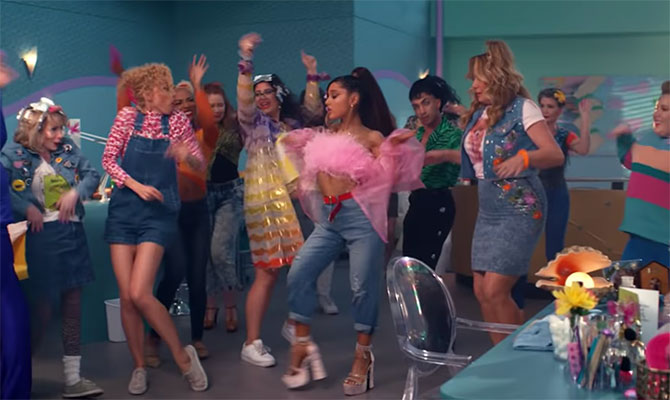 Finally, Paulette is reunited with the hot UPS guy (though sadly not played by Bruce Thomas) with a patch on his uniform that reads "BDE"—no noses were broken in making of the video.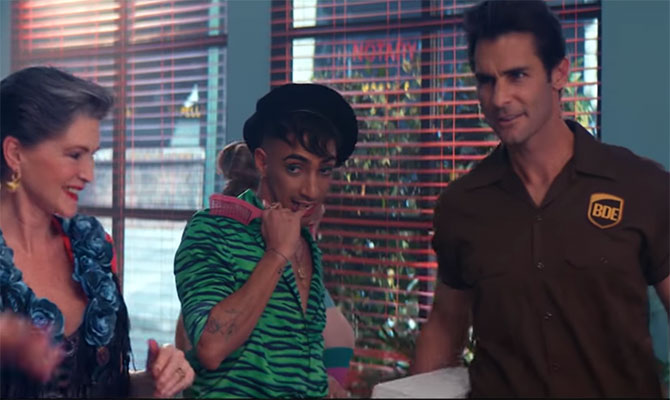 Phew. Ariana Grande sure packed a whole lot of references into the video. Did we miss out any? Let us know in the comments section of our Facebook post.