Meet Stella Rose Bennett (or professionally known as Benee)—the Auckland-born artiste who is taking over the globe with her infectious yet omnipotent music. Benee has definitely achieved a tremendous amount of success—at only 20 (she was born 30 January 2000). Prior to her song Supalonely blowing up on TikTok, Benee has already carved a reputation for herself as a rising force back in New Zealand; she took home four Tūī awards at the New Zealand Music Awards in 2019, including Single of The Year (for Soaked), Best Solo Artist, Best Breakthrough Artist, and Best Pop Artist.
Since releasing her debut single Tough Guy in 2017—a record produced in collaboration with Josh Fountain—Benee has released two EPs: Fire on Marzz and Stella & Steve. The former spawning hits such as Soaked, Evil Spider, and Glitter (Benee's first song to trend on TikTok); and the latter includes tracks like Find An Island and Supalonely (with Gus Dapperton). Her music has garnered more than 240 million streams on Spotify so far and the track Supalonely is currently at fourth place in Malaysia on the Spotify Top 50 charts. Talk about winning!
By now, everyone has heard of Supalonely and the song has taken over TikTok with more than nine million videos on the platform. Celebrities, and TikTok stars (as well as BURO Malaysia's very own Lifestyle Writer, Ronn) have all attempted the #SupalonelyChallenge—making the record the biggest hit of Benee's career so far.
We had the opportunity to speak to Benee—who was as upbeat and full of life as one would expect—about her music, how she feels about her songs trending on TikTok, and more:
1. When did your interest in music begin and how?
I've always loved singing and I've always been around music—especially because of my parents. I started releasing covers onto SoundCloud in 2017 and that was during my last year of high school. It was that time when we were all like: "What are we going to do with our lives?". I got in contact with a producer after releasing those covers and that's when I started going into the studio to write songs. That's when I fully realised that music is something that I'd really love to pursue.
2. Who do you note as your musical influences growing up, and who are your musical influences now?
I listen a lot to what my parents would play me such as Radiohead and Groove Armada. But I think bigger influences for me—like females that make music in the industry—are singers like Grace Jones, Amy Winehouse, and Lily Allen. They are so unafraid to say stuff and they exude a very strong image. I think it's really important for people like me who want to do music to look up to these figures in the industry.
3. Soaked was obviously a door-opener for a lot of people. What was your inspiration behind the song?
You know when you're having an important conversation or argument with someone and you have a lot of things that you want to say but for some reason can't get them out? Then after the conversation, you start thinking about the things that you wished you said differently. It's sort of the feeling of being frustrated at yourself for not doing or saying something at an important time—when you should have done those things.
4. Fire On Marzz is a very brilliant debut EP. Some would even say it's more sophisticated than your average debut EP. Why do you think Fire On Marzz resonated so well with listeners?
Thank you! All the songs on the EP are very different from each other and I think it's kind of weird. A lot of the things that I was writing on Fire On Marzz was quite random. I feel like… people like when you're weird and when you're real. For some reason, people can kind of relate when you're writing songs that are about things that other people don't usually write about. There are also personal break-up songs and songs about relationships. I think that when you're sharing songs about more personal subjects, a lot of people can relate.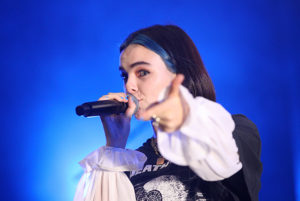 5. Congratulations on your second EP Stella & Steve with amazing tracks like Blu and Find An Island! What would you say is the biggest difference between Fire On Marzz and Stella & Steve?
My goodness! There's definitely a difference—like my style. The stuff that I was listening to when I wrote Fire On Marzz has possibly changed. I listen to a lot of indie music when I was writing Stella & Steve. Also—the vibe for Stella & Steve is a little bit more chill than my first EP.
6. Supalonely with Gus Dapperton has made waves globally—especially on TikTok and in Malaysia as well. It is one of the most popular songs here at the moment. What is the song about, and how do you feel about having a song trend through TikTok?
Wow. I wrote the song last year (2019) after a break-up and I was really sad—obviously. I broke up with my boyfriend five days before going to Los Angeles on a writing trip when I was just making music the whole time. I knew that I was fully capable of writing a really sad song at the time. I wanted to flip it and just be self-deprecating and also kind of mock myself for being sad. I wanted to make a song that someone can listen to when they are in a similar situation and feel happy.
Seeing the song take this whole new light through TikTok has been insane! I would not have expected that this song out of the whole EP would have been picked up in such a way. I think it's super cool and it has been really exciting to watch Supalonely blow up on TikTok.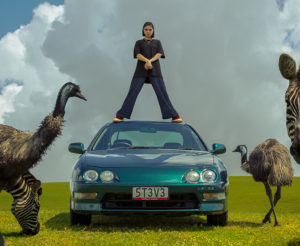 7. Have you personally attempted the #SupalonelyChallenge on TikTok?
Let me tell you! Glitter was the first of my songs to be on the app and people asked me to do the dance. I tried it and I wasn't very good. The Supalonely dance is actually quite difficult so I don't even think that I can attempt it because I feel like it will be really embarrassing. I'll just leave it for the people.
8. How would you describe your sound, and are there any genres that you'd like to try?
I'd like to think of my sound to be kind of indie-poppy—like a blend of a few different genres. And yes, definitely! I love the idea of experimenting with all sorts of genres. With some of my music now, I'm trying to bring different elements such as hip hop. I think it's really cool that you can do anything when you're creating music. I'm going to try everything!
9. You've done a lot and achieved a lot since releasing your first song. What are you proudest of so far?
I think touring for me; being able to go to different countries and have people actually come listen to my music. That is probably the biggest thing for me so far.
10. Are there any plans to perform in Malaysia one day?
I would love to perform in Malaysia! I hope that once everything is safe, I can come as soon as possible. It will be so cool. I've never been to Malaysia so I'm really excited!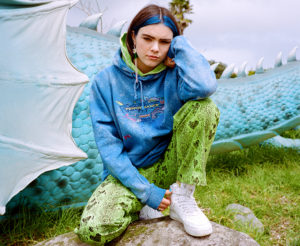 11. Are there any upcoming projects that you can share with our readers?
I'm currently in the process of writing a bunch of new music and I'm using this isolation period to work on some of my stuff—which is really exciting. This year, I'm looking to release a bigger body of work. Possibly an album.
12. Do you have a message of hope for everyone going through the pandemic now?
To everyone, just stay safe. We are all responsible when it comes to staying safe and looking out for each other. It will definitely blow over. It is a really scary and weird time but it's also a time when we are all—in a weird way—being brought together. I think it's about people just supporting one another.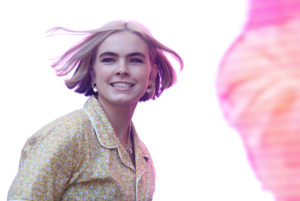 Benee is an amalgamation of all things brilliant in the music industry today; from her songs to artwork to the clothes she wears. Along with rich vocals, smooth production, infectious tracks, as well as relatable lyrics, Benee has, without a doubt, cemented a reputation as the one to watch. She's a chameleon when it comes to music—exuding a plethora of different moods and textures. Fire On Marzz and Stella & Steve are perfect examples of what to expect from the young star. TikTok has catapulted Benee to global fame but it's clear that she's here to stay. Thank you for speaking to us, Benee!
Facebook | Instagram | Twitter | Spotify
For our conversation with Jeremy Zucker, click here.
| | |
| --- | --- |
| SHARE THE STORY | |
| Explore More | |