Fun fact: the 4-piece rock band from Tokyo was almost named The Leather Boys—because they always wore leather jackets back then. But they eventually settled on [Alexandros], after Alexander III a.k.a. Alexander the Great who was known as the greatest conqueror of the ancient world.  How apt, seeing that the band is well on their way to making a mark in the world with their music, having toured in many countries and performing in major festivals like SXSW (US) and The Great Escape (UK). Last year, their song 'Mosquito Bite' was featured as the theme song for the live-action adaptation of Bleach.
And it looks like they can't stop, won't stop. The rock outfit has been steadily releasing albums almost every year since their debut record in 2010—that is a pretty rare feat in the music industry these days. This 19 July, [Alexandros] will be coming our way for the second time (they first performed here just last September) with more new material to rock KL! Here, we speak to vocalist/guitarist Yoohei Kawakami ahead of their sophomore visit: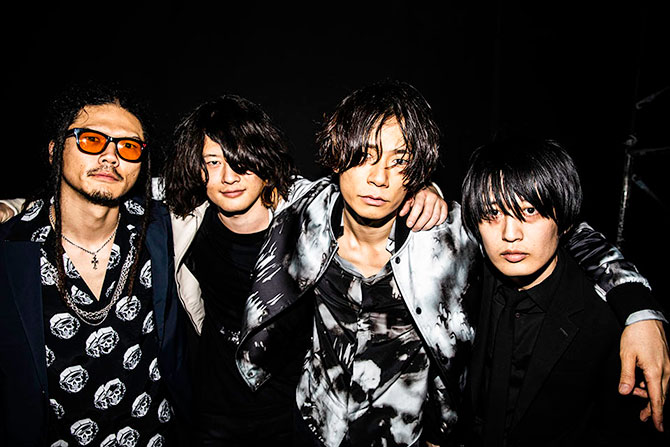 What are your personal musical influences?
"My favorite is UK rock especially mid 90's. I also like US rock and some Japanese music but mostly rock/pop."
How would you define [Alexandros]'s sound?
"Wow that's a tough one. I'd say I can't really define our sound because we like to flirt around with different genres. I'm really bad at staying at the same spot, but I think we'll always have the distinctive sound of the guitar most of the time."
Your latest album was recorded in Brooklyn. What was that like, and did creating music in a foreign city fuel your creativity any differently?
"It was fun, and it really helped fuel my creativity. Recording in a foreign city also made me realise it's so important to sing in Japanese and think about the Japanese market when we're making the music—there is a little sense of contradiction there."
Was there a running theme behind the record?
"Not really, but we are always trying to do something new, and the same goes to this record."
You guys have performed in quite a lot of places across the world—but is there a dream venue/city where you hope to play someday?
"Not specifically. We would love to go anywhere around the world because we love to meet and communicate with different people. I have no prejudice and don't care where they're from, the color of their skin, or what they believe in as long as they are nice."
I feel like you guys are one of the rare music acts out there who come out with an album almost every year. Are you guys already working on the next one?
"I know, right? I definitely need a break! And yes, we are always working on something so stay tuned."
What else do you have lined up for 2019?
"We'll be doing more tours, festivals, and so much more. Next we have a big project coming up with Japanese national TV NHK. We're going to write a song and perform with 1,000 students who are 18 years old. The project is called 18 Fes, I can't wait to work with the younger generation. Hopefully it'll be broadcasted in Malaysia."
Finally, do you have a message to your fans in Malaysia ahead of your upcoming show?
"I'm so excited to come back and do a gig in Malaysia because I had a lot of fun last time. It's only been a year but we've got some new music to share with Malaysia so I can't wait!"
[Alexandros] Sleepless in Kuala Lumpur is organised by Toybox Projects, happening on Friday, 19 July 2019 at Bentley Music Auditorium. For ticketing and more information, visit the website.
| | |
| --- | --- |
| SHARE THE STORY | |
| Explore More | |