Music
16 References you missed in Taylor Swift's 'Look What You Made Me Do' music video
"There she goes acting like the victim again"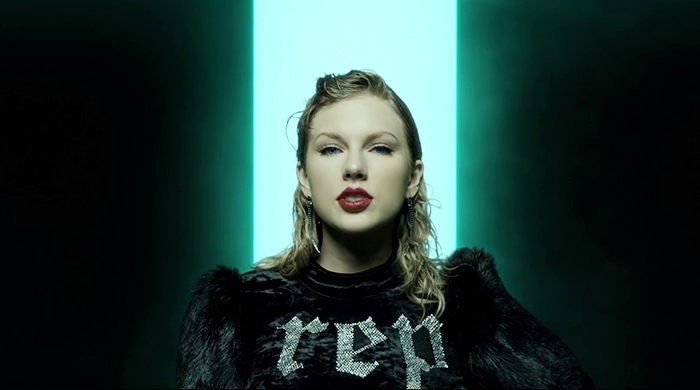 Except for the 'I Don't Wanna Live Forever' duet with Zayn Malik, Taylor Swift has deprived her fans (and haters) of new music for almost three years but now the 1989 singer is back, smarter and harder. Her new single 'Look What You Made Me Do' from her upcoming sixth studio album Reputation swiftly broke several records after its release.
From achieving more than 19 million views for the lyric video in just the first 24 hours (the YouTube record was previously held by 'Something Just Like This' by Coldplay and the Chainsmokers) to setting a global record for the most first-day streams on Spotify, it's clear this is only the start. While the lyrics itself had everyone talking about who it was written for, the music video for 'Look What You Made Me Do' references even more. Here's everything we've spotted so far which you might find pretty familiar:
1. 'Out of the Woods' Zombie Taylor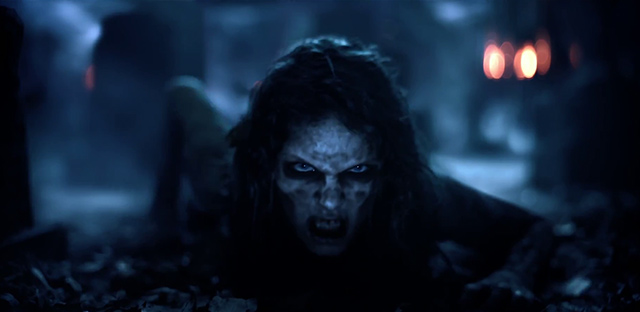 Here she wears the same dress as the one in 'Out of the Woods' video where she was also crawling on the ground. This is perhaps to reference how the Old Taylor is dead.
2. Nils Sjoberg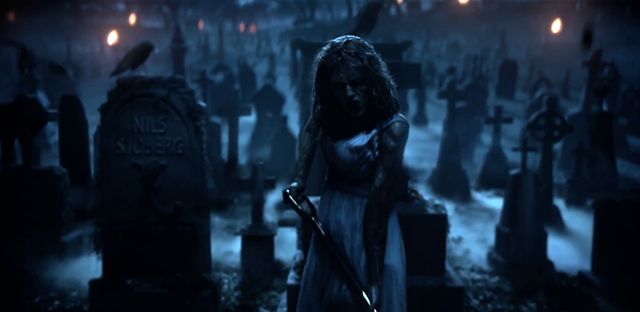 Blink and you'll miss it. On the grave to the left of Zombie Taylor is the pseudonym she used for Calvin Harris' hit 'This Is What You Came For'.
3. Taylor lying in a bathtub with diamonds and…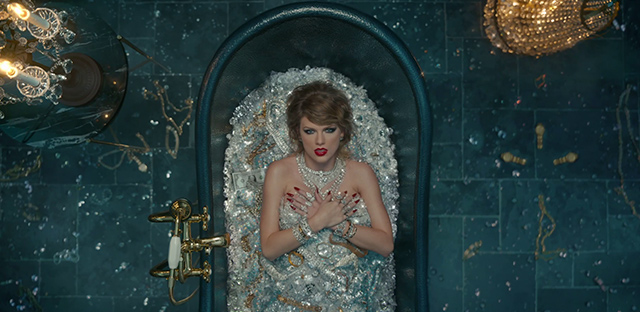 …a $1 dollar bill. It could be a reference to the sexual assault lawsuit she won against David Mueller.
4. Et tu Brute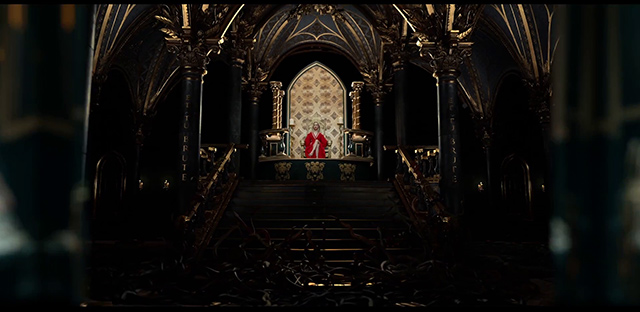 The words can be spotted on the pillars in the throne scene, as well as on the handles of the throne itself, and it's a reference to the play Julius Caesar by Shakespeare where Caesar says it as he's stabbed by his friend Brutus. It is often used as an expression of surprise and dismay upon realising a friend's betrayal. Perhaps this is about the Famous call? Since Taylor Swift's defence is how she was never told about being called a b-tch in the song – as evidently shown in the leaked phone calls.
5. The snakes in the throne room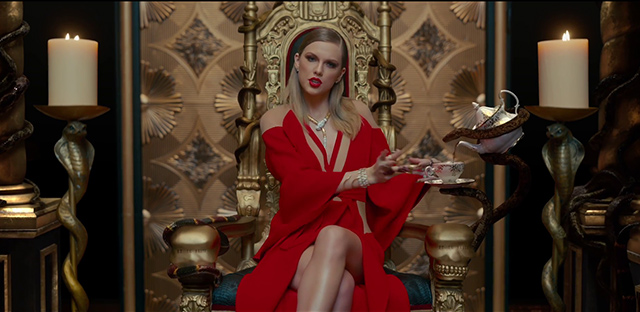 After Kim K's big Snapchat takedown, while calling Taylor a snake, many flooded the Style singer with snake emojis. However, this scene shows how she has turned the tables around which is especially depicted by the snake serving her tea.
6. The car crash and the Grammy in her hand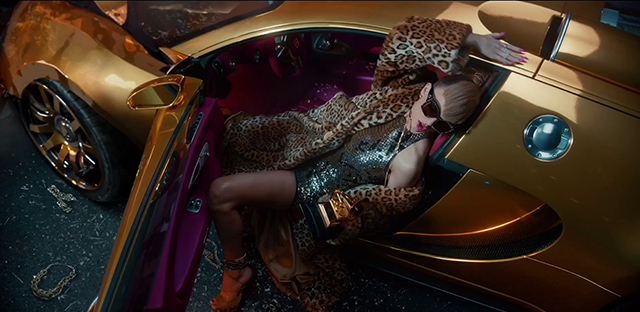 This scene is said to represent how critics claim she causes drama to write songs about it, going on to win awards for them. Or it could also be about how she paints herself to be the victim. On another note, fans have noticed her outfit closely resembles Katy Perry's, complete with an actual leopard next to her in the car. Roar?
7. Robbing the bank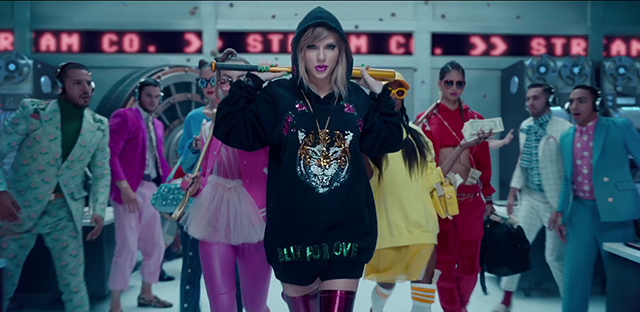 If you slow down the video, you'll notice the words say 'stream.co' which could be a jab at the time she wrote an essay about music streaming and removed her catalogue of songs from Spotify. In her Wall Street Journal op-ed, she had wrote that music is art, important and rare, and thus should not be free. Later on, she explained her withdrawal from Spotify as:
"[A]ll I can say is that music is changing so quickly, and the landscape of the music industry itself is changing so quickly, that everything new, like Spotify, all feels to me a bit like a grand experiment. And I'm not willing to contribute my life's work to an experiment that I don't feel fairly compensates the writers, producers, artists, and creators of this music. And I just don't agree with perpetuating the perception that music has no value and should be free… I thought, 'I will try this; I'll see how it feels.' It didn't feel right to me."
8. Taylor wearing a cat mask
In this scene, Taylor dons a sweatshirt with a tiger, which some say this might be a reference to Katy Perry, but what is clear is the words "Blind for Love". This is directed to how many have said her to be boy crazy.
9. The robot factory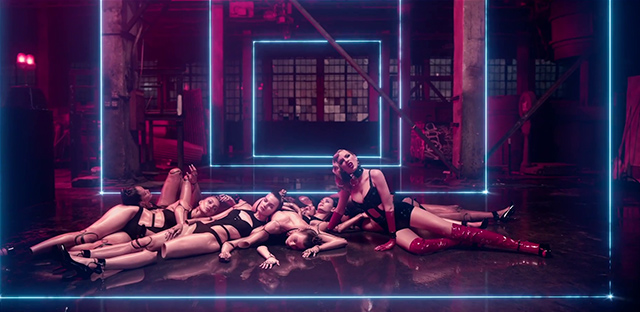 There was a time when Taylor was known for her girl squad of pretty models, singers, actresses and entrepreneurs—a Barbie doll squad. While some found it empowering, critics found it demeaning and a monopoly. For example, an article published in The Hollywood Reporter accused Taylor of having a "routine of wheeling out friends and celebrities as performance props" while a Gawker article said "Her plan – to be as famous and as rich as she can possibly be – is working, and by using other women as tools of her self-promotion, she is distilling feminism for her own benefit."
10. Hiddleswift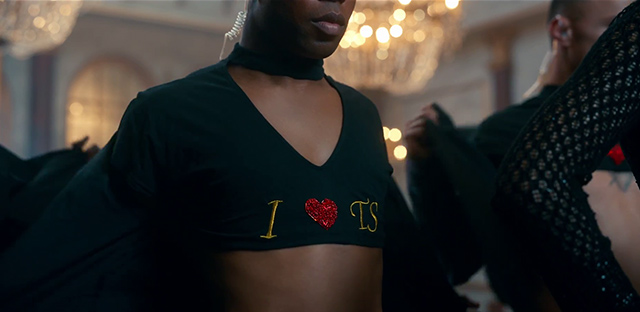 Her backup dancers all wear shirt that says 'I love T.S" which is similar to the one spotted on Tom Hiddleston at her 4th of July party.
11. The different personas of Taylor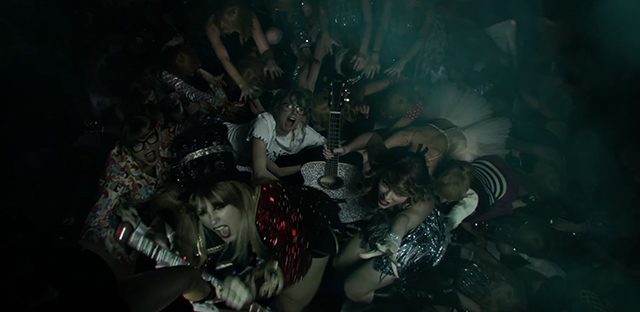 From the more recent ballerina in the 'Shake It Off' video to the geeky girl in the ol' 'You Belong With Me' video to the Taylor Swift in the exact dress she wore during her 2009 VMA acceptance speech (which was crashed by Kanye West). You'll see them as a pile of frustrated Taylors from the past trying to reach for the current Taylor at the top and in a line at the end.
12. Taylor wearing a T-shirt with scribbles on it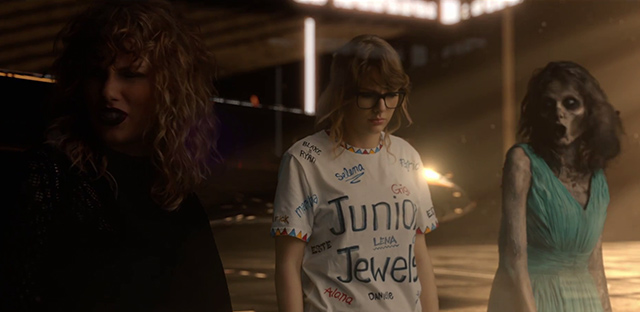 The T-shirt looks similar to the one she wore in the 'You Belong With Me' video except this one carries the names of her friends: Selena Gomez, Martha Hunt, Blake Lively and Ryan Reynolds, and more.
13. Common remarks made about her over the years
"Stop making that surprised face; it's so annoying."
"Stop acting like you're all nice; you're so fake."
"There she goes, playing the victim again."
14. "Getting receipts! I'm gonna edit this later."
Possibly a Kim K reference as the Kardashian had posted snippets (or 'receipts') of Taylor's call with Kanye West on Snapchat about the Famous lyrics. It was also this incident where Kim said Taylor was using the opportunity to "play the victim".
15. Kanye and his Famous lyrics
Another possible reference is shown during the argument between Taylors at the end of the video. A Taylor says "What's that, b-tch?" while dead Taylor shoots back,"Don't call me that."
16. "I would very much like to be excluded from this narrative."
This is a line from her response posted on Instagram regarding the Kimye Snapchat takedown. However, the Internet soon turned into a meme and asked her, as the lineup of Taylors snapped at her at the end of the video, to shut up.
But in the end, maybe we're all overthinking this. Maybe Taylor just wants to show people that they've made her learn how to dance. Did we miss out any references? Leave a comment below to let us know your thoughts.
Related stories:
Muse of the month: Taylor Swift
7 Reasons why Taylor Swift is our red carpet style crush
| | |
| --- | --- |
| SHARE THE STORY | |
| Explore More | |