Just 25 years old (going on 26 on 13 December) and Taylor Swift has already become one of the top earning music celebrities in the world. As if the landslides of awards, accolades, and album sales aren't enough to secure her an iconic place in music history – perhaps her ultimate "cool girl" persona will.
Named amongst TIME magazine's prestigious top 100 most influential people for 2015, Swift has dominated the world of entertainment and pop culture since her country music debut in 2006. Five albums and just eight years later – with a shift into pop music – and Swift is not only constantly dominating global music charts or touring the world, but she is virtually everywhere.
Be it reports on what seems to be the perfect relationship with EDM superstar Calvin Harris; some vicious legal battles for the good name of music rights; the countless charity involvements with her fans; or her being associated with the glamorous likes of Victoria's Secret models, Swift has poised herself as that really popular, cool, flawless girl whom everyone wants to be. And here's why she seems to have done it all in 2015.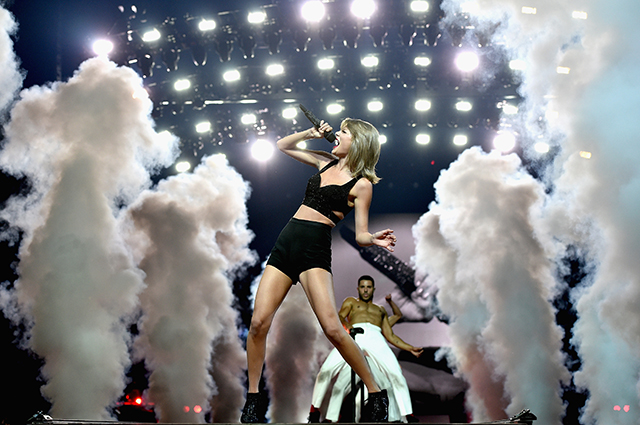 Nothing screams, "power" more than Swift's ability to have Apple bend to her will. Back in June, Taylor – who had already pulled her music off Spotify – wrote a lengthy open letter to Apple Music, stating why she would be pulling her album 1989 from their catalogue. It turned out that Swift had a really big problem with Apple not paying artists during their service's free three month trial period. "Please don't ask us to provide you with our music for no compensation," Swift signed off the letter.
It took just one day for Apple's Eddy Cue to respond on Twitter that Apple was changing its policies and will pay the artists during the free trial period. Score one for Swift and recording artists. And score for Apple too, as their quick reaction was applauded as a step forward for them where more artists would now consider putting their music on Apple Music.
2015 also marks the year where Swift coined the term "girl squad." Swift has poised herself as the ultimate ringleader of the world's most popular models, actresses and singers – your queen bee, if you may. Not only does Swift explicitly publicise her friendships with other celebrities, but week after week, the paparazzi documents her hanging out with them all about town. And to top it all off, Swift brought together the ultimate girl squad video for her single off her 1989 album, 'Bad Blood.'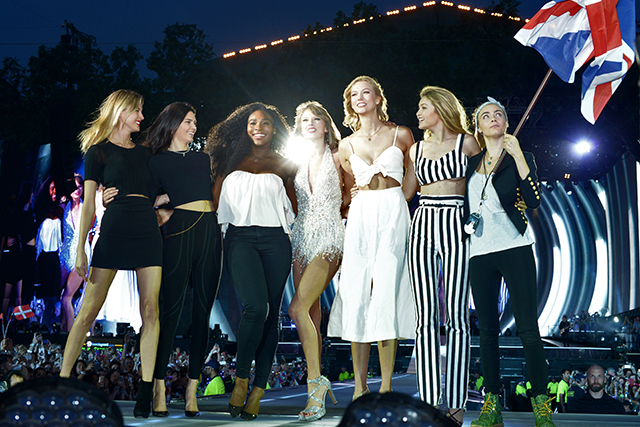 Scantily clad in a dominatrix style of exuding girl power, 'Bad Blood' stars Swift alongside a whopping 15 celebrities in one video: Selena Gomez, Serayah, Gigi Hadid, Ellie Goulding, Martha Hunt, Hailee Steinfeld, Cara Delevigne, Zendaya, Hayley Williams, Lily Aldridge, Karlie Kloss, Jessica Alba, Mariska Hargitay, Ellen Pompeo and Cindy Crawford.
And speaking of 'Bad Blood,' Swift has shown her positively gracious side with her detractors, or particularly, Kanye West. It has been six whole years since the 2009 incident at the MTV Video Music Awards (VMAs) that West stormed the stage during Swift's acceptance speech for Best Female Video, snatching the mike and proclaiming that he'd let her finish, but "Beyonce had the best video of all time." The incident is still fresh in our minds, and this year Swift showed the world that all was well between her and West, when she presented him with the prestigious Video Vanguard Award at this year's VMAs – not without punchlines from the original incident, of course.
A pop culture heroine of sorts, Swift makes for an easy muse. And although she has said that she's going to take a break from music after her 1989 tour, which wraps in Australia this month, we can hardly imagine the all-rounder starlet slowing down.
| | |
| --- | --- |
| SHARE THE STORY | |
| Explore More | |