Culture
Moët & Chandon x Ambush: Yoon Ahn on designing the limited edition bottle (for a good cause)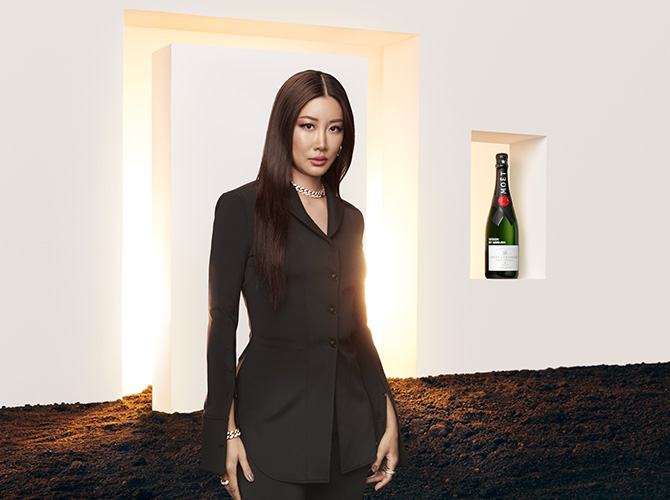 There's a first time for everything. Moët & Chandon, Ambush and Yoon Ahn are familiar names but you would never have placed them all in one sentence. This unique global collaboration sees some firsts for both the House and Yoon Ahn. Moët Impérial has been Moët & Chandon's signature champagne since 1869; hence the bottle has become an icon in itself. In 152 years, never has the bottle seen a redesign until now. Yoon Ahn, co-founder and creative director of Ambush, is familiar with designing for fashion but not a champagne bottle—until now.
However, the Moët & Chandon x Ambush collaboration isn't just about producing a limited edition bottle. Not only does choosing Yoon signify the House's desire to speak to today's generation, but it goes back to charity too. At Moët & Chandon, there is a tradition of giving that has contributed to the House's greatness. This round will see the House donating a portion of the profits from the sale of the limited-edition Moët & Chandon x Ambush bottles to the World Land Trust. The organisation focuses on the conservation of threatened natural habitats through local partners such as Fundación Jocotoco in Ecuador.
Read on for Yoon's thoughts behind the collaboration, the House and the inspiration for the design.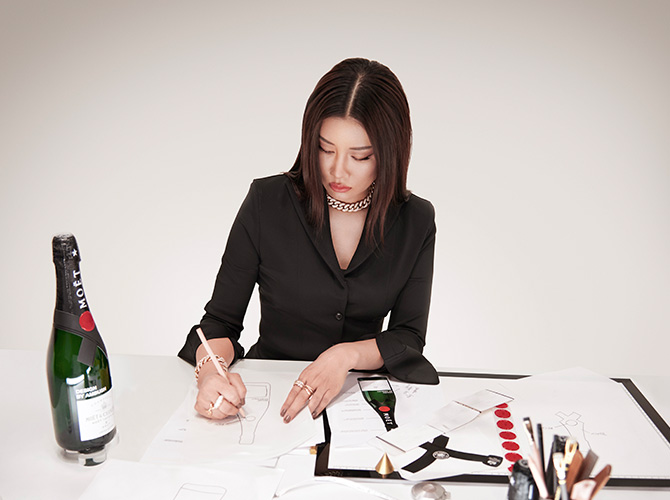 Development plans for her label Ambush.
Yoon Ahn: "When we founded Ambush in 2008, the idea was to create objects for ourselves that did not exist in the market. Since then, the brand has evolved just as the world has gone through a huge cultural shift driven in part by the power of the Internet. Consumers today want new things, new aesthetics, and have a new understanding of what makes a luxury product. This new vision has very little to do with the old, accepted views of luxury. With Ambush, we try to connect with consumers who are receptive to a new sensibility of the world of luxury, which rests on values of diversity, inclusivity, craftsmanship and sustainability."
You are a true global citizen. How has your own multiculturalism impacted your designs?
Yoon Ahn: "I did not study the crafts that I practice today, namely fashion and jewellery-making. Instead, my life experience has been the main inspiration for my craft. Being an outsider in Japan has taught me many things, including the value of a strong work ethic, and a desire to be inclusive and create for a very diverse global community with a sense of social responsibility. I am also very thankful to be able to do what I love."
View this post on Instagram
What did your own multi-culturalism bring to you in this collaboration with Moët & Chandon?
Yoon Ahn: "When I first moved to Japan, I was making jewellery and fashion inspired by the streets. The spirit of collaboration is very natural to modern streetwear styles. For me, this collaboration with Moët & Chandon was mainly about channelling multiculturalism so that we could embrace a very diverse consumer base and bring a vision that is both modern and all-inclusive. There are no borders when you are a creative in a world that is interconnected. I feel that Moët & Chandon is very much connected to this notion of a global community of people that is diverse, without regard to borders. With this collaboration, the goal was precisely to embrace cultural diversity—something I was happy to do because it was based on a shared vision."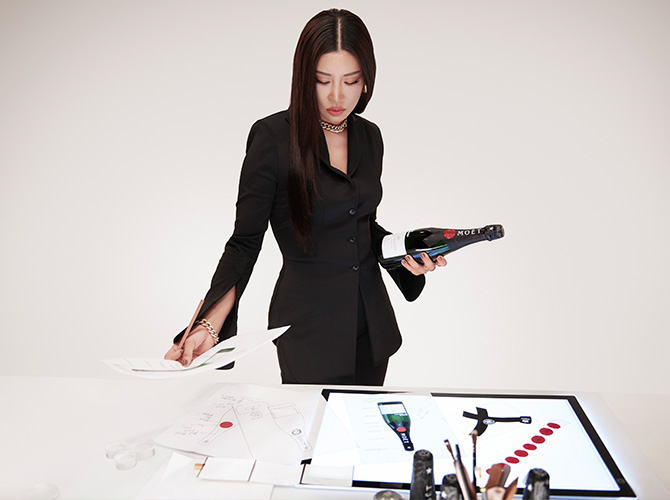 You went outside of your "comfort zone" as this is the first collaboration with a "wine & spirits" brand. How was this first encounter with Moët & Chandon, a champagne House with a 278-year heritage?
Yoon Ahn: "At Ambush, we are not afraid to look outside our comfort zone. We have always embraced new visions. But we only accept collaborations where we can learn something new. This is indeed my first collaboration with a champagne House. Although champagne is a completely new world for me, I was curious to learn about Moët & Chandon and its champagne-making heritage. What made this collaboration with a 278-year old company so meaningful, was that it was based on a mutual respect and the desire to tell a compelling story. That is what makes any collaboration genuine. It cannot be just about marketing because today's consumers are savvy. We have tried to create a new synergy which is a great way to communicate shared values."
You visited Epernay, home to Moët & Chandon, for the first-time last year. What are some images that remain engraved in your mind?
Yoon Ahn: "It really opened my eyes. Living in Tokyo, I always try to get away. In nature, I can recharge and refocus. In the vineyards of Moët & Chandon, I felt a close connection with the lush green nature of a true agricultural heartland and was impressed with the care that goes into preserving the land and its age-old traditions. The House is very much engaged in ensuring the wellbeing of its people, and it has a long history of doing so, which makes sense because so much of the daily work is still being done by hand, in the vineyards as much as in the cellars. You really see that the hand of mankind plays an essential role in making champagne. For me, the visit to Moët & Chandon in Epernay was about discovering a place where natural beauty meets human know-how, guided by almost 300 years of heritage."
View this post on Instagram
What are some of the values you discovered you shared with Moët & Chandon in the course of this collaboration?
Yoon Ahn: "At Moët & Chandon, I could see first-hand how important it is for the House to value its teams and to care for its people. That care inspires positive outcomes and is ultimately reflected in what the House offers its clients. That translates into the care and attention that the people at the House bring to the smallest detail of their role in making champagne. Also, I could see the importance of investing time and resources in developing local production. Everything is done by the House on its own land and in its own facilities in Epernay. Those are crucial points for a modern, responsible business that knows exactly how everything is done in its name. And on a much smaller scale, we try to do the same at Ambush, by ensuring that our teams feel valued and appreciated, by ensuring the means of production to make a top-quality product, and by using local know-how."
The bottle of Moët Impérial has not been redesigned in 152 years. What was the most challenging fact about re-touching the design of an icon?
Yoon Ahn: "I was thrilled to be given carte blanche to re-design the bottle of Moët Impérial, which had not been redesigned by an artist since it was first released in 1869. It was a great challenge given its recognizable and iconic codes, but I also saw it as a great opportunity to bring my own aesthetics to this iconic champagne."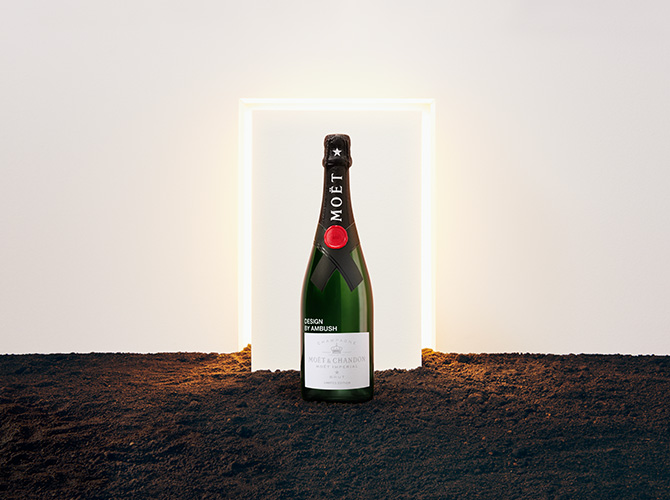 The inspiration for the redesign of the Moët Impérial bottle.
Yoon Ahn: "I brought the essence of Ambush to my design for the Moët Impérial bottle. That is really my driving force. I wanted to conserve some of the truly iconic codes of the bottle, like the tie, but I played with elements like colour and label to make an impact. This Moët & Chandon bottle has always been identifiable by its golden neck, so changing that colour to black was quite drastic. I then contrasted it with a new all-white embossed label to produce an eye-catching design that suggests a blank slate, like a window into a future filled with possibilities for those who dare to step forward. It was a strong and impactful move because it allowed me to achieve the clean modernity of stark contrasts, which is at the heart of my designs for Ambush. It makes for a striking design that is sharp, uncluttered… and very contemporary."
This is the first time Moët & Chandon has chosen to support a charitable cause in a product collaboration. What was your sense of their support for the charitable organisation you chose?
Yoon Ahn: "When they mentioned that a portion of the profits of this collaboration would be donated to a charitable cause, I was thrilled but not very surprised. Moët & Chandon is well-known for its generosity and the spirit of sharing that it has always supported. But what surprised me was that the task of selecting the charitable cause was given to me. This is both a great responsibility and a strong statement of support for my choice and my integrity. Preserving this planet and the natural habitat for all species are very important considerations for today's young generation, and I am very grateful that Moët & Chandon accepted my choice and generously offered their full support."
View this post on Instagram
| | |
| --- | --- |
| SHARE THE STORY | |
| Explore More | |