While it is hard to pick a firm favourite from Roald Dahl's repertoire of fantastic fictions, the magical tale of Matilda most certainly has a special place in many a bookworm's heart. And like for a lot of Dahl's works, Quentin Blake brought the characters in the beloved story to life with his distinctive illustrations, from the tyrannical Miss Trunchbull to the thoughtful little Matilda.
This year, to celebrate 30 years since the original publication of Matilda, Quentin Blake has been asked by Puffin to reimagine Matilda all grown up. What will the wonder child be doing 30 years later? Blake came up with a string of different illustrations, three of which are used as covers for the 30th anniversary editions.
"All the reading she had done had given her a view of life that they had never seen." — Roald Dahl in 'Matilda'
On his website, Blake stated: "It was not long ago that the publisher of Matilda pointed out to me that the book was published thirty years ago so that, if we thought of Mailda as a real person, she would also be thirty years older — and might I have any thoughts about what she would be doing now. Since as a small child Matilda was gifted in several different ways, that wasn't very difficult. I imagined that for each version of our grown-up Matilda one of her extraordinary talents and achievements had come to the fore and shown her a role in life. Here are some of them:
"Matilda, Chief Executive of the British Library: Interviewed by the editor of the London Review of Books, Dr Wormwood said, 'It's reassuring to know that I am never going to run out of something to read'.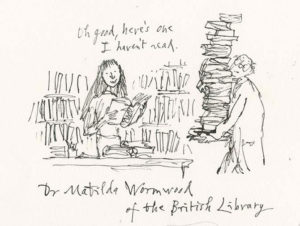 "Matilda, the World Traveller: When she spoke to the foreign correspondent of The Times in the middle of the Kalahari Desert, Matilda explained, 'As a child I travelled the world in the books of Hemingway and Kipling and other writers. Now I am old enough I decided I should go myself.'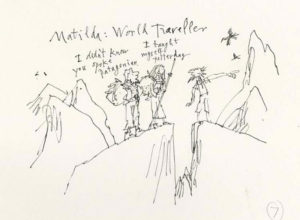 "Matilda, Head of the International Astrophysics Institute: Professor Wormwood explained in an interview: 'Even as a small child I could do mathematics in my head. I never quite knew how it happened, but the skill seems to have stayed with me.'"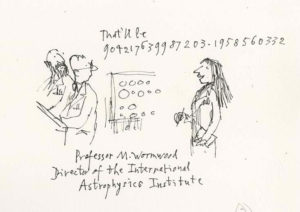 CEO of the British Library, world traveller and astrophysicist; those are the three covers Blake has illustrated to commemorate Matilda at 30. What else could Matilda be doing? A lot, we'd imagine — she was such a thoughtful, gifted child after all. Blake took her down several more paths with his delightful illustrations:
There is Matilda the poet laureate.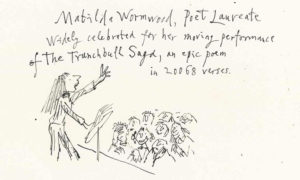 Maybe she'll open a hair and beauty salon.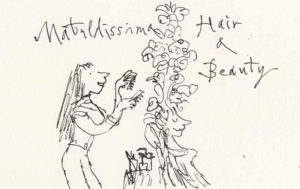 All hail Matilda the wrestling champion!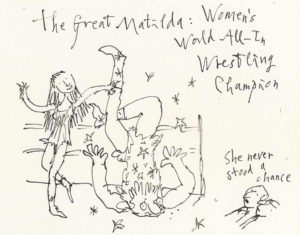 Or perhaps she'll head to Hollywood and turn her refound telekinesis powers into movie magic.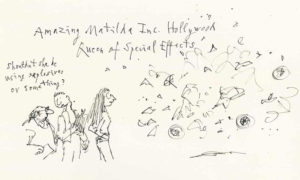 See the special editions of Matilda at 30 here.
| | |
| --- | --- |
| SHARE THE STORY | |
| Explore More | |