Tell us about your cooking journey. How did it all start?
It all started when I had my first proper Italian food in a restaurant called La Casa. I had dishes like bruschetta and carbonara. I wanted to recreate it at home so I went googling looking for a recipe. I made them and it was amazing. My family was so pleased and that was what made me realize cooking wasn't that hard. This love blossomed even more as I lived in Melbourne as a student.
How would you sum up the whole MasterChef Asia experience?
The MasterChef Asia experience is a real eye opener. It is always so easy to say that "I could have done that", but in the MasterChef kitchen the pressure and the time is against you. It is not as easy as seen on TV. But overall it was a great experience because I have met 14 other contestants who share my love for food!
What was the most memorable challenge from the show?
It would be the episode where my mum appeared on the show. It was memorable because I was away from my family filming so I missed her a lot. In addition to that, I had to make a dish my mum cooked for me which was Bubur Cha Cha. It was a dish I've always wanted to recreate and this was my chance. On top of that, being able to make a very iconic Malaysian dish on the show to show the world how amazing Malaysian dishes are.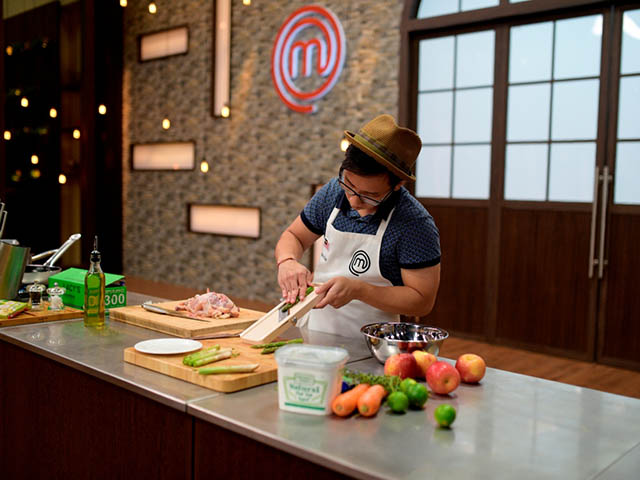 Who is your inspiration when it comes to cooking?
It was my mother who spurred my love for cooking. I specifically remember my mum telling me her hobby was cooking when I was a young boy. At that time I thought to myself why? Cooking was a chore not a hobby! But now I totally understand how cooking is a truly something I have passion for.
If you had to choose one cuisine to eat for the rest of your life, what would it be?
This is really tough. But I do love my Indian food. I love spices and strong flavored dishes.
This will probably be a tough one – favorite dessert?
There are too many desserts to choose from. But I would say cake in general. I love eating and making cake. Not to mention cake is a very versatile dessert and can include many different ingredients elements and textures.
Do you have a favorite ingredient to work with? If so, what is it?
I love working with chocolate. It is so versatile. It can be used for savory and not just desserts. White chocolate is a great flavor carrier and can infuse many flavors. It can even be caramelized to create a new product.
You have an interesting Instagram handle (@madhatter_desserts). When did the hat become a Marcus signature?
The hat actually started off because I was lazy to style my hair and wearing a hat made it so that I wouldn't always need to style my hair. Eventually it became a look of mine!
What is your personal recipe to success?
Failing isn't the end of the world. I enjoy failing but what happens next is what matters. Learning from mistakes is what has helped me push forward with my cooking. I remember that when I started learning to make macarons I failed a total of 11 times. But I never gave up and look how far I have gone.
Now that Masterchef Asia is officially over, what is next for you?
I will be starting my own dessert shop soon in KL for sure. But that will take time so in the meantime I will be selling cakes online as well as doing pop-up restaurants! I want people to taste the food I cook!
Related stories:
Talking GoGet, empowerment, and impacting lives with Francesca Chia
'A Journey Through Time' with Shook!'s Executive Chef Richard Sawyer
| | |
| --- | --- |
| SHARE THE STORY | |
| Explore More | |