Sharon Chin wears many hats as an artist, writer, curator and activist. She has always had an affinity with the creative world having graduated with a BA in Fine Art in 2003 and starting an art and culture site, Arteri in 2009. But she is what you'd described as a late bloomer in the field of drawing. The artist only picked up the skill in 2011 when she moved to Port Dickson and was "commissioned" by the locals to draw them. That, however, marks the beginning of a joyous learning experience and wonderful discovery. We take a walk back memory lane with Sharon in this week's Malaysian Women in Art series about her journey and challenges of being an artist in Malaysia.
Previously, we spoke to visual artist Sophia Kamal on the female body…
1. Tell us 5 fun facts about yourself.
1)    I live 200m away from an oil refinery, and next door to a secondary school.
2)    I have two cats named Poot and Prawn. They were rescued from a drain.
3)    I have four tattoos, and a scar above my left eye from a muay thai fight.
4)    Last year 3 full-grown rat snakes came into our house during the dry season.
5)    I'm terrified of the supernatural but I've worked on 3 films about ghosts.
2. How did your journey as an artist began? Do you remember what sparked your interest?
My family is in the food business. But my mom was and still is, a big reader. There were books everywhere, all the time. I was a fat, shy, sensitive kid. Books saved me and gave me a place where I could live and slowly become myself.
3. Describe your art in one sentence.
Thought turned into action.
4. Can you tell us about the process of making your work?
When I was younger, I used to think ideas came from me, so I would sit and brainstorm until I got a rough picture of what I wanted to do, then I would execute it.
These days I find that images come to me, suddenly and mysteriously. My job is to remain open and ready, so I can receive these signals. I work to find out what the images mean, the kind of forms they want to take. It's more like being a channel for something bigger than myself.
5. What medium do you find yourself most comfortable with and why?
I've always loved textiles. I think textiles tell the story of human civilisation.
6. Do you think it's a challenge being an artist in Malaysia?
It's a challenge and a privilege to be an artist anywhere, because you have to put yourself on the line, every time. Nothing less will do, because our job is to create something true.
Specifically in Malaysia, one of our biggest challenges is censorship. Malaysia has several oppressive laws that limit freedom of expression: Sedition Act 1948, Peaceful Assembly Act 2012, Security Offenses (Special Measures) Act 2012, Prevention of Crime Act 1959, Printing Presses and Publications Act 1984, Universities and University Colleges Act 1971 and Anti-Fake News Act 2018. Until these laws are abolished, artists and our society will never be free. Everything we do, every artistic success or masterpiece, will live and die in the dark of that shadow.
7. Have you ever had a moment when you questioned your career?
Yes, seven years ago when I moved from KL to Port Dickson where I live now. I didn't make anything for about two years. There was no water in my well. It was scary because I identified so deeply with my work. Without it, I was just lost. I never want to go through that again, but I had to learn that everything follows a time and season. Just like the soil has to regenerate, we can't be producing all the time. If you take care of the soil, you can go on for a long time.
8. Women struggle to gain recognition in the art world to this day, especially in Malaysia, but you've managed to make a name for yourself. How would you encourage other women to do the same?
When I started out, I spent alot of time writing about other artists. The thing is, we're a reflection of our communities, and we can only go as far as others can take us. Every opportunity I had, was because someone opened a door for me, or passed my name around, or read what I wrote. My advice is to give all you can to the ones you believe in, and who believe in you. Don't waste time impressing anyone else.
9. On your website, you stated that you are "looking forward to developing an epic story-telling computer game project". Any updates on how that is coming along?
Oh, it's still a dream. But on the back-burner on a long list of projects I want to finish.
10. Can you share how your involvement with 'In the Skin of A Tiger: Monument to What We Want (Tugu Kita)' came about? And what it is about?
Tugu Kita is a participatory performance project. The project is commissioned by the Singapore Biennale 2019, which means they are funding its production. At heart, it's quite simple—I'm inviting people to take part in a sewing event, where they sew stitches on a series of 13 plain banners of various solid colors and geometric shapes. I made the banners from recycled fabric cut out from flags I collected around my neighbourhood after last year's historic elections. The sewing event will take place across two national art institutions in two countries. The first one took place at our National Art Gallery, or Balai Seni Negara, on 17–18 August. In Oct, there will be a similar event at National Gallery Singapore. Participants in Singapore will sew on the same banners, and finally the banners will be hung up as a monument in the atrium of National Gallery Singapore.
11. How did you get your work known internationally?
From the beginning, I shared my work online. This was in the days of blogspot! I made a different blog for each solo show. You can still find them today—Fourth World in 2006 and Sensors: Banned Books and Other Monsters in 2007.
My first time taking part in an exhibition overseas was in 2006, in Singapore. And it was because Khairuddin Hori, a Singaporean curator saw one of these blogs. We continue to work together to this day. In 2013, he invited me to take part in the Singapore Biennale.
12. What has been the most exciting moment in your art career so far?
The day Zedeck and I received copies of our book Creatures of Near Kingdoms from our publisher. There's a video somewhere of my face when I hold the book for the first time:
13. What's the most effort you ever went through to produce an artwork?
The illustrations for Creatures of Near Kingdoms took four years, the longest I ever spent on one series of work.
14. What is your favourite art gallery and why?
All the independent artist-run spaces are close to my heart. Lost Generation Space and Moutou in Petaling Street, Rumah Seni Selangor and Center for Malaysian Indigenous Studies in PJ, Narrow Marrow cafe, Shop Howard, Ruang Kongsi and Run Amok (RIP) in Penang are just a few.
15. What do you do when you are not creating art?
Resting, reading, and muay thai.
16. What is something you have learned, as a seasoned artist, that would be helpful to aspiring artists?
I have compiled a list if you don't mind:
Listen, observe.
Think deeply. Follow your thoughts as far as they can go.
Make art that makes other people want to make art.
Make art that makes people feel that life is worth living.
Make art that can exist in many places.
Draw everyday.
Practice radical inclusivity.
Open source everything.
Share relentlessly.
Be kind.
17. Any information on upcoming projects and endeavours? What's next for you?
After the Tugu Kita sewing event at National Art Gallery, it's time for the Singapore sewing event at National Gallery Singapore in October. So my focus is on this monument, taking it step by step all the way until it's hung up where it's supposed to be.
18. What's your favourite Malaysian food?
19. What gives you that feeling of national pride?
20. Where do you see Malaysia in 10 years?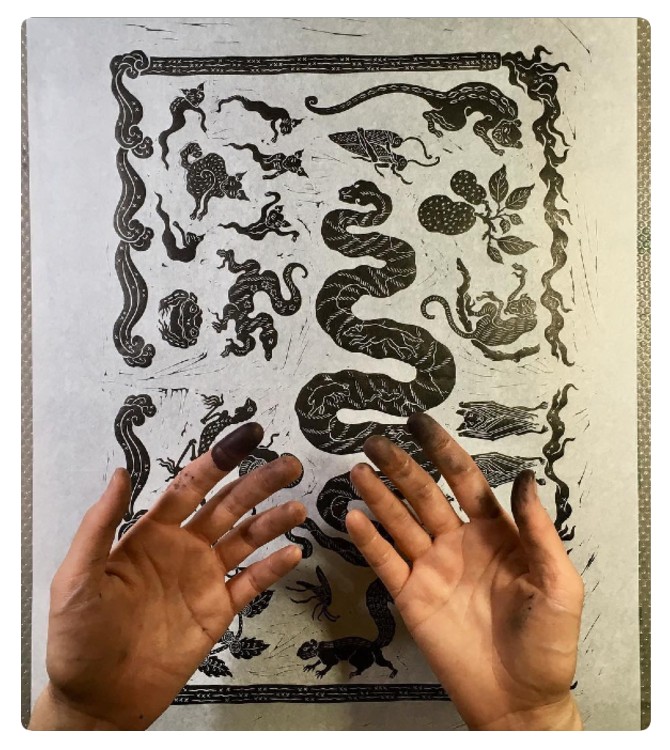 21. Your fondest childhood memory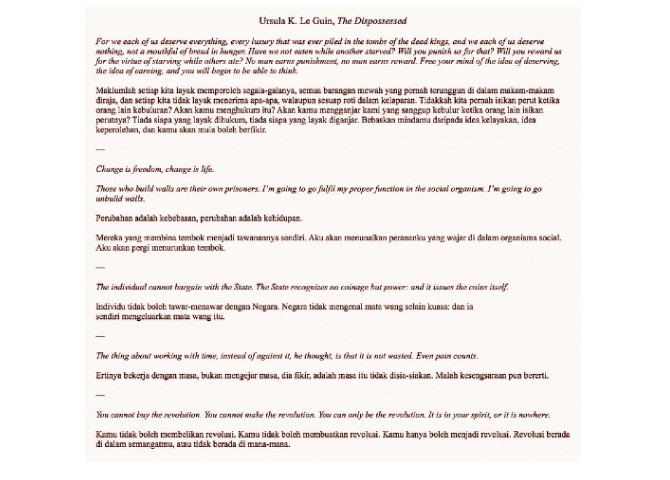 22. Do you have a favourite piece that you've created?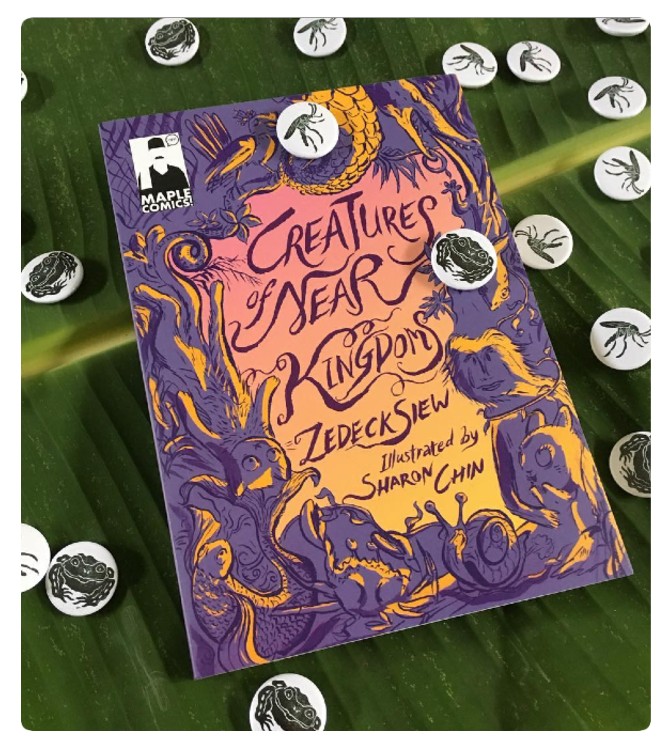 Follow @chincarok for more of Sharon's work and life musings.
| | |
| --- | --- |
| SHARE THE STORY | |
| Explore More | |