Dhaniya Illiani is the multi-hyphenate creative—visual artist, fashion designer, art editor of KL-based indie mag Mulazine and ice hockey player—who has carved out her own space amongst Malaysia's creative youth through her conceptual, mixed-media work.
Never without her signature bucket hat (she designs them herself!), she clashes prints and colours through a style just as subtly rebellious and true to herself as her art. The 23-year-old is fearless through her self-expression, whether she's creating colourful collages or deconstructing gender roles or using herself as a canvas to challenge beauty ideals with makeup and fashion. Illiani serves a worthy inspiration to anyone who may struggle to find their voice beyond societal expectations.
Endlessly curious, Illiani is constantly learning and experimenting with different mediums, and keen to share the knowledge she gains to uplift and inspire other women around her. She recently hosted a share session for young aspiring creatives, opening up about her creative process and career so far to show others that with conviction and support from each other, they too can do the same. We caught up with the artiste to talk about her creative journey and the power of art and women.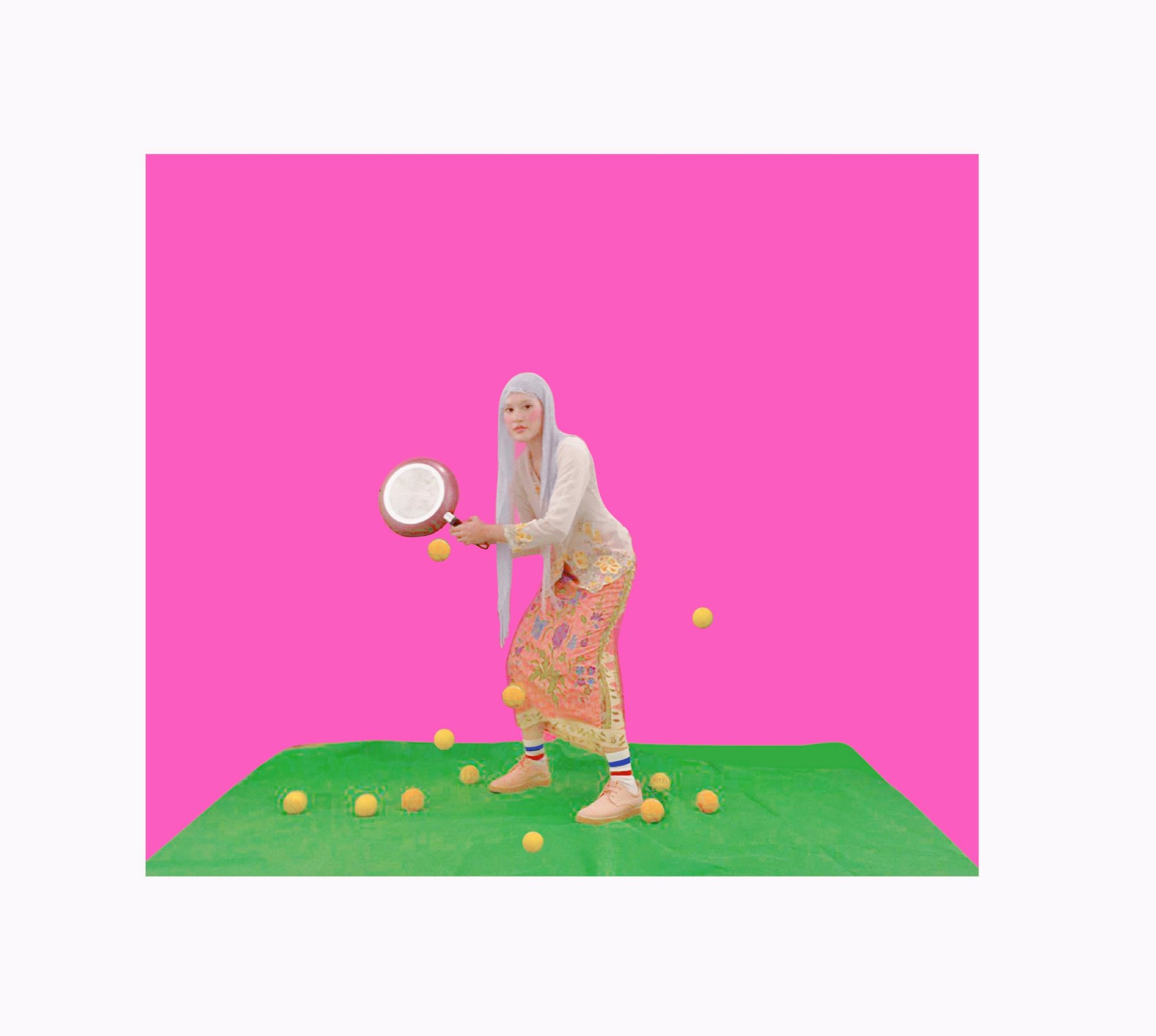 How did your journey as an artist begin?
"Ever since I was young, I hated the idea of having to settle for one thing and the constant talk of "what do you want to do when you grow up?". I always changed the answer from a florist to even a scientist; I didn't like to limit myself. I knew I had to work in something that's a mix of my various interests and learning later on about the almost freedom of range in an artist's work, it seems fitting!
"I loved crafting and drawing since I could remember, but it never occurred to me it was something I could seriously take up as a possible career choice, until I met certain people who really helped nurture my confidence in myself and my craft. That gave me the push I needed since I was already unconsciously laying the groundwork, but having the right people propelled me towards that necessary step.
"My mother was very crafty—she could sew, cook, draw and did gardening and was constantly going through books. My sister drew as well and later got into working in fashion—both of us were influenced by my mother's love for fabric and sewing clothes."
How did you find your voice through art?
"I grew up quite closed off from people, very quiet and always kind of stuck in my own world. I already had a strong voice except that it was pent up. I wasn't keen on voicing it out since I was often misunderstood for the way I view things, but I found that through my art I could communicate better visually than verbally and people were able to bridge to me."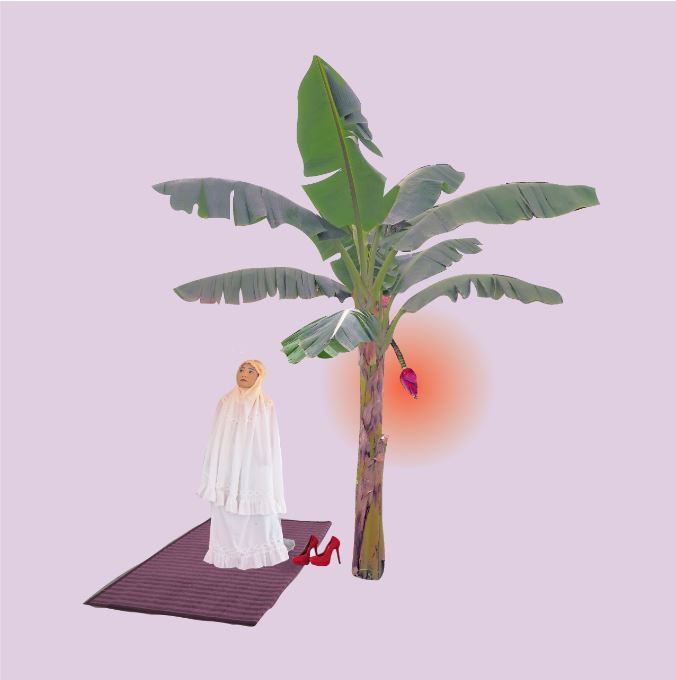 Describe your art style in one sentence.
"Conceptual-experimental mixed media works."
What are you currently working on?
"I just finished art directing a music video for a local artist, and another on an up-and-coming band. I'm exploring more in-depth with visual directing and handling a few bigger exhibition projects this year. For now, I'm learning more about videography and directing."
What has been the most exciting moment in your art career so far?
"Hands down—the recognition I received from the fashion feature with Chanel and Harpers Bazaar Arabia last year! It highlighted my balance of art and fashion. In terms of my own work, exploring performance art was really riveting and eye-opening—something I intend to experience and learn more of in my career as an artist in the nearest future.
"This year (after almost years in the making), I've reached my small goal of working more formally as an art director in the industry outside of my own passion projects."
How can art empower people?
"Art that is empowering taps into the psyche of people, impacting through presenting a certain question or statement that pushes people to think and question all sorts of complexities. It can be presented in an unsettling form, through a therapeutic approach or a more celebrative form. Regardless, it's almost entirely left to the viewers on how they choose to indulge in art, it can be empowering just as much as it can be degrading—depending on how different individuals choose to interpret it, the artist can only control so much of the narrative.
"Art is empowering because it is a tool that can be used to amplify what's already present in the artist's as well as viewers psyche without them knowing that part of them exists."
What is your definition of a 'power woman'? What empowers you?
"To me, it's a woman who's equipped with a strong sense of conviction and drive, who's elevating and celebrating the women around her. The ultimate power woman that I aspire to be is the sort who doesn't make what men have or are as her standard, she thrives to set and be her own standard.
"It's clear that art plays a pivotal role in empowering myself in my development as an individual and as a woman. The presence and support of other women in my life is a catalyst, their successes are also mine and vice versa. Hearing that my work at times helps to amplify the voices of young girls and other women is priceless.
"Other than the feeling of being empowered by others, I strive to be a source of my own empowerment too—although learning how to take care and treat myself is something I've been struggling with. You can't feel empowered if you're unkind to yourself. It's a continuous process that I'm learning, to try and view my weaknesses and vulnerability with more kindness and understanding, and possibly even see a change to view them as a form of strength in progress. Self-care is all-encompassing after all."
You recently took part in Women's March Malaysia 2020, what was that like? What is your definition of feminism?
"It was an electrifying experience; I was swept away in the spirit of the march, everyone was so passionate in the cause, as someone new to the march I still feel like I'll need time to truly process the whole experience.
"For me, feminism means fighting for everyone's rights to be heard, respecting each other, to be seen and to exist without discrimination or fear; given its not hurting or degrading anyone else in the process. To be treated as individuals first and granted equal opportunities. It has grown into fighting injustice and any issue that requires the utmost attention and reformation."
What are the challenges currently facing female artists in Malaysia?
"Right now, it's going relatively well or at least better than before since girl power is in—other than the usual occasional gender bias and that it's harder to gain recognition as a female artist. There has been a noticeable increase in events and platforms that help champion female artists, from emerging to ones who are more established. But with that at times comes seasons where full-on female shows and exhibitions only happen when the theme or subject centres on our gender.
"It may be because the numbers are still small but the term can be stifling—a reminder that sometimes people don't view yourself as an artist first, rather your gender. Sometimes, people directly relate your work to having a certain expected form or degree of femininity.
"The art industry in Malaysia still hasn't reached the point where it is deeply integrated with its people; it's still scraping the surface. It's part of my goal to somehow help pave the way for other women artists, open new doors to make the profession more engaging and visible to the public and maybe make things easier for them to practice what they love."
What advice would you give to aspiring female artists who are starting out?
"Don't ever feel bounded by the term 'female artist'. You don't have to try and adhere to an art form that fits that term. Be as disruptive as you'd like.
"When you're establishing yourself, pay attention to what sort of artist you're growing to be: whether you'd be satisfied with just working commercially or your creative curiosity would be more satisfied from working as an artist in the art world, but you can also strive for both. Knowing what you want for yourself helps you decide what sort of groundwork and principle is necessary since people who intend to approach and work with you will know what to expect of you as a creative individual. Always voice out your concerns and demand your rights as a working creative.
"Great works are always the ones that stick closely to who you are as a person. It helps set a distinguishable art style!
"Link up with other creatives—it's important to have people you can discuss ideas and viewpoints with! It adds perspective to your work, and keeps it from being stagnant.
"Be open to criticism and view them all to be constructive even if debasing—don't let that control your narrative. The respond you get is also part of the process of making art."
What are some of your wishes for the future of art in Malaysia?
"I would love to see art being more wholly appreciated in Malaysia, for it to be respected as a profession and utilised better as an educational tool for the masses. I'd also like to see the change of the perception of art streams or courses being an inferior path, and to see the practice of art integrated more in the lives of all Malaysians."
| | |
| --- | --- |
| SHARE THE STORY | |
| Explore More | |