For Fong Min Hun, setting up a bookstore of his own has been a long time coming. "I've been wanting to open a bookstore for the past 20 years," says Fong, one half of the husband-and-wife team behind Lit Books. As fate would have it, he found a life partner in Elaine Lau. Both former journalists and avid readers, they spent most of their careers in the media industry, followed by short stints in the corporate world before they finally came around to set up Lit Books, which opened its doors late in December last year at Tropicana Avenue.
Find yourself stepping into bookstores and feeling overwhelmed by the choices on display? That will hardly be the case at Lit Books. Occupying a corner lot on the first floor of the building, the bright, welcoming space will reel you straight into a treasure trove of purposefully curated reads—a conscious business decision that really sets the independent bookstore apart from the major chain giants.
"Since we are an independent bookstore, we can't compete with the big boys on price, so we have to try to create a different niche for ourselves," shares Fong. "This in part means bringing in hard-to-find books or interesting covers and editions, but also trying to create added value for our customers in the sense of making them feel like they are part of a community." Nodding in agreement, Lau adds: "A lot of our regulars do come back, and some of them will just come and hang out. That is the kind of place we're trying to create. Not simply a place where you come in buy a book and go, we want to be a place where you can come in, chat with like-minded people and maybe spend a few hours."
We can certainly picture ourselves spending hours in here, browsing through the many interesting titles on the shelves, and perhaps sitting down with a book in hand and a cuppa on the other—yep, the store is equipped with a bar too.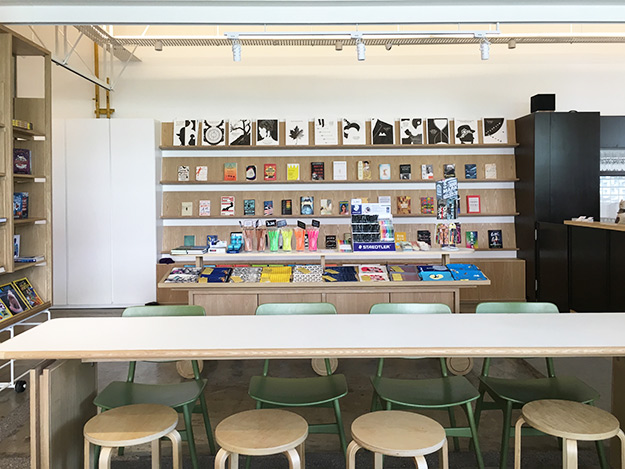 From the looks of it, it sure looks like you've built Lit Books to be more than just a bookstore. Tell us more about the space.
Min Hun: "We are first and foremost a bookshop, but we also want to build a literary community in PJ, so this space was actually designed to be an event space. You'll notice that all the shelves are actually on tracks, or they can be easily moved out of the way. I think it'll be great if we can actually become a space where people can use for their literary events. Right now we host external book clubs, who meet here on a fairly regular basis, and we also have our own literary society meetings."
Elaine: "It kind of functions as a book cafe as well. We want to encourage people to read, so you're welcome to bring your own book here. You'll notice the books here are not sealed. People always ask us, 'Oh we can just take any book here and read?'. You are of course more than welcome to grab a book of the shelf and read."
Do you read pretty much every book that you bring in?
E: "We try as best as we can, but we find ourselves always playing catch-up (laughs). There is just so many—we have new books coming in weekly."
MH: "We have probably read about 40% of our stock. We still know at least a little bit about every book that comes in here though, because we handpick and curate the books ourselves."
What is your earliest memory of reading?
MH: "My clearest memory of reading would probably be when I was in kindergarten and I got my first Enid Blyton. That was my first thick book, Secret Mountain by Enid Blyton."
E: "That's impressive. I started with comics as a kid, before moving on to novels. I think I read the most in my teen years, because that's when you have the most time. But since opening this bookstore, I've definitely gotten back into it, so that's been nice."
What are you reading at the moment?
E: "Right now I'm reading Ursula K. Le Guin's Earthsea series. She is very well known for fantasy, and not just that but also feminist themes, way before it was trending, if you will. People have compared it (the book) to Harry Potter, but I guess that's debatable (laughs). The first book is about a wizard boy going to a school to learn magic, and then having to face evil because he himself unwittingly unleashed it. What I like about her writing is it's very elegant—the language that she uses, the way that it's written. It's not as action-paced or thrilling as contemporary fantasy novel perhaps, but it's really the beauty of the language and the old-timey way that she tells it."
MH: "I'm reading Frankenstein in Baghdad. It's by Ahmed Saadawi, he's an Iraqi author who's actually shortlisted for the Booker International Prize. Essentially it's a story of various lives in war-torn Iraq, and how this one guy decides to collect various body parts and stitch them together into a corpse, so that the corpse will be recognised as a person and be given a proper burial by the authorities—at least that's what he claims. Of course one day, as the title suggests, the corpse comes to life. I think there's a twist to it but I haven't figured out what the twist is yet. We'll see."


Elaine recommends: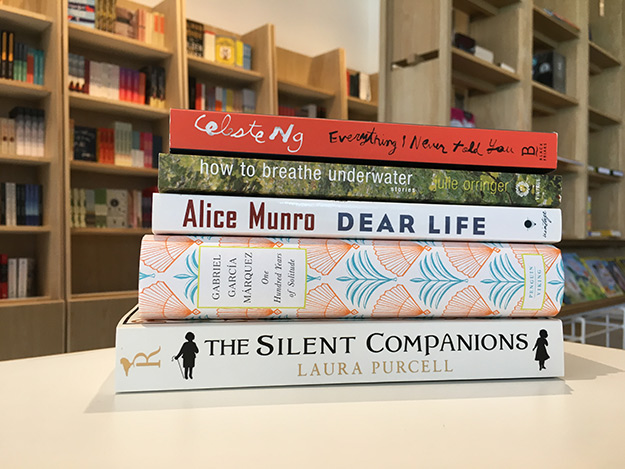 Everything I Never Told You by Celeste Ng "It's a very good examination of family dynamics and relationships. In the first chapter, you find out there's been a death, and then from there it's slowly unravelled as she examines it through every single member of the family—it's very masterfully done."
How to Breathe Underwater by Julie Orringer. "It's a great collection of short stories. A lot of it is quite tragic but it's very good."
Dear Life by Alice Munro. "This is another collection of short stories that I really enjoyed."
One Hundreds of Solitude by Gabriel Garcia Marquez "He's the father of magic realism. It's a classic and I remember being bowled over by it when I first read it about 15 years ago. It's very sweeping, very epic; I loved every aspect of it."
The Silent Companions by Laura Purcell. "It's a horror novel told in a really interesting way. It's not your typical ghost story; it does take a physical form but not in a way that you'd expect."
Min Hun recommends: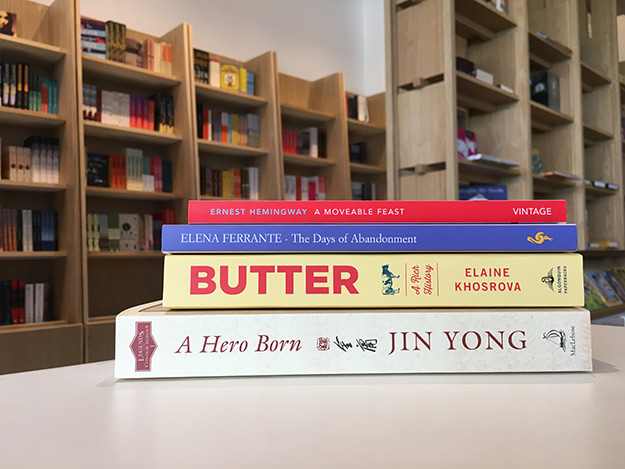 A Moveable Feast by Ernest Hemingway. "It's an autobiography of his time spent in Paris in the '20s and '30s. If you read his biography by other people, his autobiography is perhaps not quite as accurate as it should be, but I really enjoyed it because Hemingway writes in such a way that's very persuasive—you want to believe that what he said actually happened."
The Days of Abandonment by Elena Ferrante. "This follows the life of a woman who slowly descends into madness because she's been abandoned by her husband. She writes in a very typical Italian fashion. Her descriptions are usually very lavish and luxurious, almost to the point of vulgarity, to a certain extent."
Butter by Elaine Khosrova. "This is literally the history of butter. But the way it's told is that it tells you the history of the world using butter as the centrepiece. In a way it tells the story of humanity and its relationship to butter, and it also comes with some recipes in the back, which is great."
The Legend of the Condor Heroes by Jin Yong. "This is a story that I've heard about since I was a kid, it's something I've seen on TV, it's something I wanted to know the story about but never had access to because there was no English translation of the work—until now, that is."
Lit Books is located at P-01-11 Tropicana Avenue. Opening hours: Tuesday 1pm to 9pm, Wednesday to Sunday 11am to 9pm.
| | |
| --- | --- |
| SHARE THE STORY | |
| Explore More | |