Meet Jeremie Gan, a Malaysian ballet dancer who is part of the acclaimed Singapore Dance Theatre (SDT). Having had an early start in ballet education—he started dancing when he was two and a half years old—Jeremie decided at a young age that a career in dance was what he wanted and never looked back since. At the age of 15, he won Gold Medal at the B4 Division of the 9th Youth Ballet Stars Awards and received a full scholarship to attend the New Zealand School of Dance. Soon after graduation, he joined SDT as an apprentice in 2017, before being promoted to Artist in 2018.
This year, Jeremie will be with SDT for the first time as they return to Malaysia for the ninth consecutive year to present the much-anticipated Ballet Illuminations. Kick-starting tomorrow (16 March) at KLPac, it is their most ambitious showcase to date, with three different programmes to be performed over two weeks.
Here, we speak to Jeremie to find out a little more about him as well as his role in SDT's upcoming performance in Kuala Lumpur:
How did your jouney in dance started?
"I started dance due to my mum who was (and still is) my ballet teacher. She had no one to help take care of me while she was teaching classes at her ballet school, so left me in the corner of the studio with some food and toys to entertain myself while she taught her ballet classes. At the age of two and a half years old, she brought me into the centre of the studio to join her classes and I started ballet there and then. When I was around eleven, I told my mum I would like to have this as a career and be a professional ballet dancer. After that, she pushed me harder. I went on to study full time overseas at New Zealand School of Dance for three years and joined SDT after graduation."
Tell us about the pieces that you'll be performing in for SDT's upcoming Ballet Illuminations in Malaysia.
"I'll be performing in all three of the ballets in the Classical Highlights programme which includes ballets like Don Quixote, Coppelia and The Nutcracker. I'll also be performing in the children's ballet Peter and Blue choreographed by our very own artistic director Mr Janek Schergen and Sticks and Stones, a contemporary piece by Kinsun Chan.
The ballet pieces are fun to do as it is the cornerstone of my training as a ballet dancer and are all the highlights of the stated ballets. This means all the codas, all the 32 fouettes, all the magnificent finales and all the amazing divertissements. It's quite cool that throughout that programme I will play different roles ranging from a harvester to a harlequin and a village man.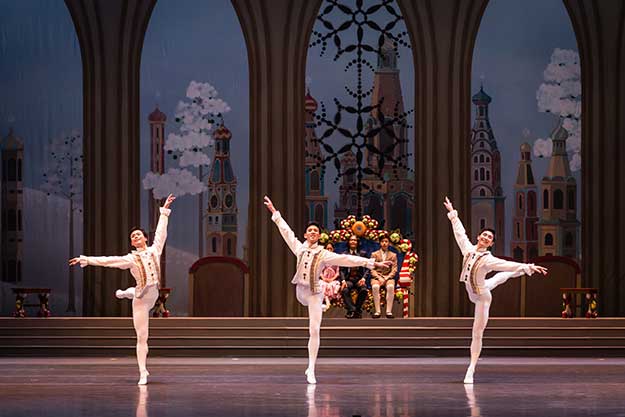 Peter and Blue on the other hand is a shorter ballet but equally as engaging for young kids as its full of humour, vivid colours and fun stuff. There's still technical dancing in it (not gonna lie) but it's mixed with other things like masks, hand puppets, a skateboard, colourful swirly dresses and playful mime. It's also very cool as it engages kids but at the same time manages to teach kids the basics of ballet and dance like formations and gestures but at the same time making it all very fun and relatable to their young minds.
Lastly, Sticks and Stones is a very intriguing piece to do as the soundscape that the piece is performed to has this very animalistic, almost ritualistic quality to it. We as dancers (it's an all men's piece) get to perform something that's not ballet and doesn't have to be "beautiful". There's rolling on the floor, some grotesque shapes that may appear, a darker vibe to it in terms of lighting and feel in comparison to traditional ballets and a very raw quality that audiences seldom see. As dancers we have always been taught from young to be elegant, regal and charming, so it's nice for us to be able to portray another side of us that is seldom shown as well."
What is the most beautiful aspect of ballet, to you?
"The uniqueness of our art form. The ability to dance and still mime, that ballet can be both shown as easy-looking and elegant or athletic and precise. The fact that the ladies have to be on their toes in pointe shoes which enables them to do steps that they wouldn't be able to without them, and how the gents have to be able to partner the ladies and perform athletic moves while still looking good. I guess that's the most beautiful aspect of ballet to me—it's the simple fact that there is nothing else like it, and it is this precise amalgamation of pieces that makes it such a hard thing to replicate with anything else."
Walk us through a typical day as a dancer with SDT.
"A typical day varies depending on the timing within the season. If it's a normal rehearsal day, class begins at 10am (I try to get there just after 9am) till about 11.30am to warm ourselves up while at the same time work on refining our technique and artistry. Rehearsals then begin from around 11.45am to 2pm, then we break for lunch. It then resumes from 3 to 5.30pm, and we're done for the day. On Wednesdays and Fridays, we might stay back for our on site physio treatments, which we are greatly appreciative of. Rehearsals could be anything from working with a choreographer on a new piece to running the ballets from start to finish to cleaning up the details of a specific piece.
What has been your most memorable role in your dance journey so far?
"My most memorable role in my dance journey so far could be divided into two segments. For my school life, it was performing Balanchine's Tarantella for the School's annual Graduation Season, where we had Diana White from the Balanchine Trust to come and coach me and my partner. Seven minutes of pure adrenaline and stamina but the sense of accomplishment after every performance in front of the audience was amazing.
For my company life, it was in Toru Shimazaki's Unexpected B for the Passages season in 2017. Toru has a unique style of movement and it takes a while for one to learn it and then actually rehearse it enough to assimilate it into the body for the performances. The music at times felt impossibly fast with the steps at the beginning but by the end of the rehearsal period, it was such an enjoyable piece to perform with this sense of community with the other dancers in the piece on stage."
Do you have a dream role you hope to be able to perform one day?

"I guess this is a very tricky question to answer. There might be a dream role which I have not seen yet and as such have no idea it exists out there. I would like to do all the traditional ballet roles in the ballets but I find that I'm drawn to roles that are different. Different meaning that they're not performed often or weird – In the Night, Le Jeune homme et la mort, Bella Figura and SYNC. I guess I just like being different!"
When was the last time you performed in Malaysia? How does it feel to be coming back here to perform as an Artist with SDT?
"The last time I performed in Malaysia was in 2013 for a performance of Coppelia at Istana Budaya. I also did a guesting as the Prince in Cinderella in 2014 during the summer break from my first year in New Zealand. Coming back to perform as an Artist with SDT is slightly nostalgic as the audience will consist of people I know and people who have seen me grow up through the years. They were the ones who saw me before I went overseas to further my training, they were the ones who have seen me perform during the annual local ballet competition and it is nice to be able to now perform for them again as a professional ballet dancer. It's an indescribable feeling and a great one at that."
At a time where gender equality is in conversation more than ever, what are your thoughts on inclusiveness in ballet at the moment?
"I found it always funny that gender was an issue in ballet. People would always say things like "The swan is flying around looking for her Prince" but would never stop and think that the Prince is a male. And these people are the ones who would laugh and baulk at the idea of a male doing ballet. I guess sometimes we have to focus more I suppose. When you see the ballerina on pointe in the centre doing graceful moves, maybe it's a good idea sometimes to see who's partnering behind her and making her look good.
Ballet is getting more inclusive but as with other things there can always be room for improvement. I guess being more inclusive could actually help ballet as a whole. You would get a greater variety of audiences and maybe more people would come to watch the ballet. After all, we as dancers want more people to come watch us perform and the audience would want to be able to see themselves in one way or another on stage and be like "wow" rather than have no sort of relation towards them as they don't look similar to them."
Finally, what advice do you have for young aspiring dancers?
"Dance. If you stop dancing, you will never make it. Always tell yourself that being able to dance is already an amazing gift and not many people are able to experience it like you are now. Persevere. There will be people who will say you can't and there will be times that you will doubt yourself and wonder whether if this path is right for you. You may feel like there's no point trying but I always say 'Never try, never know'."
Find out more about ticketing and showtimes for SDT's 'Ballet Illuminations' at the website.
| | |
| --- | --- |
| SHARE THE STORY | |
| Explore More | |