The Buro 24/7 Malaysia Digital Awards 2017 nominees were no doubt a pool of amazing talents. For the past month, you have been casting your votes, and now – the results are in! At our #BuroTurnsTwo party a.k.a Class of '17 prom last night (all the highlights here), we handed out the awards to these individuals and entities who have contributed significantly to the local digital sphere with their presence and creativity. Besides a personalised trophy, the winners also took home generous gifts courtesy of our sponsors; this includes jewellery from Tiffany & Co., a Panasonic Lumix GF9 camera, the La Prairie Radiance Cellular Night Cream, and a bouquet of flowers from Spring Cottage.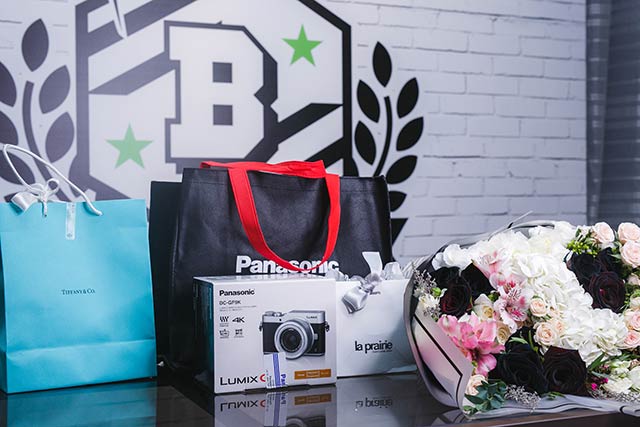 Here, we catch them for a quick chat in the midst of the party of the year:
Favourite Social Media Influencer: Fyza Kadir | model and socialite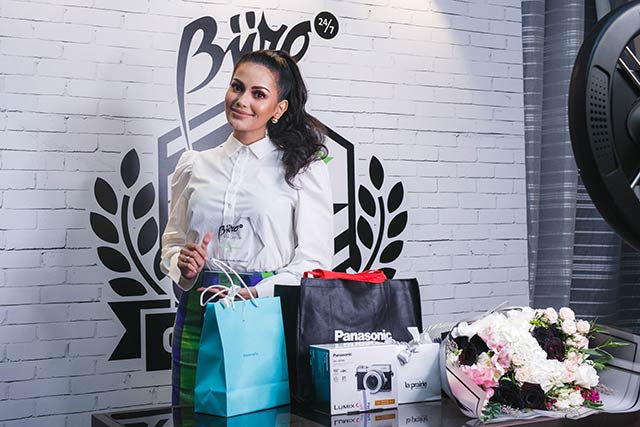 Congratulations on your win! Would you like to say a few words?
"I feel so honoured to receive this award. I was quite surprised actually, because I never thought I would win this award in a category among so many other great influencers."
What are you working on at the moment?
"For now, I'm working on campaigns from time to time, and I try to remain active on Instagram."
How do you hope to inspire your followers?
"I hope that my followers are inspired to love more, both the people around them and themselves – I think it is important for us to spread love and not hate in any way."
And who are you inspired by yourself?
"I'm inspired by Victoria Beckham. I think she looks amazing all the time, her sense of fashion is great, and she is a mum on top of running her own business as well."
Can you tell us one thing people might not know about you?
"I'm actually quite shy."
Can you share with us a tip for taking great photos?
"My tip, and it's the most important one, is to know your best angle – and work it."
Since it's the Class of '17 prom night, tell us about your best high school memory.
"High school… it has been awhile, because I'm 32 now (laughs). But I think one of my best memory of my schooling years is graduating from college. That was a very happy and proud moment for me."
Favourite Digital Content Creator: Emily Quak | Beauty YouTuber and makeup artist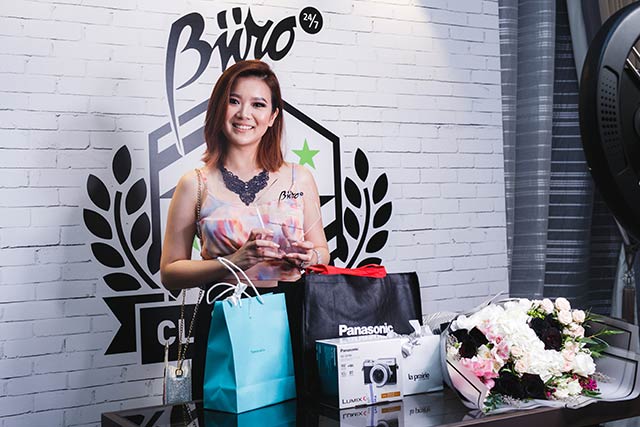 Congratulations on winning Favourite Digital Content Creator! How do you feel about the win?
"I am very excited and also extremely surprised. I think all the people who were nominated are really amazing, and very creative and talented. So to be able to win, it's like – wow (laughs)."
How do you feel your YouTube content has evolved or changed since you started out?
"I think I've become a lot more confident in the way that I present my content and a bit more creative in the way I create my makeup looks as well. At the beginning, it was just me in my bathroom with a point-and-shoot camera. I've learnt a lot since then, so it has always been evolving – I've experimented with different lightings, different mics, different cameras. I'm quite proud of how far I've come, but I'm also thinking I can go a bit further as well."
The competition on YouTube and social media is pretty tough these days. How do you keep your content exciting, and how do you stand out from the rest?
"I've mentored a lot of YouTubers over the past few years, and the one most important thing I think everyone should know is that a lot of people can do makeup, a lot of people can make videos, but people tend to follow you for you. So if you let your personality personality shine through on camera, it makes a massive difference."
What is one thing you wish you'd known about beauty when you were in high school?
"This is pretty important: I don't think that expensive products are necessarily better than affordable products. There are a lot of innovations out there now, and because of that a lot of the more affordable makeup products are actually really good. And, naturally daylight is also really good selfie lighting."
Can you share your foolproof party look with us?
"It's actually a little something like what I'm wearing right now – apply black eyeshadow on your entire eyelid and blend it out upwards. You can put a crease colour in there just to blur everything out and make it look seamless. Then all you need is a very glittery eyeshadow just to make it pop at the centre. That's it!"
Where do you see yourself in five years?
"I have a lot of aspirations and they tend to pull me in many different directions, but I think at the end of the day as long as I'm really happy doing what I do, then that's good enough for me."
Most Inspiring Entrepreneur: Ben Yong | Restaureur and entrepreneur, founder and CEO of the BIG Group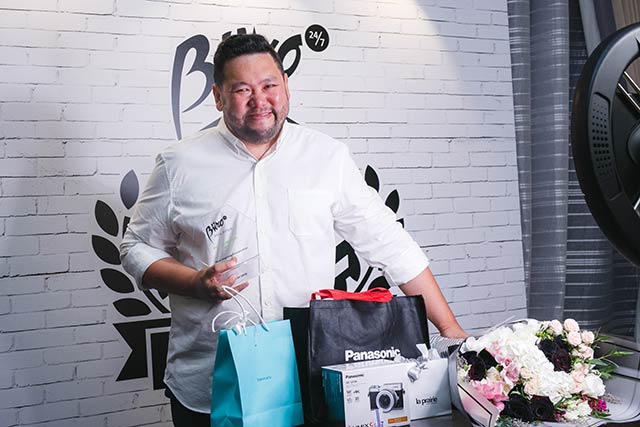 Congratulations on the Most Inspiring Entrepreneur award! What was your reaction to the win?
"I was pretty excited, pretty chuffed, about both the nomination and the award. it was in a pool of very esteemed business people who have done really well. I was very surprised I won, but nonetheless very thankful."
Is there anyone you'd like to dedicate this award to?
"A win is always a group effort, it's never one person. I may be the face of a brand, but it takes a whole village to do what we do, and it is their support that got us where we are and I think I'm ever, ever, ever so thankful for my team at work and my family. Everybody has played a significant part to get us to where we are today."
What was it like when you first started, and how do you think it's grown since then?
"I think as an entrepreneur, when you're younger you tend to be a lot braver. Some say brave, some say foolish (laughs) so it's a lot easier to make decisions and I think as you get older, you probably tend to be a little bit more cautious, so I spend more time pondering on decisions rather than acting out hastily. I think that's fundamentally the biggest difference from back then and now."
What makes a successful entrepreneur?
"I think the secret would be surrounding yourself with like-minded people who believe in the cause of what you're doing, who are equally passionate, and helping you get to that goal. I've been very blessed to have a tremendous team around me that has helped me achieve what we've done so far."
What would you say is a common misconception that people have about you or the F&B industry?
"That my job just involves eating? (laughs). I don't think there is much of a misconception. As much as I enjoy good food, I enjoy everything about the restaurant business – whether it's service, environment, or food quality, every single bit plays a part into making that experience complete. When I travel I love eating out, to see what other options there are, what other lifestyles there are, and seeing what other business opportunities there are that we can then bring back here to Malaysia and develop further."
Are there any upcoming projects you can share with us?
"We've actually been busy working on Bistro Benji's, which has replaced the old Plan B in Bangsar Village. It's still a work in progress, but we should be fully up and running within the next two weeks, with a brand new menu and a refreshed environment. It is something very different from what we've done in the past, so we're quite excited about that project."
You and Elizabeth Lee are known to be a very sweet and lovely couple. How do you keep things romantic on top of your busy schedules?
"Never taking each other for granted, and to just constantly remember to do something special for each other. I think Liz taught me that. She is always very considerate and she is always constantly thinking about me, and in return I've learned to appreciate that kind of dedication and love, and I try my best to reciprocate that."
Best Digital Start-up: Doctor2U | Healthcare services app Keegan Flynn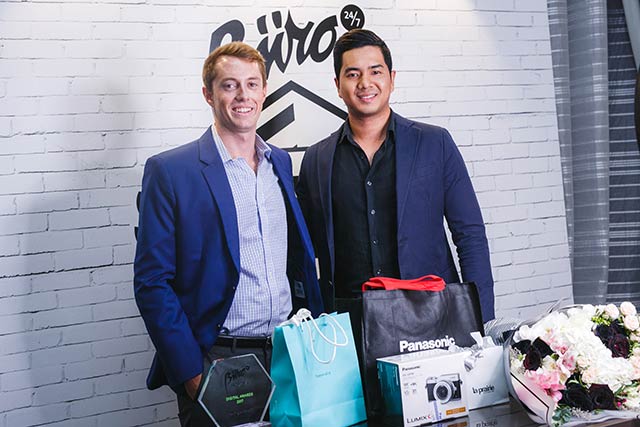 Congratulations on winning Best Digital Start-up! How do you feel about the win?
"We really appreciate the opportunity to be here, and we're also very flattered to win the award. Thank you so much."
Going back, how did the idea for Doctor2U come about?
"My partner, Garvy Beh, his family is in healthcare, So we worked with his healthcare background, and combined that with our passion in technology. We saw a problem with the traditional healthcare system – the inconvenience, the lack of different options, the lack of quality care for elderly patients – so Doctor2U is a response to solve those problems for families in Malaysia. We want to bring quality healthcare directly into everyone's living rooms."
And how's the reception like so far?
"I think it's going good. Our userbase has been growing every month, and that's really what motivates our team, seeing the reviews of people actually using our app and benefitting from it everyday, and having real impact on families on a day-to-day basis."
Can you tell us more about the partnership with Microsoft as well as your upcoming projects for the rest of 2017?
"Sure. So, we're now working closely with the IT and business development teams from Microsoft to enhance our existing IT infrastructure and also to integrate a lot of their healthcare technology into our platform. We're also continuously launching new features, because we want to really build a one-stop platform for any on-demand medical concierge and healthcare services.
We actually just launched an ambulance feature this month, where you can order an ambulance through the app. We're looking to add nursing and physiotherapy soon. We're also in the process of integrating our e-commerce site into our Doctor2U app. So a lot of exciting things in Malaysia and we'll be expanding regionally as well – lots of big things going on."
Check out the live feed replay of the #BuroTurnsTwo party on Tonton from 22 July onwards or the post event coverage on 8TV Express at 10.30pm on 24 July. A repeat of this post event coverage will be available on Tonton beginning 25 July.
Related stories:
What you missed at the #BuroTurnsTwo 'Too Cool for School' party
Watch: All the highlights from our #BuroTurnsTwo bus trip last week
#BuroTurnsTwo: Back to school with a bang
| | |
| --- | --- |
| SHARE THE STORY | |
| Explore More | |