Trust Christopher Bailey to combine something old with something new for his latest Burberry fall/winter 2016 campaign.
Launched today, the campaign features portraits of well-known Burberry favourites, model Edie Campbell and actor Callum Turner, shot by Mario Testino wearing key pieces from Burberry's last seasonal FW16 show — Bailey's next September runway will mark his first 'seasonless' collection; and will be immediately available for purchase in Burberry stores after the show. But, in a first for the house, Bailey has introduced original illustrations by British artist, Luke Edward Hall.
"Luke is a great talent and it has been wonderful working and collaborating with him on our campaign," said Bailey, Burberry's chief creative and chief executive officer. "His beautiful illustrations next to Mario's powerful photographs capture the artisanal spirit of the collection."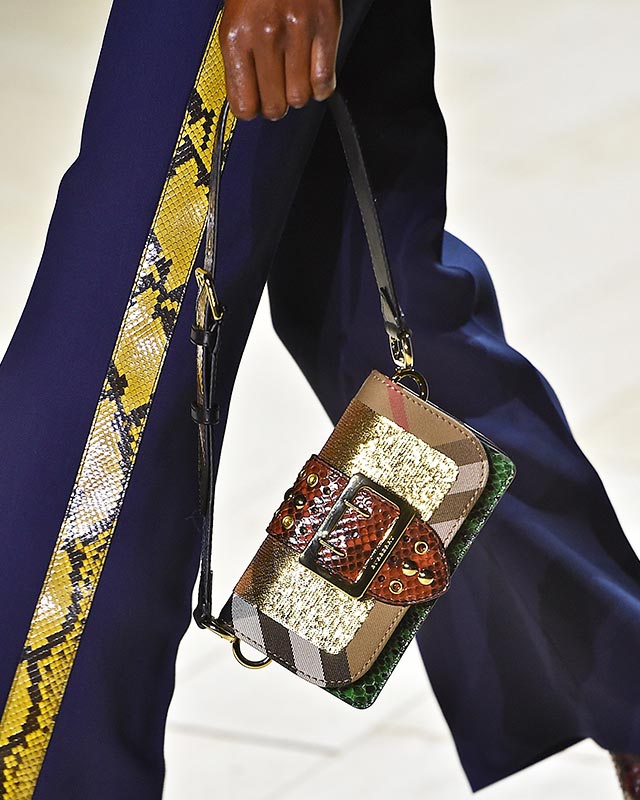 And artisanal, it surely is. The campaign also introduces the new Patchwork Bag inspired by the buckle on the iconic Burberry trench coat. No two Patchwork Bags are the same. Each crafted from a mixture of different textiles and fabrications — from the Burberry house check to soft English suede — the bags were previewed during the February womenswear runway show, but subsequently sold out of its online Runway Made to Order allocation within a week. For the fall/winter 2016 campaign, Hall has interpreted the Patchwork in five different illustrations; and to celebrate the campaign launch, the bag is now available for purchase on Burberry.com. What are you waiting for? Get shopping.
In a Buro 24/7 exclusive, we speak to Burberry's latest recruit to discuss the relationship between fashion and interior design, the endearing appeal of Brittania, and his favourite Christopher Bailey collection for Burberry to date.
How did the collaboration between you and Burberry come about?
Burberry contacted me earlier this year about the possibility of working together, which was a huge surprise, and it all developed organically from there. It's been exteremely exciting to collaborate on the campaign and it's been a huge amount of fun working with the Burberry team, and to see my drawings used in a whole new way has been wonderful. I feel very honoured that my artwork sits alongside Mario's portraits. The colours all work together really nicely, the deep colours in my drawings echo the colours in the campaign and collections.
Were you involved in the creative plan?
I had the freedom to draw in my own style interpreting the collection in my illustrations. The result is artwork that is very true to my aesthetic.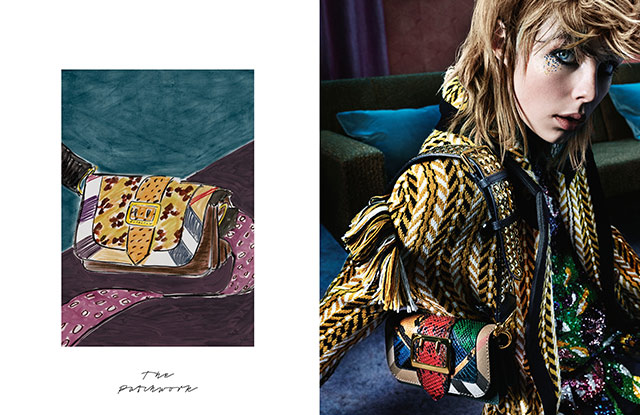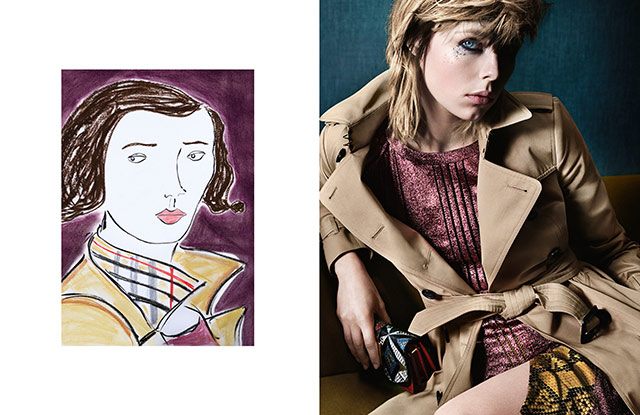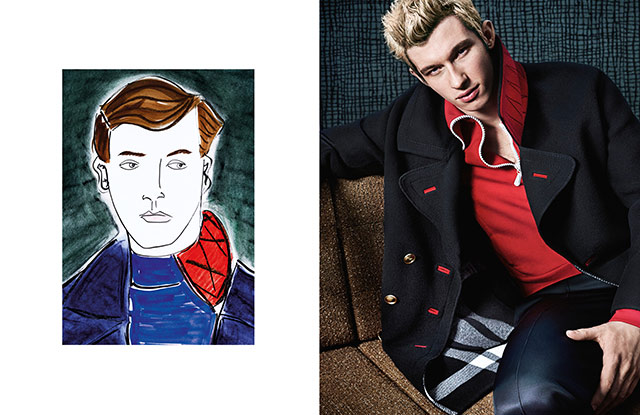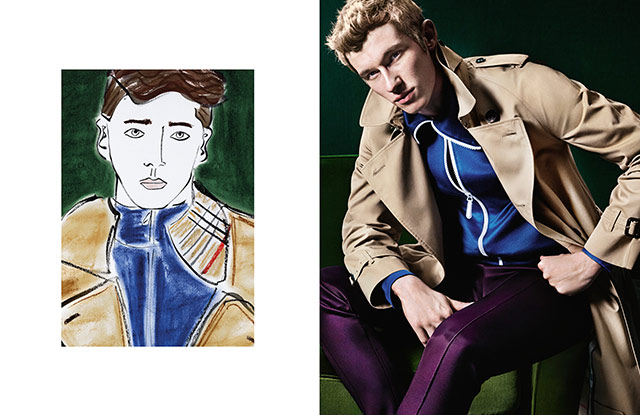 How did you become an artist?
I always wanted to be an artist. I grew up in Basingstoke, and from a very early age, I wanted to move to London and go to art school and that is what I did. I started with fashion design, and then studied interior design, photography and fine art. I've always wanted to do a lot of things and that is why now I do illustration work and I design fabrics and ceramics. The aesthetic is one thing but can be applied to lots of different things.
What made you decide to pursue art and interior design despite a background in menswear? Would you say that being an interior designer is your true calling?
I've always been interested in both fashion and interiors. I worked in an old country house on weekends as a teenager, and whilst studying menswear, I was selling antiques online in my spare time. I'm not entirely sure what my true calling is. I like to apply my aesthetic to different things — could be a pair of trousers, a vase or a room. I'm very much enjoying working in interior decoration, however. I feel that the rooms we live in reflect our personalities perhaps even more than our clothes do.
Do you apply tenets of fashion design in the art and interior decoration work you do today?
When designing these days, I'm still interested in the same things as I was when I was making clothes — mixing lots of different colours, textures and prints. This is apparent in my interior design and also in my designs for fabrics and ceramics. When it comes to clothes, I like rather classic shapes — a good, simple shirt or jacket — but what I'd always choose now is something colourful, or with an interesting (but not irritating) detail; funny buttons or contrast piping, or something like that. For me, it's the same for homewares and interiors. I like classic design. An old Howard armchair for example, but I'd always want to upholster it in a fun, unexpected fabric.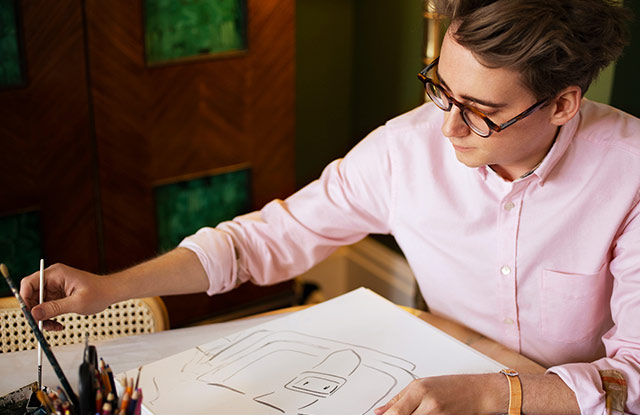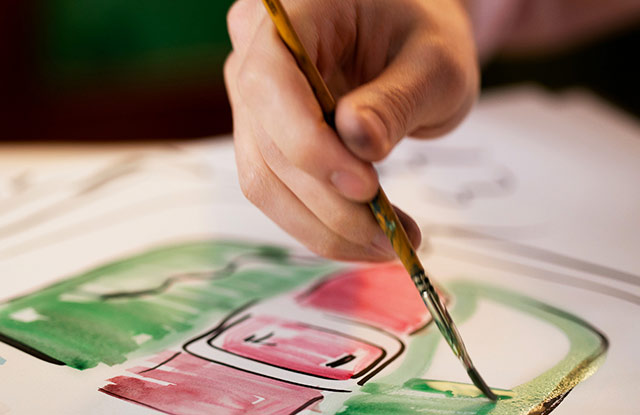 With Burberry's latest menswear collection titled 'Something Old, Something New, Something Borrowed, Something Blue', share with us one of each of your favourite interior items from these categories.
I like furniture from the 50s and 60s, new sofas made by excellent old English firms, piles of recommended books borrowed from friends, and something blue — the sky. I love being able to see big expanses of sky through windows.
We've read that you appreciate a quiet environment when working. In London, where do you find yourself creating your best work?
At my kitchen table — it's got a really handsome pink and green marble top. I live in North London, on the first floor of a house, on a very quiet street. When I look out of my windows I see only trees and sky. I'll put on some music, gather books for inspiration and get to work.
'BRITISHNESS' IS EXTREMELY IMPORTANT TO ME AS AN ARTIST — OUR CULTURE, HISTORY AND LANDSCAPE INSPIRE ME TO NO END
In your opinion, which is London's most underrated haunt that you personally love?
I'm a big fan of Tate Britain. It never seems as busy as say, Tate Modern or the V&A, but I love the way the pictures have been hung. And whenever I visit, I'll always pop downstairs to see Rex Whistler's beautiful murals in the restaurant.
Being English, what does Burberry mean to you? What is your first memory of the brand?
I am from Basingstoke, so I have been aware of Burberry from a young age. I love its heritage and iconic pieces such as the trench coat, while remaining innovative through its designs and advancements in the digital space, for example. 'Britishness' is extremely important to me as an artist — our culture, history and landscape inspire me to no end.
Do you have a favourite collection by Christopher Bailey?
I really loved spring/summer 2014 — all the bright primary and pastel colours and boxy jackets and coats.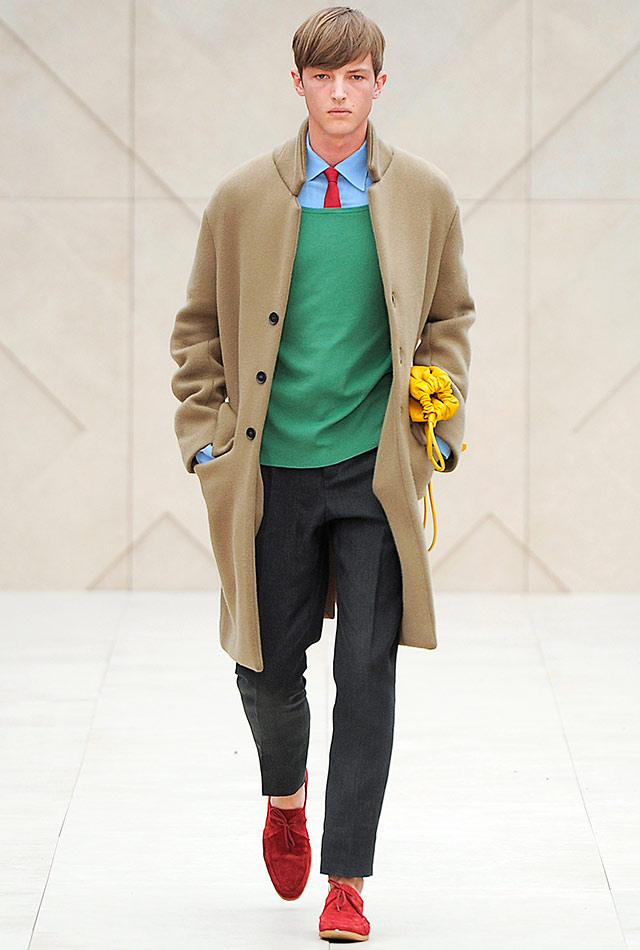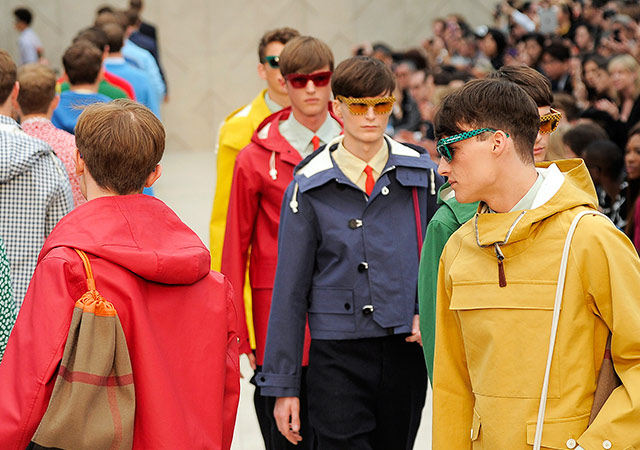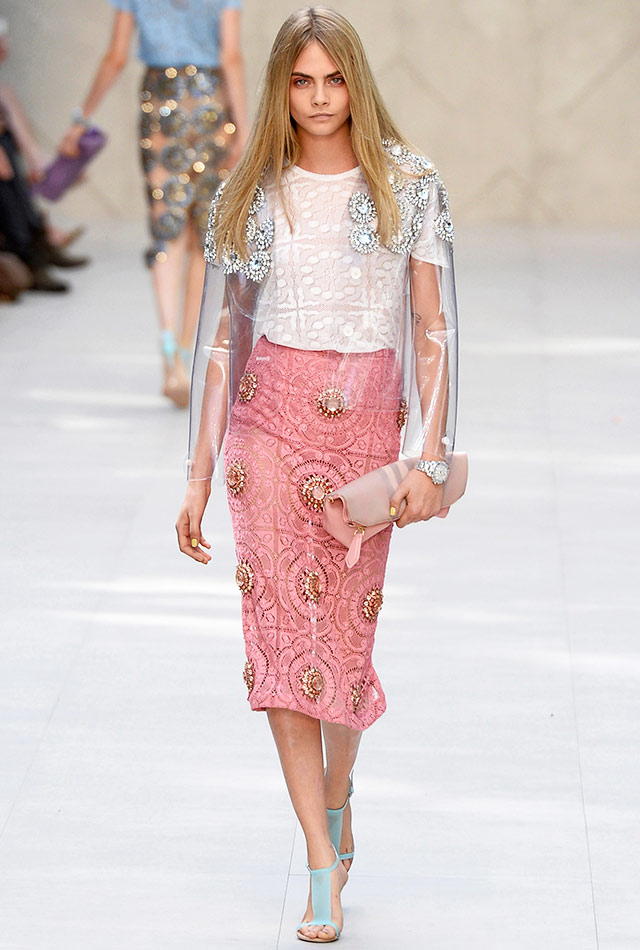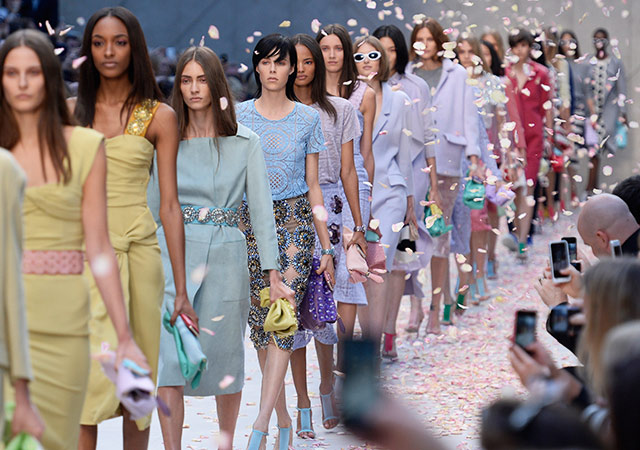 We've read that the Amalfi Coast inspires you. Which village do you most enjoy spending time in, and what is your best memory there?
I love Ravello probably most of all — it's up in the hills, high above the sea, so the views are incredible. It's pretty quiet and full of steep steps and alleyways leading to great restaurants. It's got a magical atmosphere about it — I was there last year and we had thunder every day — you could sit in a restaurant and watch lightning strike the sea. Also the Villa Cimbrone hotel is in Ravello and it's absolutely one of my favourite places on Earth.
In your opinion, how should the interior of one's home make them feel?
Your home should make you feel comfortable, I think, above all else. I love homes that reflect their owner's personalities — mine, for example, is full of objects that I've picked up on holiday, my favourite books and furniture and pictures that have been collected over the years.
What do you want people to feel when they see the work you've created in collaboration for Burberry?
I'd like people to think that it's fun… and a bit different.
Tell us about the materials you used for the campaign illustrations.
I used a mixture of materials including watercolour, chalk, oil, pastel and a bit of acrylic. I quite like playing with texture, which you get with chalk, and then watercolour gives a painterly effect. I then went over them with oil pastels to get the thicker, more defining lines.
What are your indispensible tips to decorating a home, regardless of preference for design?
I like to use intensely colourful or patterned wallpapers in small or dark spaces to emphasise the fact that they're small or dark. Lighting, I always think, is key. In a sitting room for example, table lamps and candles create atmosphere whilst floor lights (or can lights — very useful) throw light up into dark corners. And reading lamps next to armchairs are essential!
Who are your heroes when it comes to artists and interior designers, and how are you inspired by them?
I'm a big fan of Cecil Beaton, William Morris, Andy Warhol… people whose work spanned lots of different disciplines — from set and interior design to fabric design, ceramics and painting. I like working in this way, so these people are very inspirational.
I LIKE TO USE INTENSELY COLOURFUL OR PATTERNED WALLPAPERS IN SMALL OR DARK SPACES TO EMPHASISE THE FACT THAT THEY'RE SMALL OR DARK
What inspires you about Britain?
I seek inspiration from Britain and it's little pockets of history. Big inspirations for me are artists and the Bloomsbury group, Duncan Grant and the spirit they had around creating, decorating and painting everything.
I love living in London but I also love the countryside, such as Yorkshire with its sweeping views, which has a strong connection to Burberry. I am very proud to be British, my work is made in England, so working with an iconic British brand like Burberry has been a great honour.
And finally, what is your most British attribute?
Probably being too polite.
This interview originally appeared on Buro 24/7 Singapore.
You may also like…
A look at Burberry's new Ramadan campaign
Burberry's new campaign illustrates Brit chic to a whole new level
"It's kind of like validation for my insanity," artist Trevor Andrews tells Buro 24/7
| | |
| --- | --- |
| SHARE THE STORY | |
| Explore More | |