Alina of The Craft Crowd tells us why she launched an artistic venture in Kuala Lumpur, and why terrariums make a good hobby.
The Craft Crowd is relatively new. Launched early this year, it has now become a full-time project for its founder Alina, a former engineer with an artistic background. With a knack for creative workshops Alina has thus far organised a number of classes in Kuala Lumpur that span different creative vibes, from calligraphy to clay art, to flower art and more. She herself teaches adults how to make terrariums - you know, those charming little glass gardens that become the home décor muse of every other creative Pinterest board.
With the aim to support and expand the local art industry, Alina tells us more about why terrariums are good for you, and why she decided to start The Craft Crowd.
What made you want to teach people how to make terrariums?
Succulent terrariums are like your small gardens in your home. And it kind of disciplines you because you have to take care of the plants. You don't have to be an experienced gardener, but at the same time, if you spray them once a week, at least you're caring for them. It improves your character.
What is the best way to begin making terrariums?
There are many different types of terrariums: some have geometrical shapes, and some have a hole on one side. But to me, the fishbowl is the best because you have access from the top. That's how I learnt how to do it in the U.S. You can see everything inside, and to make it is quite easy. And if you want to rearrange it to change the mood, you can easily access it.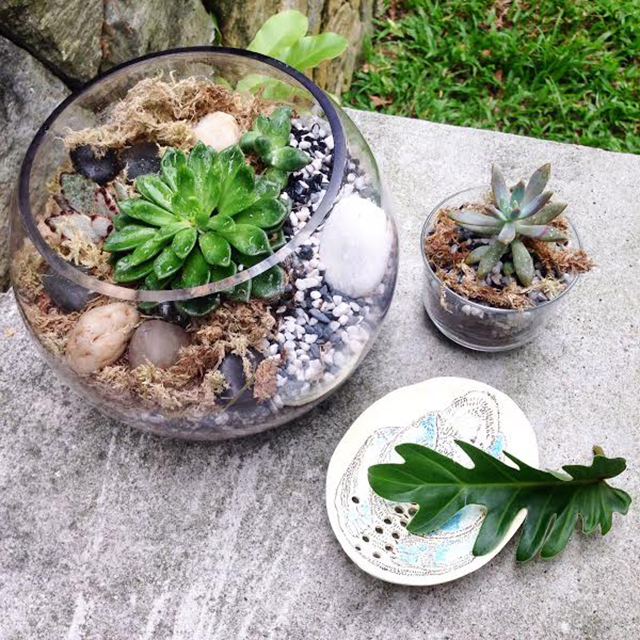 For people who want to learn how to make terrariums, do they need to come from a creative background?
Not at all - they become creative during our class. It's very easy. When they join the class, they're usually very shy for the first half hour. And even the teachers; they take their work very seriously, and they get a little bit nervous. But at the end of the class we provide them lunch, and they have a little bit of a chat. And during the process, I would always encourage them, make jokes, walk around the table and we'll laugh a lot. And by the end of the class, everyone is usually laughing.
What interesting outcomes have you experienced with your classes?
It's so interesting to see the style of each person. For succulents, they add their own styles to it. They're all different - one guy just did all white, and some of them used really different styles. I tried to teach them that organic looks very harmonious - no need to add any other decorations - and this really looks amazing by itself because it's all created by nature.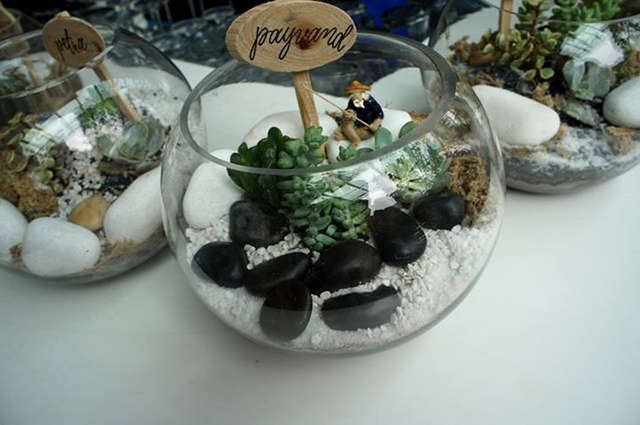 How long are terrariums supposed to last?
Forever. Succulents are cacti, and the nature of this plant - it's imported from Mexico - it doesn't need much water. It can die if you put too much water.
How did you come up with The Craft Crowd?
I wanted to meet artistic people. Personally, I select classes that are really interesting to me. All these things that we do are things that I would really love to have and use in my home - they really look great in the interior.
Also, I spent quite some time with the expat community and most of them would complain that Kuala Lumpur is boring. We have Changkat and bars, so you can only go out and drink, or sit at home, or go to cinemas. There are not many options. So I felt, why not change it? I will not give up, and I want to make it really big. I think all these artists can change KL. There are a lot of creative minds here and they should be supported.
We are not machines; we're human beings that can do so many things with our hands. Sometimes you don't even realise how much you can do. A lot of students write to me saying that they're beginners and that they've never tried this, or that they're shy and can't do it, but everyone can. 
Check out The Craft Crowd for more info on their workshops.