Get to know Midnight Fusic, your local source for songs of love and heartbreak with a tinge of funk
Not every high school band's dreams of making it big comes true, but safe to say that four-piece band Midnight Fusic is one of the rare success stories that should be on your radar. How many bands can boast to have some of the region's biggest festivals — We The Fest (Jakarta), Baybeats (SG) and soon, Urbanscapes) — under their belts just a couple of years fresh off their debut (and graduation)? These boys can. 
Before Midnight Fusic takes to the stage at Chin Woo Stadium for Urbanscapes' Unlimited Grooves Festival this Saturday, we caught up with drummer Muaz Rabbani for a quick insight into the band's music:
Tell us a little bit about each member and what he brings to the table.
"Arif sets the stories and meaning behind each song and also kicks in the rhythm guitar. Adrian is more towards structuring the music, from lyrics to the melody. Daus brings in the groove, he has his own rock element that he brings to the table. I control the beats in the band, the momentum of each song. I would say that we all complement each other pretty well with our music capabilities."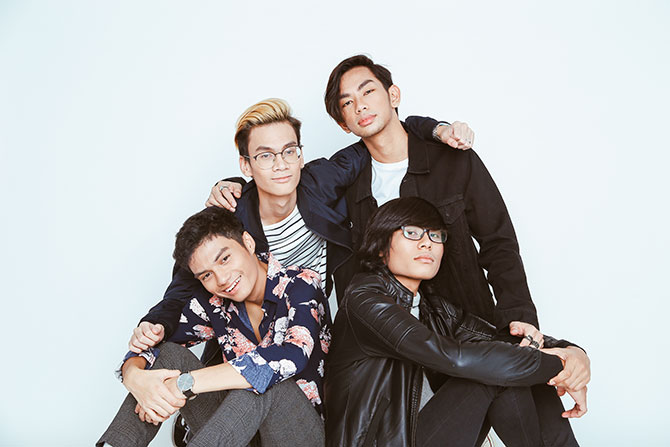 What are your personal musical influences and how do they go into creating your music as a band?
"Artists from the likes of The 1975, Last Dinosaurs, The Smiths to Michael Jackson are all big influences to us. From the stories that they portray in their music and the songwriting that goes behind it all, they really affect us in the most positive way in terms of music and also our lifestyle (laughs).
Tell us about your EP When Love Was Around and the theme behind it.
"When Love Was Around is mostly based on personal experiences. It definitely has a dark side to it in terms of heartbreaks and reminiscing about what could have been done in the past. It's kind of like being scattered in piles of regret and sorrow. But in a way, we try to cover that all up with adding a bit funk and upbeat sounds to it because we wanna balance both genuine love and heartbreak. I guess the theme revolves around love, how it all goes down, and what everyone goes through.
Which songs off the EP resonate to you guys the most on a personal level?
"'Flowers' has to be it. That song speaks for itself, it revolves heavily around one question: "why give flowers to me now when I am six feet underground?". It's basically about depression. The uncertainties that lies deep. Depression is something that's real and concerning. It's about what people don't see and what people don't hear from someone going through it. That's why 'Flowers' stands out for us, we want to voice out for people who aren't able. It's a song for the people, we'd say.
What was the biggest takeaway you guys got from recording your first EP?
"The biggest takeaway we got from our EP recording was that we learned to not close a book on a song we made so soon. There are always new elements and changes we can add to the song to bring more meaning and colour to it, and I think that's really important for us to know now."
Any upcoming projects we can look forward to in the future?
"Definitely. We've been working on a couple of songs already, they're still in the early phases though. Who knows when they'll be done because we keep having fresh ideas every day (laughs), but we're definitely gonna add more sounds to this one. We might even see Adrian sing so that's gonna be a big change.
Just quickly, a couple of questions playing on your song names. Complete this sentence: I can't get ____ 'Off My Mind'.
"We can't get Fortnite off our minds."
If you could have access to a 'Time Machine', you would travel to...
"We'd probably travel back in time to the '80s or '90s, just because of the music scene in that generation — there was so much pop and funk and rock and we love all of those things and wish we could live through that time."
Finally, what can we expect from your set at Urbanscapes?
"You guys can definitely expect a fun set from us, we'd want everyone to dance with us and just feel great vibes at our show!"
Catch Midnight Fusic at the Unlimited Grooves Festival by U Mobile at Urbanscapes on 10 November. Keep up with the boys on Facebook and Instagram.