In Benedict Cumberbatch's latest small screen project, the compelling British actor once again brings a fictional character to vivid life—or rather, you could say that Patrick Melrose is semi-fictional; the books were based on author Edward St Aubyn's life after all. Cumberbatch plays the titular role of Melrose, a troubled individual from the English upper class society who is grappling with substance abuse and psychological trauma.
Playing a key role behind the scenes in translating St Aubyn's autobiographical work to the screen is David Nicholls, the novelist and screenwriter best known for One Day. It's no easy feat, but Nicholls essentially boiled down the five Patrick Melrose books into five hours (episodes) of television, tackling the series' hard-hitting subjects without losing any of its essence and wit.
How does one shoulder the immense responsibility of adapting a book series—and in this case, it's also St Aubyn's life story—for television? An interview with Nicholls sheds light on this and more: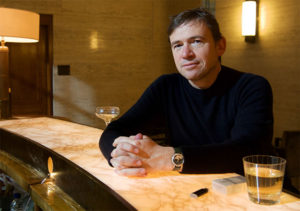 How did you get involved with the series?
"I'd always loved the books. I was working in a bookshop when I read the first one, Never Mind, and thought it was very powerful, but brilliantly funny too. I read each of the books as they came out and they soon became a dream project for me."
From the word go?
"Yeah—I loved the first novel, but as they went along they took on the qualities of a family saga, the way characters re-emerged and the situations and images and dialogue were echoed, the stories weaved together. At the same time I could see that I wasn't necessarily an obvious choice to do the adaptation, but I kept my ears open and when the rights came up about five years ago I had a meeting with Michael and Rachael (the executive producers)."
Did they come looking for you?
"No. I think I was on a list. I certainly had to stake my claim and make a pitch. When I write about that world I'm writing as an outsider and Teddy's (Edward St Aubyn) writing more as an insider. As novelists, I suppose that we both write a kind of social comedy but Teddy is smarter, harsher and wittier than I am. But I'd had some experience of adapting tricky material, and was delighted when I got the job. I had a quick meeting with Teddy and then began the process, which has continued over all these years."
What's the relationship like between the screenwriter and author when adapting an autobiography?
"I'd always taken the stance that I would treat the books as fiction. Even novels that are autobiographical distort, change and adapt real life, and given that Teddy has already gone through that process, why would I unpick it? Even though I could have, my policy was never to phone Teddy up and say "What really happened? What was it like?" Which isn't to say that Teddy hasn't been brilliantly supportive—he's given loads of feedback all the way through but it's always made sense to me to have a certain amount of distance from the author, to focus solely on the material."
What was the actual process of adapting them like?
"Thrilling… daunting… Pile the five books on top of each other and that's 900 pages of prose, page after page of brilliant dialogue, scores of named characters, events covering 40 years plus a complicated family history—it was all quite overwhelming, and I don't think I've ever worked quite so hard on a project. We wanted to remain faithful to novels that were never intended to work as a TV show. Imagine pitching a show where the central character disappears for episode two, that leaps back and forth through time and locations; it takes a leap of faith. But I've loved the challenge and submerging myself in that world, and what has kept it exciting is this extraordinarily rich central character—fierce and vicious sometimes, then vulnerable and sympathetic at others, but always brilliantly witty and self-aware. I think Patrick Melrose is one of the great characters of recent literature—his mother and father too. I can't think of a more monstrous father than David Melrose—and that has been thrilling."
Did you use any of the dialogue from the books?
"For the most part, yes. Edward St Aubyn has this wonderful prose style, but his dialogue is superb too and I've used it where I can. But a great deal of the best material is in Patrick's mind, with no plausible reason for him to say it out loud, and that can be frustrating—all those great lines and brilliant jokes, all in his head. Inevitably there are also scenes that we've had to add, times when I've had to write dialogue in the style of Edward St Aubyn, and that's always unnerving. I hope that it's not possible to see the join. I hope I've kept the best of the novel's scene too. There's certainly plenty of fantastically spiked dialogue, especially from Nicholas Pratt, played brilliantly by Pip Torrens."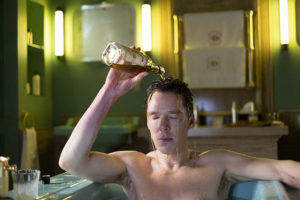 There are some horrific scenes in the books…
"I think probably your memory is more explicit than what's on the page—the books themselves are quite elusive and ambiguous. We've taken that further just because of the practicalities of filming. It makes sense in a drama to withhold things. It's a responsible approach to material that is in some places very dark. These are books about breakdown and mental illness and suicide and abuse and yet that experience has been filtered through a very sharp brilliant social comedy."
You put the second book, Bad News, first.
"That's the biggest change. I wish I could claim credit for it but it was actually a broadcaster note—the kind of note that makes you want to cry because it's not just a question of changing the header and the title page. You've got to do major engineering. But it makes perfect sense because it sets off a mystery—here's this person who's clearly damaged, so what has caused this condition? Then that's revealed over the following episodes. It's a very unconventional show in that every episode has a different look, feel and tone but I have tried to thread the characters through all five episodes so you get a sense of ensemble. For instance Nicholas, Patrick's godfather, is in nearly every episode and Mary, who becomes Patrick's wife, is in the third episode but not in the third book. That aside it's pretty faithful I think."
Great cast and crew as well.
"Yes, Benedict's perfect. It's a really extraordinary performance and incredibly committed, brave, well researched and fearless. Very free of vanity—because towards the end of the series when Patrick falls back into alcoholism he becomes a very unappealing character. He's a self-pitying physical mess and Benedict really goes for that. I don't think at any point he said, "I'm a little bit harsh in this scene is there any way I can soften it?" It's no surprise he has played Hamlet because there is quite a lot of Hamlet in the book—the obsession with the father, the constant self-analysis and the wild mood swings. I think that we all felt he was both made for the role and the role was made for him. From quite an early stage, we found it hard to think of anyone but Benedict. I realise that I'm not entirely objective, but I think it's a stunning performance."
'Patrick Melrose' premieres today, 8 August 2018 on BBC First (unifi channel 481) and BBC Player.
| | |
| --- | --- |
| SHARE THE STORY | |
| Explore More | |