Few things are as covetable to a new parent as a Bugaboo stroller. As a mum, I know how important it is to have a stroller that's lightweight, manoeuvrable and smooth, whether you're travelling on uneven pavements or in crowded shopping malls. At the same time, as someone who adores both fashion and art, I don't want one that's clunky and tragically unhip. After all, a stroller, like a bag or a shoe, is an extension of one's personal style and something that becomes a part of your day-to-day wardrobe.
Enter the brand that changed thousands of lives when it first burst into the scene in 1999, making parenting fashionable again. Created by Dutch designer Max Barenbrug, the Bugaboo stroller has since come to symbolise more than a luxury item. It is a stellar example of how customisation, personalisation and the appreciation of art and design can manifest itself so beautifully in an everyday object. With a range of strollers that suits all lifestyles and even geographic locations – for example the slimmer and more travel-friendly Bugaboo Bee is more popular in the narrower streets of Asian cities – the brand also believes in creating a durable product that lasts and lasts. Everything from the chassis to the wheels, can easily be replaced, and mums and dads can update their existing strollers with new seat covers and canopies in the brand's ever-evolving stable of designs and materials. And with exciting partnerships and collaborations with everyone from Marc Jacobs to the estate of artist Vincent Van Gogh, it's easy to see how the Bugaboo has attracted and sustained so much attention.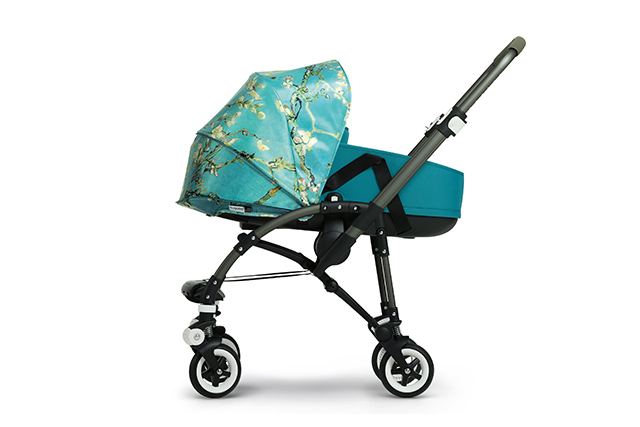 But every good product starts with good design. Says Madaleen Klaasen, the brand's chief marketing officer, "Max [Barenbrug] combines function and form in his design. So the product itself performs really well, has an expected functionality, but also looks very aesthetic. In Holland, after the first four years, the Bugaboo was so popular, everyone had one. For us as a company, we wanted to say that the Bugaboo is for everyone, but we also wanted it to feel exclusive for you personally." Seeing the opportunity for creativity, the brand reinvented the idea of a stroller. "We thought, since you see it on the streets, why not make it a travel medium for creative statements. We decided to work with young, up-and-coming designers in Holland and see what they could do," says Klaasen. Working with Dutch designers like Bas Kosters proved to be a resounding success, and from there further collaborations with artists and design houses from around the world were born.
TAMING THE MONSTERS
The latest artist the brand worked with is Niark1 (aka Sébastien Féraut), a French illustrator and artist who is known for his bold colours and monster illustrations. Niark1 is more of a street artist, so he was a little surprised to be approached by Bugaboo. Says Niark1, "When Bugaboo reached out to me, at first I was a bit surprised. It was the first time a client had asked me to work on this kind of product: strollers. I was not sure about this, so I checked the website of the brand and saw they were making high-quality strollers. So I was okay, cause the products was truly quality. I really enjoyed collaborating with Bugaboo, who respected me as the artist. The end result is really cool with a touch of humour, and I like that." The process of designing for Niark1 usually begins on a screen rather than on paper. He says, "Typically, I like working on my designs on a computer, though I do draw and paint quite a lot as well. It depends on the project. I do a lot of sketches, though it is more for inspiration rather than preparation. I mainly sketch to find new ideas and to test shapes and this helps me keep the spontaneous side of the creation. I tend to work on several projects at once and always keep a personal project going as well. This allows me to find ideas and not to remain 'stuck' on something specific."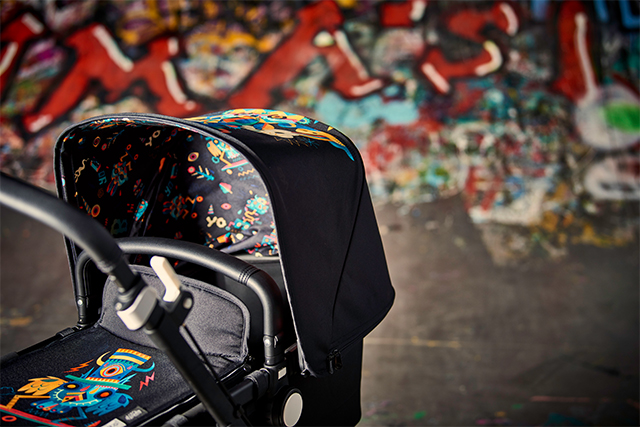 Working on the Bugaboo design was quite simple according to Niark1. He says, "Bugaboo is about mobility and moving freely, so we wanted to add that in the way the monsters move. And they couldn't be too scary. For the rest I could play and design as I wanted to. I wanted to represent these fantastic and strange animal-like characters that move freely in different ways, for example, on skateboards. They had to be fun and crazy." Niark1 was so happy with the end result that he joked, "I was really proud, and almost hoping for another baby! My son is eight, so unfortunately he doesn't fit in a stroller anymore." And another great reason for working with the brand is keeping his art accessible. "Art is for everyone, I try to keep my art as affordable as possible and participate in lots of different projects to be able to show art to a wide audience. It stimulates our brains and creativity."
ON ART
When it comes to selecting artists and designers for its collaborations it seems that Bugaboo has no hard or fast rules. The only criteria is passion. Says Klaasen, "What we want is a company that also has passion and creativity and has a story to tell. Also we want to work together in creating something unique – so it's something unique for Bugaboo, but also unique for them. When we worked with Missoni and Diesel, the owners were heavily involved. So you really want to feel this togetherness." The brand's first collaboration with Kosters was via the Dutch Fashion Foundation, but for Niark1, the idea of working with him was first conceived at a Pharrell Williams concert. Says Klaasen, "One of our designers, saw Niark1's animations at a Pharrell concert. We felt that his art was fun and we loved how street, raw and creative it was. The brand is about people on the move and now with Niark1, we have monsters on the move. Another thing we like about him is that from the age of five, Niark1 was already fascinated with monsters. We liked that passion of his. For us it was interesting, and we wanted to work together, and I think he loves it [the result] himself."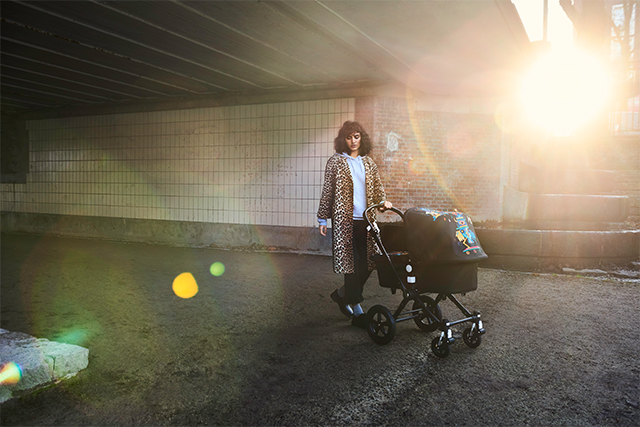 ON SUSTAINABILITY
Another way in which Bugaboo is differentiating itself from other lifestyle brands is by moving towards sustainability and making products that last longer. A quick check on the website will show that it's just as easy to order parts that might have worn out as it is to order a brand new product. Says Klaasen, "It's actually a balanced story. We are a company that is about performance and also about timeless design. We want our products to last for a long time. We designed our products for people to mix and match, to choose the style that fits their identity whether it's a grey mélange or black leather material. It's a combination of timeless design and customisation."
And contrary to many business models where the idea is to get customers to upgrade to brand new items every few years, the Bugaboo can find new life with second and even third owners, and last beyond a single child. Says Klaasen, "If you want to sell it to another person and it has a next life, it's easy to refurbish and update your stroller and that's why our products last longer. I think this is the big part of our future to bring this even further to the next level so, having a sense of corporate responsibility and wanting our products to last."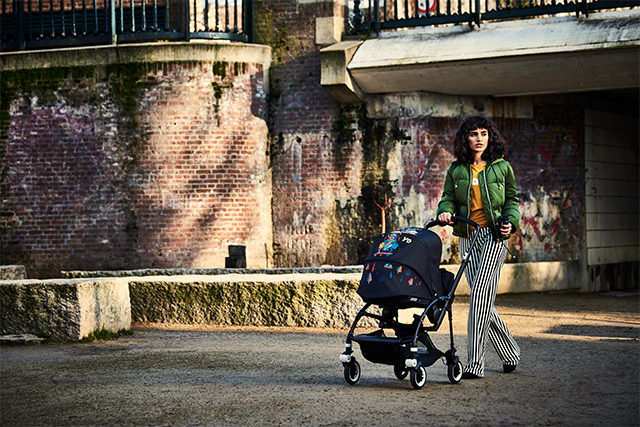 Many of the original Bugaboo products are still in commission — a rarity for frequent-use items. Says Klaasen,"We've been around for or 17 years, and some of the people who bought a bugaboo stroller at the very beginning, find the chassis is still fine. The wheels will wear down but you can buy new wheels and clip them back on. They can be given to your sister who then gives it to her friend and you can have multiple kids going through one Bugaboo. You can just buy new seat fabric, and you can always keep the look of your stroller nice. You don't have to throw out your stroller, and the next person will have one that is just as nice. This is a great quality story because the core of the product is still very high-quality and strong and durable." The brand has also moved on to luggage design with the same goal in mind — offering a smooth transition from point A to B so you don't feel burdened when you travel, but carefree. The Bugaboo lifestyle is clearly a marriage of fashion, form and function… and really who could ask for anything more?
Bugaboo by Niark1 will be available in First Few Years, Mothercare and Motherswork for a limited period starting from April 2017. From $199 for a sun canopy to $319 for tailor fabric set.
| | |
| --- | --- |
| SHARE THE STORY | |
| Explore More | |